Description de Net-Results
Net-Results est le premier choix des personnes qui investissent dans le marketing automation pour la seconde fois. Elle comporte tout ce dont les équipes marketing modernes ont besoin dans une suite exhaustive (capture et suivi des leads, automatisation des interactions clients, suivi des visiteurs, etc.), mais avec une énorme différence : Net-Results vous soutient avec une prise en charge leader du secteur, illimitée et sans frais supplémentaires. Ils veulent que vous réussissiez et ils travailleront dur pour y arriver ! Réservez une démo et rejoignez la famille NR dès aujourd'hui !
Qui utilise Net-Results ?
Plus de 13 000 utilisateurs sur les 5 continents font confiance à Net-Results tous les jours. Des divisions de Fortune 500, aux entreprises avec <5 millions USD de chiffre d'affaires, Net-Results soutient les équipes de marketing axé sur le client.
Où peut-on déployer Net-Results ?
Basé sur le cloud
Sur site
---
À propos de l'éditeur
Net-Results
Situé à Denver, É.-U.
Fondé en 2003
Assistance Net-Results
Support téléphonique
Chat
Pays disponibles
Australie, Canada, Royaume-Uni, États-Unis
À propos de l'éditeur
Net-Results
Situé à Denver, É.-U.
Fondé en 2003
Assistance Net-Results
Support téléphonique
Chat
Pays disponibles
Australie, Canada, Royaume-Uni, États-Unis
Net-Results en vidéos et en images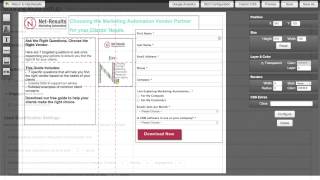 Comparez le prix du logiciel Net-Results avec ses alternatives
Fonctionnalités - Net-Results
Actions découlant d'un événement
Alertes/Notifications
Analyse des campagnes
Automatisation du marketing
Base de données de contacts
CRM
Campagnes de drip marketing
Campagnes multiples
Champs personnalisables
Comptes d'utilisateur multiples
Conformité CAN SPAM
Contenu dynamique
Gestion des abonnés
Gestion des campagnes
Gestion des canaux
Gestion des contacts
Gestion des leads
Gestion des listes
Gestion des modèles
Intégrations de tiers
Marketing multicanal
Marketing social
Pages de renvoi et formulaires web
Planification des campagnes
Qualification de leads
ROI Tracking
Rapports et analyses
Répondeurs automatiques
Saisie de leads
Segmentation
Segmentation de leads
Suivi des e-mails
Suivi des interactions
Suivi des visiteurs de sites web
Tests A/B
e-mail marketing
Éditeur WYSIWYG
Alternatives à Net-Results
Ken
VP of Marketing ()
Utilisateur LinkedIn vérifié
Internet, 11-50 employés
Temps d'utilisation du logiciel : Non fourni
Source : GetApp
Marketing automation finally made easy
Commentaires : We've been on the hunt for a while for a powerful MA solution, that was easy to use, and priced for a small marketing team. Those three are very hard to find together. It's easy to find the powerful one, harder to finda powerful and easy to use one, and nearly impossible to then be able to afford it. With Net Results we have been able to easily get these benefits, which is what we set out to do:
- automated emails in a drip campaign that Sales can remove people from - lead scoring and alerts that go right to the lead owner - weekly reports to each Sales person with their hottest lead - very finely tuned segments that can be used for alerts, emails, and scheduled reports - integration with Salesforce. The Sales team can basically trigger their own emails
Avantages :
This is very powerful software, with great support, and it's easy to use. Plus, they were priced competitively versus similar companies, so it was a no-brainer. I can't tell you how important good support is with MA software. No mater how much training you get, there will always be very nuanced questions relating to your exact work flow, and especially to how your Marketing and sales teams work together. And Net Results had detailed helpful answers within hours, every time. This was my companies 3rd MA attempt. The first was Marketo, and took a PhD and full marketing budget to use. The second was a lower-end provider who promised they provided only what I needed. But it wasn't as powerful as Net Results, and had a bad Salesforce integration.
Inconvénients :
Very few things. Most were my confusion on how the software worked and what it couldn't do. And learning the difference between a Drip and Nurutre campaign, and how to properly exclude people from campaigns.
Todd
Marketing Systems Analyst (É.-U.)
Utilisateur LinkedIn vérifié
Logiciels, 51-200 employés
Temps d'utilisation du logiciel : plus de deux ans
Alternatives envisagées :
Simple, helpful and just what we needed.
Commentaires : This solved a big cost problem for us. We were overpaying with our old solution (about $80k per year). This was much more manageable and much simpler to implement/use. We realized that a lot of reasons we had purchased the old solution, in the end didn't matter and we didn't use them the way we thought we would. Finding a solution that was easier to use made work much more enjoyable.
Avantages :
The best thing about Net-Results is their support department. We moved over from a different platform and they're support team is 100x better than what we had previously. It's a night and day difference. They are incredibly responsive and we've even had situations where we say, "we need it to do this" and within a month, that feature was implemented.
Inconvénients :
There isn't much to dislike, but they are a smaller company, so that might be an issue for some. Not everything you expect from a bigger solution is built here yet, but they are getting there.
Utilisateur vérifié
CRM/Marketing Technology Specialist (É.-U.)
Utilisateur LinkedIn vérifié
Équipement et fournitures de bureau, 201-500 employés
Temps d'utilisation du logiciel : 6 à 12 mois
Good product, but not an industry leader
Commentaires : Overall, the product gets the job done, but that's it. It doesn't seem to be developing/releasing updates very regularly.
Avantages :
It was very flexible when integrating with our CRM (Salesforce), and has all the tools we need to get the job done.
Inconvénients :
It's a little difficult to put words to, but with regard to functionality, it just didn't feel like it went the extra mile to make the administrator's job easier. For every task, I felt like there were three more tasks underneath it.
Gregory
Senior Marketing and Community Manager (É.-U.)
Utilisateur LinkedIn vérifié
Logiciels, 11-50 employés
Temps d'utilisation du logiciel : plus de deux ans
Segment Driven Marketing Automation at its Best
Avantages :
Net-Results uses a segment driven approach that allows for easy integration of buyer personas into lead nurturing campaigns. Depending on your needs, campaigns can be quick and simple or complex, multifaceted, lead nurturing workflows. The application also provides excellent visibility into different lead channels and has pre-built integrations with different CRM systems available. Net-Results customer service is second to none.
Inconvénients :
There's not much to dislike as Net-Results does an excellent job collecting customer feedback and continuously improving their platform. They also have a robust API if a complex use case requires significant customization.
Tara
Utilisateur LinkedIn vérifié
Services et technologies de l'information
Temps d'utilisation du logiciel : Non fourni
Source : GetApp
Very user-friendly marketing automation tool with excellent support staff!
Commentaires : We deployed this marketing automation tool in Spring 2014 and have been very happy with it's performance! By tracking utilizing the tools in Net-Results' Marketing Center, we have learned even more about our visitors, which will better enable us to market to them more effectively.
Avantages :
This tool is extremely user-friendly, which has allowed us to create campaigns, emails and forms on the fly. The campaign reporting tools are excellent and have been very helping in analyzing how well one campaign is performing over another. The Lead Scoring module has been very effective in allowing us the ability to assign 'interests' to our visitors based on web page activity. From here, we can create emails and campaigns to provide a more sophisticated/targeted message to our audience. The Forms module has allowed for an easy sync with SugarCRM, our customer relationship management solution. We have replaced all forms on our website with Net-Results forms and this has been very successful. The quality of service from Support has been fantastic! They have always been very quick to get back to me and have provided solutions to any issues I have encountered.
Inconvénients :
The subscriptions module did not work as well for our organization as Net-Results operates as an opt-out tool, which is not as CASL-friendly as we would have liked.