Description de Windward Core
Ajoutez des fonctionnalités exceptionnelles de reporting et de génération de documents à votre application en y intégrant Windward. Grâce à une logique de documents intelligente et à une interface hautement intuitive, cette solution vous fera gagner du temps et économiser de l'argent.
Qui utilise Windward Core ?
Les OEM/ISV, les intégrateurs système et les grandes entreprises avec des besoins en reporting et en génération de documents qui nécessitent une conception de forme libre, une logique de documents intelligente et une interface utilisateur facile et intuitive.
Où peut-on déployer Windward Core ?
Basé sur le cloud
Sur site
---
À propos de l'éditeur
Apryse
Situé à Penticton, Canada
Fondé en 1996
Assistance Windward Core
Support téléphonique
Chat
Windward Core - Prix
À partir de :
6 171,00 $US/année
Oui, essai gratuit disponible
Non, pas de version gratuite
Windward Core n'est pas disponible en version gratuite mais propose un essai gratuit. La version payante de Windward Core est disponible à partir de 6 171,00 $US/année.
Plans de tarification
obtenez un essai gratuit
À propos de l'éditeur
Apryse
Situé à Penticton, Canada
Fondé en 1996
Assistance Windward Core
Support téléphonique
Chat
Windward Core en vidéos et en images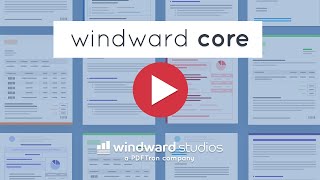 Fonctionnalités - Windward Core
API
Analyse visuelle
Connecteurs de données
Fonction de glisser-déposer
Formats multiples d'édition
Gestion des documents
Gestion des modèles
Importation et exportation de données
Intégrations de tiers
Mappage de données
Modèles
Modèles personnalisables
Outils de collaboration
Rapports ad hoc
Rapports et analyses
Rapports et statistiques
Rapports planifiés/automatisés
Recherche/Filtre
Requête ad hoc
Saisie et transfert de données
Stockage de documents
Traitement des lots
Visualisation de données
Alternatives à Windward Core
JC
National GIS Manager (Canada)
Utilisateur LinkedIn vérifié
Gestion d'organisme à but non lucratif, 201–500 employés
Temps d'utilisation du logiciel : plus de deux ans
Happy with Windward
Commentaires : NCC has been using Windward products as the reporting component of our land information system for over a decade now. It has always worked well for us, and we're planning to continue using it following a major system upgrade this coming year. Customer service and tech support has been great over the years, so we're pretty happy. Their developers have been responsive to requests from us regarding certain features, which is really nice.
Avantages :
Integration into Microsoft Word is great. Very easy connection to our corporate SQL Server databases, and report authoring is very intuitive. Our developers have no issues working with the engine component either.
Inconvénients :
We've had no real issues with the software suite since we acquired it.
Réponse de l'équipe de Apryse
il y a 4 ans
Thank you for the nice words and we love having you as a customer. And you've had some great suggestions for us for features over the years.
Utilisateur vérifié
Utilisateur LinkedIn vérifié
Assurance, 1 001–5 000 employés
Temps d'utilisation du logiciel : 1 à 5 mois
Windward: A Cool Breeze and Breath of Fresh Air
Commentaires : When I was first tasked to find a new DocGen provider I muted my mic on Teams and cursed. Then I hit the internet and kept seeing a name pop up in the best of list round-ups, Windward. In the search for the perfect DocGen solution, I learned that simply searching for dynamic document generation turned up a lot of results that made it hard to find what we were looing for. I found that if I looked specifically for dynamic document elements, my search was greatly narrowed down and Windward allows for the most dynamic document elements of any other provider I looked into. Their test documents revealed that they were considering nearly every test case I was hoping to prove out. So, immediately they reduced my investigation time, by being so upfront. They can control for tables, images, text, colors, graphs, whole pages of a document and all of the elements within the document with variables in the data I pass. We had a use case scenario they said they had never heard before and sat with us to work through the problem and then came back with alternate solution that was perfect. Windward not only has exceeded any expectations, but they've absolutely impressed me with their service and their feature-rich product. As a company, we wanted a solution that could take us to the next level. Windward has helped us create proposals for our clients that look like they were crafted by hand specifically for that client. Windward makes our company look great.
Avantages :
Windward has more features than we ever could have expected. I'm truly amazed at their granular document control features, the pride they take in their product, and the level of service they provide. They worked with us through the two week trial as if we were paying customers. I found their price to be half that of their next closest competitor in features. And I love that we have unlimited document generation. I couldn't find that with any other competitor. The designer application as a Word plugin really speeds up the process of the template creation and allows me to get a template created by another team, like the marketing department, and then add the data within the same document.
Inconvénients :
Biggest con is that they are not cloud based for Windward Core. However, they understand this and worked with us to make sure that the setup was clean and easy, and honestly the server requirements are so low they could be run on a laptop (or a tablet, but let's not get crazy). However, the trade off is the price and the unlimited document count. Also, though we had security concerns, at first, it became obvious that we didn't need to be concerned because you don't pass them any data. So, what was a hard sell for my team, became a huge positive, to me.
Temps d'utilisation du logiciel : Non fourni
Combine hundreds of MS Word reports, tens of thousands of lines of code, a report in seconds!
Commentaires : We're thrilled to have found this product! We recently finished a large PHP project and used Windward Reports (Autotag and Javelin Rest Services) as the reporting engine. Much of those reports employed some very large and complex scenarios. "Many" logical branches (If, Case, Loops). What the reporting package didn't have, we were able to create and add in the form of our own C# custom functions to fill the gap to handle everything from JSON Arrays to specialized functions to manage complex English linguistics. The ability to create a live report (WYSIWYG) right within Word, use styles and native MS Graphs lets Windward reports really shine through! You'll love it! While we built our reports upon one data source (MySQL), the package itself easily handles dozens of data types to import and work with. The speed at which we are seeing these reports generate is also worth noting. Extremely fast considering the number of iterations for the number of calculations. Autotag (the report designer add-in) also allows for variables to easily get passed into the reports and lets you create PODS to share variables and data you've used between users and designers. The real magic though is their fantastic support team backed by some A1 developers. What we didn't understand, Windward always explained to us and if something didn't work in the product, support made sure we had a work around or the product itself was able to perform at the required level. If you're looking for a reporting solution that backs onto Microsoft Office, can be built in as a service to run independently or from a user workstation (Autotag), I highly recommend you check out Windward Reports before investing time in other products! Of course, every rose has a few thorns and Autotag is without exception. We did find a few things!
1. Expect a learning curve. Debugging a report or figuring out why a report might not run can be challenging as your reports grow in complexity.
2. Graphs do not always appear as they should when output into PDF and other formats. However, Windward is addressing this now developing a new PDF engine to output with.
3. If you use a lot of complex formatting and styles, expect some challenges and minor nuances.
Utilisateur vérifié
Utilisateur LinkedIn vérifié
Logiciels, 2–10 employés
Temps d'utilisation du logiciel : plus de deux ans
Enabling Technology making document generation easy
Avantages :
1. The ease and speed of the design of our document and report templates. Directly from our Office (Word, Excel, Powerpoint), we have our analysts designing the templates. 2. Linking to numerous data sources and enabling of ODATA querying. 3. Wrappped as a webservice can be used by any 3rd party system in your organisation to become your universal document and report generation system. 4. Bring reporting capabilities to legacy and new systems.
Inconvénients :
Documentation could be updated for even more improved guidance in more complex templating and integration projects
Réponse de l'équipe de Apryse
il y a 4 ans
Thank you for the nice review. And we are working to improve the documentation even more - there's (always) a lot more we can do with it.
Denis
Enterprise Publishing Lead Developer (É.-U.)
Utilisateur LinkedIn vérifié
Sécurité publique, 10 000+ employés
Temps d'utilisation du logiciel : plus d'un an
The best Publishing tool
Commentaires : Great experience working with Winward. Very responsive team, They really care about your experience. Most of the time I am dealing with very complex situations and they never brushed me off. Great product, great support and I see that product is changing all the time to evolve to better and better version.
Avantages :
I like the ease of implementation to most applications on the market. It is very intuitive to use within well established Microsoft office Desktop applications like Word, Excel and Power Point. Most of the time Admin Users don't even need programming background to get started.
Inconvénients :
Like any other products bugs come up once in a while but Winward Customer Care team along with developers are doing superb job handling each situation with exemplary attitude.
Réponse de l'équipe de Apryse
il y a 4 ans
Thank you very much for the wonderful review