Description de LMS365
LMS365, une solution privilégiée de Microsoft, est l'une des solutions cloud de gestion de l'apprentissage à la croissance la plus rapide sur le marché aujourd'hui. LMS365 offre une expérience d'apprentissage moderne, intégrée et familière, car l'apprentissage est désormais possible dans Microsoft Teams, Mobile et SharePoint Online. LMS365 est rapide à installer, hautement configurable, facile à utiliser et entièrement intégré au reste de votre espace de travail numérique, y compris Microsoft 365, SharePoint et Teams.
Qui utilise LMS365 ?
Entreprises et organismes publics de différents secteurs
Où peut-on déployer LMS365 ?
Basé sur le cloud
Sur site
---
À propos de l'éditeur
ELEARNINGFORCE International
Fondé en 2003
Assistance LMS365
Support téléphonique
Chat
Pays disponibles
Allemagne, Danemark, Royaume-Uni, États-Unis
Langues
allemand, anglais, espagnol, français
LMS365 - Prix
À partir de :
Oui, essai gratuit disponible
Non, pas de version gratuite
LMS365 n'est pas disponible en version gratuite mais propose un essai gratuit.
À propos de l'éditeur
ELEARNINGFORCE International
Fondé en 2003
Assistance LMS365
Support téléphonique
Chat
Pays disponibles
Allemagne, Danemark, Royaume-Uni, États-Unis
Langues
allemand, anglais, espagnol, français
LMS365 en vidéos et en images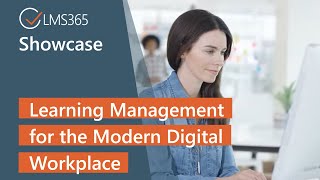 Fonctionnalités - LMS365
Accès mobile
Apprentissage asynchrone
Apprentissage collaboratif
Apprentissage mixte
Apprentissage mobile
Apprentissage synchrone
Autoapprentissage
Bibliothèque de contenu
Certification et licences
Conformité SCORM
Création de cours
Création de cours intégrée
Curation de contenu en libre-service
Gamification
Gestion de contenu
Gestion de l'apprentissage
Gestion de la formation
Gestion des cours
Intégrations de tiers
Parcours et suivi d'apprentissage
Portail des apprenants
Portail des employés
Prise en charge de plusieurs langues
Rapports de suivi
Rapports et analyses
Rapports personnalisables
Relevé de notes
Stratégie de marque personnalisable
Suivi de la conformité
Suivi de la progression
Suivi des cours
Tests et évaluations
motivation des collaborateurs
Matteo
Responsabile Soluzioni Produttività e Formazione (Italie)
Utilisateur LinkedIn vérifié
Formation professionnelle et coaching, 51-200 employés
Temps d'utilisation du logiciel : plus de deux ans
LMS365 is ok for any training needs
Commentaires : It allows to manage all the company training, not only online but also classrooms, so you can have all the information regarding you workforce skills in one place. It is very useful for compliance training (GDPR, and so on) as it traces if people have read and aknowledged documents with company policies and rules and if they have passed quizzes focused on those kind of topics.
Avantages :
This platform is so full and well integrated with Office 365 that seems to be natively part of it. The implementation is smooth and simple and training features evolve at the speed of the Cloud to take advantage of all the new stuff that is costantly released by Microsoft. It can also be accessed by external users of the Organization with no need a Microsoft Office 365 license.
Inconvénients :
Sometimes the system could be perceived as a little bit slow in terms of peformances, but that hasn't a real impact on its effectiveness.
Rebecca
Learning and Development Coordinator (É.-U.)
Immobilier, 501-1 000 employés
Temps d'utilisation du logiciel : 1 à 5 mois
Great option for your LMS!
Avantages :
LMS365 is easy to use and integrates seamlessly with our Microsoft Office 365 products. It is great to be able to share or feature courses right in a Teams environment, and because our learners already know SharePoint, navigating the LMS doesn't have an additional learning curve.
Inconvénients :
We had an issue shortly after deployment where our entire learner list was deleted by IT. Although this was a user error on IT's part, it was difficult to get hold of our LMS365 customer support and they weren't able to explain HOW or when the error had occurred, so it made it harder to fix the problem.
Alternatives envisagées : Vision et ShareKnowledge
Pourquoi choisir LMS365 : CSOD was getting more and more expensive and was not user friendly as a learner. In addition, from an Admin standpoint, Cornerstone was difficult to maneuver. When a SCORM package was updated, for example, the associated course in a learning path wouldn't update with it, and it would start showing an "inactive" error message on that course.
Logiciel antérieur : Cornerstone LMS
Pourquoi passer à LMS365 : The price was within our budget, but the ease of use and integration with Microsoft Office were the key deciding factors.
Mark
Director of Training and Development (Jordanie)
Institutions religieuses, 501-1 000 employés
Temps d'utilisation du logiciel : 6 à 12 mois
Glad we made the change!
il y a 4 semaines
Nouveau
Commentaires : My overall experience has been fantastic. I love the regular webinars that demonstrate the functionality of the system and provide tips and tricks.
Avantages :
Having an LMS system which is fully integrated into our Office365 tools and directory has been a game-changer. Previously we used an open-source LMS without Office 365 integration, which made enrollments as well as incorporating existing document and media into learning modules cumbersome. Integration with our user directory as well as our content stored on OneDrive / Sharepoint is a breeze.
Inconvénients :
I'm entirely satisfied at this point. I wish that the Course Catalog could be organized and displayed by category, but I've found a workaround for this.
Kathy
Director - RFPs (É.-U.)
Externalisation/délocalisation, 1 001-5 000 employés
Temps d'utilisation du logiciel : plus d'un an
Initially excited, but overall disappointed
Commentaires : We were excited to introduce this tool into our environment, and while there are some big benefits (quick course setup, administration is easy), there are detractors that outweigh the benefits. Completing courses takes too long for employees, they are forced to go back in time and time again, because of the way that the systems completes courses. Support has been unable to identify the issues and their only solution is to move to the cloud (not a viable option at this point).
Avantages :
The application provided for an on-premise solution, which our organization was very interested in.
Inconvénients :
Latency, freezing, course completion is spotty. It's not meant for an organization of our size.
Réponse de l'équipe de ELEARNINGFORCE International
il y a 3 ans
Dear Kathy. I'm Lars Vestergaard, CEO of ELEARNINGFORCE, the makers of LMS365. I'm very sorry to learn that you've experienced problems with our On-premises version. We'll do whatever we can to fix this. This review is placed under our Cloud SaaS solution, which is an entirely different product from the one you have, running On-premises. As such, I would ask if you would consider removing it? We'll mark it more clearly that this is our Cloud offering, unrelated to running our SharePoint LMS on-premises.
Recrutement, 201-500 employés
Temps d'utilisation du logiciel : 6 à 12 mois
LMS 365 for Franchises
Avantages :
We've been using this system for about a year and have just recently started diving into all the features and functionality. Prior to, we were using it more to house webinars and tracking new hire training. I like the reporting to be able to see who is using, what they are doing and how their progress is going. It's a very easy system to use as well.
Inconvénients :
I haven't come across anything I haven't liked. I'm just getting into all the more LMS and certification and tracks, so I'm sure as I use it more, I will have more to report back on.
Réponse de l'équipe de ELEARNINGFORCE International
il y a 8 mois
Thank you for the review, Amy. We are so happy to hear that your experiences with LMS365 have been positive. As you spend more time with LMS365 and get ideas for product improvements, remember that you are always welcome to share your ideas for the product in our Idea Platform: https://lms365.com/ideas/