Description de VSys One
Gérer vos bénévoles peut être frustrant et prendre beaucoup de temps. Avec VSys One, il est facile de planifier, de communiquer avec vos bénévoles et de les suivre à partir d'un seul système. La technologie éprouvée de l'éditeur vous permet de gérer 100 ou 100 000 bénévoles. Accédez rapidement et facilement à vos archives de bénévolat avec des filtres personnalisables qui vous donnent un contrôle total ! Utilisez les données comme vous le souhaitez en personnalisant des rapports et en utilisant des fonctions de fusion ou d'exportation de courrier. Tirez le meilleur parti de VSys One et de ses fonctionnalités avancées !
Qui utilise VSys One ?
Les hôpitaux, organismes à but non lucratif, municipalités et entreprises aux États-Unis et au Canada.
Où peut-on déployer VSys One ?
Basé sur le cloud
Sur site
---
À propos de l'éditeur
Bespoke Software
Situé à Albany, É.-U.
Fondé en 1998
Assistance VSys One
Support téléphonique
Chat
Pays disponibles
Canada, États-Unis
À propos de l'éditeur
Bespoke Software
Situé à Albany, É.-U.
Fondé en 1998
Assistance VSys One
Support téléphonique
Chat
Pays disponibles
Canada, États-Unis
VSys One en vidéos et en images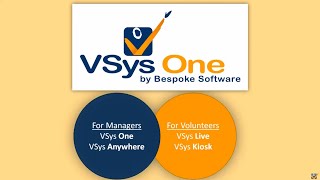 Comparez le prix du logiciel VSys One avec ses alternatives
Fonctionnalités - VSys One
Gestion de la communication
Gestion des abonnements
Gestion des inscriptions
Gestion des événements
Planification
Portail libre-service
Rapports et statistiques
Recrutement de bénévoles
Amy Faith
Network Manager, Volunteer Services & Patient Experience Team (É.-U.)
Utilisateur LinkedIn vérifié
Hôpitaux et soins de santé, 10 000+ employés
Temps d'utilisation du logiciel : plus de deux ans
Alternatives envisagées :
A Real Game Changer in Volunteer Administration and Metrics Reporting for Senior Leadership!
Commentaires : I have worked in volunteer administration for close to 25 years. I have seen a thing or two when it comes to data collection and volunteer tracking software. In my time, I have never worked with a more sincere group of people than the staff at Bespoke Software. My organization is currently two-years post merger and we're working with VSys to merge all of our hospitals into one cohesive system. With VSys One and VSys Live, whenever you have a task, the customer service team will meet you where you are at and help you to accomplish the project. In some cases you can start the project on your own and they will take the reins if something needs to be tweaked or they might even walk you through it with step-by-step instructions. With other software, it seemed to take forever to get an answer and the answer did not involve human interaction. With VSys, you can be sure that during normal business hours, you are covered with telephone and email support.
Avantages :
With customization of advanced exporter and custom column reports, VSys One user tools and reports offers the ability to create performance-based dashboards when saving data to Excel, creating a graphical gauge that tracks the throughput of volunteers and lets you monitor volunteer successes throughout your system. We recently created a thermometer to provide leadership with reports on numbers of volunteers returning back into service in-person post-pandemic week over week. We plan to expand on the reporting to include peer-to-peer volunteers and number of visits or encounters they have on a daily basis. The software will grow as your program grows. We love the ability it has to put the onus on volunteers to upload their own data, making the on boarding process much easier with less keying in of information for staff, while eliminating the need for paper and having to chase after volunteers to complete their requirements. We love that VSys is able to report out on everything you need, helping you to speak in a language that C-Suite leaders can understand and it even has the ability to do some things that you didn't know you needed. With VSys One and Vsys Live, the possibilities are endless!
Inconvénients :
At first, the cost was a dissatisfier among top leadership, but it is well worth the price. They say you get what you pay for. VSys is the Rolls-Royce of Volunteer Administration Software, it simply inspires greatness and makes data tracking simple!
Patricia
Director (É.-U.)
Hôpitaux et soins de santé, 1 001-5 000 employés
Temps d'utilisation du logiciel : plus de deux ans
Alternatives envisagées :
Cottage Health Volunteer Program
Commentaires : we are able to manage over 1,000 active volunteers, we especially like the ability to communicate with some or all volunteers as well as documenting all interactions. We are able to customize the database to meet our best practices and procedures.
Avantages :
The pros are have a robust database that handles all of our daily operations, from an on-line application that when accepted is downloaded right in to the database. We also like the ability to customize to our services and requirements (national, state and local guidelines and to customize to our hospital's culture and policies, The help line is fantastic and are very knowledgeable and patient. they are responsive to requests and upgrades.
Inconvénients :
The scheduling is great.... but I would like to add phone numbers and to be able to color code the training volunteers vs the trained volunteers.
David
Director, Volunteer Services (É.-U.)
Hôpitaux et soins de santé, 501-1 000 employés
Temps d'utilisation du logiciel : plus de deux ans
Needlessly Complex
Commentaires : The product line is confusing - VSys One, VSys Lite, VSys Live, VSys Kiosk, VSys Live Kiosk. A few key features that were promised by the project leader have failed to materialize. My sense is that again, they have a product that can do many things, but they don't know how to package their own product or create a user interface friendly for customers. The business model is one of paying for a support subscription post-implementation so they don't have much of an incentive to change.
Avantages :
I can't deny that it is powerful. It will make reports and track data. The phone support is decent.
Inconvénients :
See the title of the review. The user interface as the administrator is cumbersome and non-intuitive. There are too many steps and serpentine workflows to accomplish basic tasks such as creating a job assignment or building a new training.
Suzanne
Senior Volunteer Program Supervisor (É.-U.)
Musées et institutions, 51-200 employés
Temps d'utilisation du logiciel : plus de deux ans
Alternatives envisagées :
Customer Service Can't be Beat!
Commentaires : We are able to manage our legacy volunteer data (16K records), our current roster of active or recently active (2K records), communication, job history, training, implement automated features like background check surveys, and maintain schedules for volunteers in multiple roles effectively. And when I need assistance, it's there at the other end of the phone!
Avantages :
While the entire database is robust enough to more than meet our organizational needs, the very best part is the awesome support team that is always available to me. We implemented this program about five years ago, and it's been able to help us manage a tremendous amount of information about our 800+ volunteer program. The fact that it's on the cloud also helps us because we can access anything we need regardless of where the volunteer management team is physically (a plus in Covid times!).
Inconvénients :
The challenge with such a strong database system is that it can be hard to master if you are not a daily user. However, the team is working on updates and have been very open to my feedback about changes and improvements from the user's standpoint. If they keep going with the focus on user experience, it will continue to be an industry leader.
Denise
Operations Coordinator (É.-U.)
Gestion d'organisme à but non lucratif, 11-50 employés
Temps d'utilisation du logiciel : plus de deux ans
VSys is a great database
Commentaires : I love that we always have support when we call in for help with VSys. Everyone at the office is helpful and if they cannot figure it out they ask for help from another VSys staff member.
Avantages :
I use VSys on a daily basis and am the primary administrator. We use VSys for multiple different operations such as volunteer management, donor/account management, partner agencies we work with and all the jobs we send our volunteers to. Along with this we love that we can create letters types and be able to pick the letter need and customize prior to sending and saves to the volunteer or donor profile. VSys has saved us time running reports and having the ability to save them all with the criteria we need. VSys has so many other options we are not currently using but plan to in the future.
Inconvénients :
The only complaint I would have is I wish more screens talked to each other. Some processes we have to do manually which takes more time and some reports do not have the ability to do some things we need but we have learned to work around or just manually handle it.