CurrencyXchanger
Description de CurrencyXchanger
CurrencyXchanger (CXR) est une application commerciale conçue pour l'automatisation des entreprises de transfert de fonds. Elle propose des fonctionnalités de point de vente, de CRM, de comptabilité,
Lire la suite
de reporting et plus encore. De plus, elle est conforme avec la lutte contre le blanchiment d'argent (AML) et contre le financement du terrorisme (CFT). Elle peut être utilisée comme un système autonome, dans un environnement réseau avec front-office et back-office, ou encore dans un environnement avec diverses parties en utilisant un serveur central (ou basé sur le cloud). Cet outil est utilisé par plus de 350 détaillants et grossistes dans 30 pays. Clear View Systems a une note A+ auprès de Better Business Bureau (BBB).
Afficher moins
Qui utilise CurrencyXchanger ?
Entreprises de transferts de fonds, banques, caisses populaires, institutions financières, points de change, entreprises d'encaissement de chèques et de prêts sur salaire, magasins touristiques, bureaux de poste, hôtels, motels, centres de vacances, commerces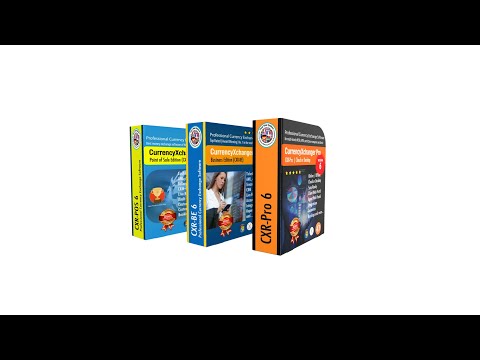 Vous hésitez à choisir CurrencyXchanger ? Comparez-le à une autre option populaire
Version gratuite
Version d'essai gratuite
Intégrations introuvables
Version gratuite
Version d'essai gratuite
Pourquoi ce message s'affiche-t-il ?
Alternatives à CurrencyXchanger
Avis sur CurrencyXchanger
Utilisateur vérifié
Investment Banking Analyst (É.-U.)
Utilisateur LinkedIn vérifié
Services financiers, 10 000+ employés
Temps d'utilisation du logiciel : plus d'un an
A Software That Provides Multi-Currencies Rates
Avantages :
We often have to compute in multi-currencies at work since trading deals with different countries and it's comforting to note that there is a program that indicates the exchange rates. I was very attracted to Currency Xchanger from the minute I tried it. I started with the free trial and it got me hooked right away. This program keeps track in controlling your stock and providing the best estimate on rates and costs. The program also includes information on profit and loss when there are exchanges in currency. I deal with numbers everyday and Currency Xchanger has been my sidekick for computing in different currencies.
Inconvénients :
The software seems to be designed for advanced users because some of my co-workers had a difficult time navigating through the process. Perhaps they should have better tutorials for people who are not experts in technology.
Réponse de l'équipe de Clear View Systems
il y a 4 ans
Most of our reviewers don't mind sharing their information. Although this review sounds legitimate and provides a 9/10 recommendation of our product, we are wondering why remain anonymous. Also, we are known for our customer support and we didn't receive any stars in that respect. There are over 100+ training videos and 2 user manuals, so we are wondering how your staff are not aware of it? You can also ask any question on Google or Bing about CurrencyXchanger (CXR). For example Google or Bing the phrase "How to add a customer in CurrencyXchanger"
Rostia
Chief Compliance Officer (É.-U.)
Services financiers, 11-50 employés
Temps d'utilisation du logiciel : plus de deux ans
Currency Xchanger Software
Commentaires : I have tested three softwares and The Currency Xchanger is the best by far. I love that reports are customizable and the data information in each client profile is easy. With Compliance rules and regulations this software gives you the options to require information over certain transaction amounts and OFAC screening. The tab with KYC (Know your customer) is the best feature I use. I would highly recommend this Software to all Money Service Businesses and financial entities. The support staff is great he can always tailor the software to your business is one of the reasons why World BNotes Exchange Inc. still uses Clearview systems.
Avantages :
Reports, Excel, receipts, customer profiles, and Compliance tools.
Inconvénients :
Denomination entry has now been an issue there is another screen that pops up. Before it was much easier once we entered denominations in the system but now it just pops up every time.
Réponse de l'équipe de Clear View Systems
il y a 6 ans
Dear Rostia, Thank you very much for your review. We are delighted to have received such a fantastic review. The denomination teller-proof module is not different but I think you are logged in as administrator so you see the option of checking and controlling other users. That's probably why you are seeing an extra screen. If you login with standard teller account, you will not see the extra screen open up. Anyways, please contact us directly if you need further help. Best regards, Tiran B CTO
Jesus
Compliance officer ()
Temps d'utilisation du logiciel : Non fourni
Currency exchanger
Commentaires : I really like it there is no other program that I would rather have than currency exchanger
Avantages :
Has everything you need to run a msb business
Inconvénients :
It takes time to and practice to do fully take advantage of the full features ofbthe program
Utilisateur vérifié
Investment Banking Analyst (É.-U.)
Utilisateur LinkedIn vérifié
Services financiers, 10 000+ employés
Temps d'utilisation du logiciel : plus de deux ans
Multi Currency Platform
Commentaires : Training videos and the manuals are super useful. Go over them and you will quickly master this great platform.
Avantages :
Working in the investment banking world requires to stay on top of things, including foreign currencies and international business news. CurrencyXchanger is our go to software for currency exchange rates. CurrencyXchanger keeps track of all our international stock rates for us for certain campaigns and works great as a platform for uniting all the necessary tools in one place. I am personally an avid user of CX after trying many similar software prior.
Inconvénients :
CX provides us with everything we expect it to, and it does so well.
Temps d'utilisation du logiciel : Non fourni
CurrencyXchanger Business Server- Multi Branch
Commentaires : I would recommend the system to other foreign exchanges. It's very reliable and our business is relying on it for our everyday transactions. This software is very user-friendly too and everyone at every level can operate with it. This is BIG PLUS.
Avantages :
I like the fact that all our branches can work with the same central system. I really like the new features added in the new version. 3.457. It made our work much easier. The OFAC and OSFI automatic checks are excellent and can help us with our compliance program. All the things that are automated are helping us. The fact that the system is now faster than previous version is a great plus I really appreciate that some of our suggestions are implemented in the system.
Inconvénients :
The minor issues are: - sometimes it freezes on certain occasion. - the rates server sometimes doesn't update the rates. - we would like to see improvement in the POS for non-currency items (better reporting for non currency items) - the denominations inventory could be improved - I would like to see an internal chatting system for the staff. I would like to see a specific message to a specific user, as we have many staff working for us now. - How much you made on a client, statistics on the client. average performance for a particular client. Answering questions like "Who's the best client" based on different parameters (based on referrals, volume, number of transactions). This feature is good for clients retention. - I can see who has been active in the past few years but I want to see who is not active. - Trading features need to be improved