Buildertrend
Description de Buildertrend
Buildertrend est un logiciel de gestion de projets haut de gamme basé sur le cloud. Avec près d'un million d'utilisateurs à travers le monde, Buildertrend permet à de nombreuses entreprises du
Lire la suite
secteur du bâtiment de gagner en efficacité. Le logiciel de Buildertrend aide les professionnels du bâtiment à développer plus de projets tout en réduisant les retards, en éliminant les erreurs de communication et en augmentant la satisfaction des clients. Devis, planification et modification de commande, communications client et gestion des documents : toutes les fonctionnalités dont vous avez besoin sont là !
Afficher moins
Qui utilise Buildertrend ?
Buildertrend est la solution idéale pour les constructeurs de résidences, les rénovateurs, les entrepreneurs spécialisés et les entrepreneurs généraux.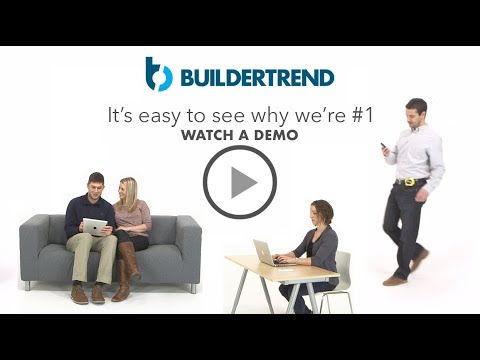 Vous hésitez à choisir Buildertrend ? Comparez-le à une autre option populaire
Indisponible dans votre pays
Version gratuite
Version d'essai gratuite
Version gratuite
Version d'essai gratuite
Pourquoi ce message s'affiche-t-il ?
Alternatives à Buildertrend
Bianca
Interior Designer
Utilisateur LinkedIn vérifié
Design, 2-10 employés
Temps d'utilisation du logiciel : plus de deux ans
Buildertrend design/construction office review
Sous-titres en français disponibles pour la vidéo
Brian
Solar Consultant (É.-U.)
Utilisateur LinkedIn vérifié
Énergies renouvelables et environnement, 11-50 employés
Temps d'utilisation du logiciel : 6 à 12 mois
Revolutionized my sales follow up
Commentaires : I used other CRMs in the past, but love using BuilderTrend. Its simple setup has allowed me to keep track of my customers as well as provide better follow up to my clients. I just utilize the Sales section of BuilderTrend, but it has improved my client relationships and increased my overall sales.
Avantages :
Buildertrend is great--I love using the Activity Calendar and Lead Report to keep track of my follow up with my customers. I can use activity notes to remember what I discussed with customers when we last spoke, and this helps me engage in better dialogue when I follow up with customers. Our installation team loves using the project management feature to keep track of our installs and provide an easy transition from sales to installation.
Inconvénients :
The user interface is kind of clunky, especially on the app. Sometimes it is difficult to find stuff and the filters can get annoying.
Réponse de l'équipe de Buildertrend
il y a 3 ans
Brian, thank you for your review and honest feedback! We love hearing how Buildertrend has helped your company.
Richard
Project Manager (R.-U.)
Construction, 11-50 employés
Temps d'utilisation du logiciel : plus de deux ans
Alternatives envisagées :
Streamlines so many parts of our business
Commentaires : Very good. If youre going to integrate BT make sure you take it on a section at a time. Dont try and open up too many sections to your team These guys have given a lot of thought to the software and it forms an amazing backbone for any client facing construction business. We couldnt last the day without it.
Avantages :
This software is outstanding in many different areas We initially purchased it initially to manage our clients selections for new homes and it quickly got integrated elsewhere to the point its the backbone of many of our processes We use this now to manage client change order (it pays for itself on this alone every month) selections, materials ordering from site, daily logs, H&S management, RFI's for the design team and photo storage and programming to name but a few We couldn't go back to the old ways of doing many of these There are a lot of different features and you'll certainly find many that'll make it worth your while to use Oh and the customer support is ace
Inconvénients :
Overall roll out is great and intuitive but you do need to comit to integrating BT to your business and this takes time and effort. THis is a software that gives back 10 fold what you put in, but it does need your comittment.
Réponse de l'équipe de Buildertrend
il y a 2 ans
Richard, thank you so much for your honest review and feedback! We appreciate you sharing how Buildertrend works for Appletree Estates, and we feel so lucky to have you as customers.
Construction, 2-10 employés
Temps d'utilisation du logiciel : plus de deux ans
Source : SoftwareAdvice
Good product shady price poing
Commentaires : At the lower the price I started with it a great product but there are a handful of companies that are do as good or almost as good a job for 3-5 time cheaper.
Avantages :
I did like all the features. Works great for Fixed price projects
Inconvénients :
HATE the price and the shady way they keep increasing the costs. Start at $59 a month quit when they asked for $1300 a month. Actually they did not ask all of their price increase over the year have happened without notification. This latest increase was beyond crooked 200% increase with even informing their users.
Temps d'utilisation du logiciel : Non fourni
Source : SoftwareAdvice
Commentaires : We are a boutique custom home builder; each project is unique and personalized. Although I was not involved in the selection of this software, my understanding is that we wanted a program that could be accessed by all the parties involved, handle the scheduling and move us away from paper checklists - ultimately allowing all users to be both informed of changes and to be able to plan for future events without having to directly communicate with each person. As far as scheduling goes this system has failed. It has caused more time consuming questions. My complaint is that you can only link item to item by a (or a couple) predecessor(s) that, ultimately, the program struggles with which item is next in the list if a few of them share the same linked task. Also in a best case scenario, this scheduled list is how you build a house - but in most cases something, whether it be trade related or whether related or inspection related, cause a task to be delayed but the other ones would continue on schedule however the program has linked the start date to the the delayed task and now the whole calender is messed up. Or perhaps the exterior of the house generally starts after framing and roofing but maybe a winter storm makes this impossible so you continue the interior for weeks. Then you try and adjust backwards and because your best case scenario template stated it should commence at framing completion and you delayed that. Thus your left with a domino affect of wrong dates. and a series of emails sent to vendors informing them of the delay that really didn't apply to them. So they change schedules and you are left with no trades to do the interior work that in your mind could and should be fine. I also find that the program doesn't offer enough flexibility in the selection section. It allows me to upload a previously created document to be stored that a homeowner could then log on and download. They then fill out and can't re-upload this document, so they are forced to fax or scan and email back to us. This is neither time effective nor practical. Perhaps it would be better if we were able to create a checklist that was interactive in this section, similar to the change orders where we type out the change and the client could update decisions. In our company we don't limit our clients to three choices of floor plans and two cabinet doors and 4 granite selections, they are free to choose anything they can dream of. As a result we cannot load a document that would apply to all builds. However, I believe the change orders tab is well thought out, easy to use and provides all the options to make it a valuable asset. The warranty section does a great job of tracking and notifying and saving time and assuring that service and warranty items are handled and accepted. The daily log and messaging capabilities that allow us to keep a record of notes or messages in one area logged by date and job site is extremely valuable and a good system. Furthermore, the software as a whole is easy to learn, has a logical and simple layout so even those who are not computer savvy can fumble through without creating errors and won't be too intimidated by the complexity of the software to attempt to use it. Finally, the technical support and training provided is always quick to help resolve an issue or aid in a question. New training is scheduled in a very quick time frame for free and is tailored to the person that requires it. This is handled exceptionally well in a time when often companies forget you exist once the purchase is complete. So, we have decided that we will use BuilderTrend for those things that they excel at and don't use it as a scheduling tool.
Construction, 2-10 employés
Temps d'utilisation du logiciel : plus de deux ans
Source : SoftwareAdvice
Good Value
Commentaires : While in general we've been happy but our frustration points have pushed us to look at others. There may be other programs that work like BuilderTrend but we haven't found anything that gives us what we're looking for. While BT has made strides recently we would like to see more industry standard issues resolved on the back end. For the money though it is reasonable.
Avantages :
Documentation preservation. Job organization
Inconvénients :
Accounting does not follow basic industry standards. We've have had invoices rejected because there is basic information missing like issue and due date. We don't care about print date. Is that industry standard?