Vous aimerez peut-être...
Description de TheLearning Lab
L'éditeur propose sa propre plateforme LMS (Learning Management System) pour les créatifs qui pensent que l'image de marque compte.
Ce LMS est une base web modulaire, flexible et attrayante qui comprend des fonctions de gamification, questionnaires, statistiques, tableau de bord, chat, forums, SCORM, traduction automatique, etc.
Créez des cours de formation esthétiques, concevez du contenu hautement personnalisé et offrez une expérience d'apprentissage exceptionnelle.
L'éditeur est également une agence de développement de contenu. L'éditeur gère l'UX (User Experience), la stratégie d'e-learning et la conception de contenu.
Qui utilise TheLearning Lab ?
Cette solution s'adresse aux moyennes et grandes entreprises.
Informations sur TheLearning Lab
TheLearning LAB
TheLearning Lab en vidéos et en images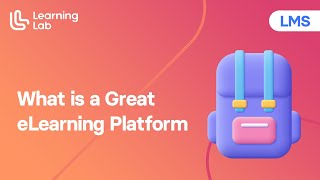 ▶︎
Informations sur TheLearning Lab
TheLearning LAB
Comparez TheLearning Lab à des logiciels similaires
À partir de
250,00 €/mois
29,00 $US/mois
36,00 $US/mois
s/o
Déploiement et prise en charge de TheLearning Lab
Ressources d'aide
FAQ/forums
Base de connaissances
Support 24/7 (réponse directe)
Formation
Formation présentielle
En ligne en direct
Webinaires
Documentation
TheLearning Lab - Fonctionnalités
API
Alertes/Notifications
Authentification unique
Autorisations basées sur les rôles
Bibliothèque de contenu
CRM
Classification des documents
Contrôle du processus d'approbation
Contrôles/Permissions d'accès
Filtrage
Fonction de glisser-déposer
Formulaires personnalisables
Formulaires électroniques
Gestion SEO
Gestion de contenu
Gestion de site web
Gestion de versions
Gestion des calendriers
Gestion des campagnes
Gestion des documents
Gestion des e-mails
Gestion des fichiers
Gestion des fichiers audio
Gestion des flux de travail
Gestion des formulaires
Gestion des modèles
Gestion des métadonnées
Gestion des utilisateurs
Gestion du cycle de vie des ressources
Intégration des médias sociaux
Intégrations de tiers
Marquage
Mise en forme de texte
Modèles personnalisables
Notes et commentaires
Options de publication de contenu
Outils de collaboration
Prise en charge de plusieurs langues
Rapports et statistiques
Recherche en texte intégral
Recherche/Filtre
Retouche numérique
Stockage de documents
Stratégie de marque personnalisable
Suivi de l'engagement
Suivi des activités
Support vidéo
Tableau de bord d'activités
Workflow configurable
Éditeur WYSIWYG
Logiciels de gestion de contenu : afficher la liste complète
API
Apprentissage asynchrone
Apprentissage collaboratif
Apprentissage mixte
Apprentissage mobile
Apprentissage synchrone
Authentification unique
Autoapprentissage
Bibliothèque de contenu
Certification et licences
Conformité SCORM
Conférences vidéo
Création de cours
Création de cours intégrée
Enquêtes et feedback
Entreprises
Entreprises de formation en ligne
Gamification
Gestion de contenu
Gestion de l'apprentissage
Gestion de l'e-commerce
Gestion de la conformité
Gestion de la formation
Gestion des affectations
Gestion des cours
Gestion des talents
Gestion des utilisateurs
Gestion des évaluations
Intégrations de tiers
Mesure des performances
Parcours et suivi d'apprentissage
Portail des apprenants
Portail des employés
Portail libre-service
Prise en charge de plusieurs langues
Rapports de suivi
Rapports et statistiques
Rapports personnalisables
Relevé de notes
Stratégie de marque personnalisable
Suivi de la conformité
Suivi de la progression
Suivi des activités
Suivi des certifications
Suivi des compétences
Suivi des cours
Tableau de bord d'activités
Tests et évaluations
Université/Écoles
Évaluation des compétences
Outils LMS (Learning Management System) : afficher la liste complète
An D.
Chief Information Officer in France
Utilisateur LinkedIn vérifié
Sports, 51-200 employés
Used the Software for: 6 à 12 mois
New entrant in the LMS world focussing on UX and customization rather than backend
Comments: Overall very good experience
Pros:
Attractive pricing model for a solution which can be tailored. Excellent user and admin experience. Very willing and flexible team to work with. Ambitious roadmap. Nicer design compared with a lot of solutions on the market. good positioning sitting between off the shelf (take it or leave it) solutions and extremely expensive fully customizable platforms.
Cons:
Still catching up on some functionalities compared with more established actors on the market
Rhianon B.
Programs Manager in Allemagne
Gestion d'organisme à but non lucratif, 51-200 employés
Used the Software for: 6 à 12 mois
Alternatives Considered:
Thoughtfully structured, easy to use LMS with clean design
Comments: TheLearningLab has been incredibly helpful for our non-profit organization as we move into providing more online trainings around the world. This LMS is allowing us to scale both our internal staff training and the external training we provide to youth sport program managers worldwide in a way that is low-cost and actually fun! TheLearning Lab team have been super great to work with, always responding to any questions we have and even providing training and support via video calls when needed. We highly recommend them!
Pros:
We thought very hard before selecting our LMS, and what we liked about TheLearning Lab was that the platform provided everything that we needed to launch our very first e-learning platform, with very little customization needed or technical know-how in terms of content creation. The team at TheLearning Lab are really e-learning professionals and met with us to help us learn about the potential for the platform and how it could fit with our needs. They also gave us some good tips about content creation since they provide this service to some clients (though we are creating our own course content in-house). We like that the backend structure where the courses are created actually mirrors how the courses appear to users. This sounds simple but some of the other course authoring softwares that we tried were really not intuitive to use at all! The simplicity of this LMS means that we will soon train several people on our team to help with creating and editing courses, meaning we can create content much faster. Other things we really like are: - Unlimited users at no extra cost (no hidden or unknown costs as we scale) - Ability to assign users to different audiences, gives it versatility that allows us to easily provide different content for staff training versus external online courses - Ability to set up single sign-on from our website - Gamification such as badges - Several other languages possible via integrated DeepL API key
Cons:
Their LMS is missing a couple of the interactive features that a previous LMS had, for example the ability to give feedback for incorrect quiz answers (currently feedback is only possible for correct answers) and small things like flip cards with images (not just text). However TheLearningLab LMS is constantly being upgraded with new features and the Penceo team have been responsive to requests for additional features, which makes a big difference compared to dealing with a faceless software company.
Frank H.
Sales in Pays-Bas
Design graphique, 11-50 employés
Used the Software for: 1 à 5 mois
We love TheLearning Lab, only real creative solution we found
Comments: Very helpful team, great software. We love working with it as it is so easy to set up!
Pros:
We were looking for a LMS and Authoring tool in one which was designed to set up courses with interactive video, mobile, infographics, gamification and which was particularly easy to style in our clients corporate identity.
Cons:
The tool is quite new which means some of the features need to become a bit mature. But the great thing is that the dev team quickly adds new features and works close with us to achieve the best result. So in fact this turned out to be a strength
Helene R.
Business Development Manager, EBU Academy in Suisse
Production audiovisuelle, 201-500 employés
Used the Software for: 1 à 5 mois
An LMS that is very friendly to users, trainers and admin staff alike
Comments: We want to enhance our trainees' learning experience by offering the possibility of blended learning on some of our courses. The LMS Lab is offering us a simple, user-friendly way to experiment with blended courses. We are now testing content, formats, quizzes and certification. And so far everyone is happy be they trainees, trainers or course producer (me !)
Pros:
Easily usable both from an end-user (trainee) and admin/trainer perspective; beautiful and streamlined design, easily "brandable"; the fact that we feel we have some leverage on the additional functionalities and features that can be developed is a plus. The excellent and personable relations we have with Penceo marketing, creative and support team.
Cons:
We are still in the process of discovering how to best use the platform. There are a few functionalities that are missing - such as a course assessment form or the possibility to create a discussion forum for the trainees.
Emmett P.
Senior Manager, L&D in Espagne
Services financiers, 501-1 000 employés
Used the Software for: 1 à 5 mois
Alternatives Considered:
Strong Content Creation LMS
Comments: Our experience to-date has been great, we've found the entire team very helpful and eager to work with us in every aspect of our LMS roll-out within the company.
Pros:
The system has an amazing content creator tool which allows you to easily create learning materials from scratch. The system is very intuitive so doesn't take much training to get up to speed and the User Interface means the end-user experience is engaging and exciting.
Cons:
We've only had the system for a shirt amount of time, but what the system doesn't currently have available the team has offered to help build in or is already on their system development road-map.