Description de RevenueCat
RevenueCat facilite la création d'abonnements multiplateformes dans l'application, la gestion de vos produits et de vos clients et l'analyse de vos données IAP sans code serveur.
Qui utilise RevenueCat ?
Applications mobiles
Où peut-on déployer RevenueCat ?
Basé sur le cloud
Sur site
RevenueCat en vidéos et en images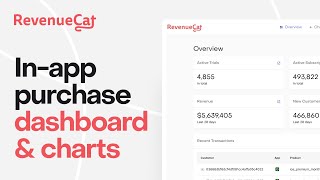 Comparez le prix du logiciel RevenueCat avec ses alternatives
Fonctionnalités - RevenueCat
Catalogue de produits
Facturation récurrente de plusieurs périodes
Facturation récurrente et des abonnements
Gestion de contenu
Gestion des annulations
Gestion des remises
Inscriptions et intégrations
Intégrations de tiers
Logiciels de gestion des souscriptions
Options de paiement multiples
Portail libre-service
Profils de clients
Suivi et analyse de l'utilisation
Tableau de bord
Alternatives à RevenueCat
David
Chief Learning Officer (É.-U.)
Utilisateur LinkedIn vérifié
Internet, 51-200 employés
Temps d'utilisation du logiciel : plus d'un an
Critical for running my subscription business
Commentaires : Happy customer!
Avantages :
Just works — provides server-side software and client-side APIs the Apple and Google should provide but don't. Useful charts Supports iOS, Android and many integrations It just works! No drama.
Inconvénients :
Nothing comes to mind. It does its job well.
Logiciels, 2-10 employés
Temps d'utilisation du logiciel : 6 à 12 mois
Alternatives envisagées :
Simple Solution for In-App Subscriptions
Commentaires : We turned to RevenueCat because of the hassle that exists trying to verify purchases manually. Doing this ourselves would mean setting up a server, handling all the different cases across the App Store and Play Store, and making sure this server is maintained and always live. For a small team like ours, this just wasn't viable and any potential money "saved" doing it ourselves would be lost in the time we would spend setting up our own solution. That would also mean extra time before an app can be released which would increase our time to market. RevenueCat handled everything we needed it to and took about a week to fully integrate.
Avantages :
RevenueCat made it really easy for us to implement In-App Subscriptions for our app with absolutely no prior experience in taking payments on mobile devices. It saved us the upfront cost of paying for our own server to verify purchases along with the potential months of headache to handle all of the different scenarios you need to plan for and handle with in-app purchases (buying, renewing, pausing, canceling, etc.) Being able to pull information directly from RevenueCat instead of hard-coding it into our app also meant we could have a single source of truth (the App Store/Google Play Store) where we would update our available products.
Inconvénients :
The only thing I wasn't a fan of (which has since been changed) was the payment model. When we first integrated it, the payment model was a fixed monthly rate versus the percentage cut that it is now. Extremely useful features like webhooks weren't accessible for us at the time because of this, but as I stated they've now changed this. Because of that, I cannot name anything I dislike about RevenueCat.
Utilisateur vérifié
Software Developer (Italie)
Utilisateur LinkedIn vérifié
Services et technologies de l'information, 51-200 employés
Temps d'utilisation du logiciel : 6 à 12 mois
A good tool but still need lots of work
Commentaires : Ok, could be much better but still the tradeoff between implementing everything and relying on it is still worth it
Avantages :
We decided to use revenuecat in order to have "one ring to rule them all" for our IoS and Android app to manage our products and subscriptions. It works fine (most of the times) and takes away that burden from us.
Inconvénients :
The key points that come to my mind are: - Calculated revenue is wrong! It does not match the actual app revenue since it does not take into account neither the day of the purchase exchange for the currency and also automatically uses USD dollars for everything - When some events happens RevenueCat is often quite slow in contacting our APIs to tell us about it. I reckon it might be due to the Store updates but still want to mention this since often it gave us problems in sync subscriptions purchases - Sometimes support has taken even 4-7 days to answer our emails and we had to ping them
Santé, bien-être et fitness, 2-10 employés
Temps d'utilisation du logiciel : plus d'un an
no brainer for small mobile app
Commentaires : when i started building our app RevCat was a no-brainer. now, when we grow and have $30k revenue monthly, the product starts to be a little bit pricy. in the future, we may consider building our own system and use native apple api. what could hold us at RevCat is a possibility to reach to users who cancel their paying plan and send a push notification with a special offer.
Avantages :
- easy setup for a developer - i did it a long time ago and since then it works perfectly - dashboard with charts that i check almost daily to have an idea of how many users we have on trials/how is the app performing. - MOST IMPORTANT: i can instantly see if the new version converts users to a paid plan better.
Inconvénients :
- there are bugs in the iOS iAPs, so it's hard to point where the fault is, but some of our users complain that they can't restore purchases on their second device. RevCat support suggested they can remove the app and redownload - and that helps... but it is a lot of work for a new user.
Simon
Founder/Developer (Suède)
Santé, bien-être et fitness, Auto-entrepreneur
Temps d'utilisation du logiciel : plus d'un an
A must have for cross platform indie developers
Avantages :
Super easy integration and saved months of development time for cross platform subscriptions. The SDK also helps out tremendously when doing customer support. And it saves a bunch of time when building support for new subscription features or when configuring products. Signing up for RevenueCat was one of the best things I have done for my company!
Inconvénients :
The charts are a bit slow to update and don't seem to be accurate when it comes to revenue from countries that have VAT added to the price. For example, the revenue from countries like Sweden, where I have a large percentage of my customers, is reported as having a take home percentage of 70%. The real number is around 55% due to VAT, so the charts are inflated.