Description de Shapespark
Shapespark helps create 3D virtual tours with 3D video meetings inside.
Simply upload a 3D model to Shapespark, configure materials and lighting, and upload the scene to the internet. With a couple of clicks set up a video meeting inside where people can walk & talk in 3D!
Online walkthroughs and 3D meetings created with Shapespark are easy to share with clients and partners as they work in every web browser, including on mobile devices.
Demo scene: https://demo.shapespark.com/product-tour/
Qui utilise Shapespark ?
Architects, interior designers, archviz professionals, real estate companies, (virtual) event agencies, creative agencies.
Où peut-on déployer Shapespark ?
Cloud, SaaS, web, Windows (ordinateur)
À propos de l'éditeur
par Shapespark
Fondé en 2013
À propos de l'éditeur
par Shapespark
Fondé en 2013
Shapespark en vidéos et en images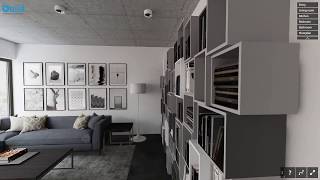 Comparez le prix du logiciel Shapespark avec ses alternatives
À partir de
19,00 $US/mois
N/A
s/o
9,99 $US/mois
Fonctionnalités - Shapespark
Accès hors ligne
Aménagement paysager
Animation
Bibliothèque de composants
Bibliothèque de contenu
Création de vidéos
Fonction de glisser-déposer
Gestion de la conception
Gestion de projets
Gestion des documents
Gestion des fichiers
Gestion des modèles
Importation et exportation de données
Intégrations de tiers
Modèles prédéfinis
Modélisation 3D
Modélisation BIM
Outils d'annotations et de croquis
Outils de CAO
Outils de collaboration
Panoramas
Plans et cartes de sol
Pour architecture, ingénierie et construction
Prise en charge de plusieurs formats de fichiers
Rendu
Retouche numérique
Rédaction
Stockage sécurisé des données
Visite virtuelle à 360°
Visualisations de produit en temps réel
Felipe R.
3D Designer (Pologne)
Immobilier, 2-10 employés
Temps d'utilisation du logiciel : plus d'un an
Friendly tool for developers and clients
Commentaires : Shapespark is making sharing ideas much easier and more interesting for our clients.
The new resourse of online meetings was also a great innovation.
Avantages :
When I started to use this software I was impressed how fast it was to export my models in Sketchup to a friendly setup render environment where I could navigate and easily share previews and final models of our projects with the clients. Later, I learned about customizations which gave my clients the freedom to choose a layout for presenting the information. Also it was great to improve my knowledge in Javascript programming.
Inconvénients :
I would like too see better global illumination, more kinds of texture maps and maybe some resourses with user-object interactions in the model such as open doors, turn on/off lights and sound effects.
Jorge M.
Lead 3D Artist (É.-U.)
Urbanisme et architecture, 11-50 employés
Temps d'utilisation du logiciel : Essai gratuit
Potential to be the All-in-one solution for architectural project showcase.
Commentaires : It has been a great experience and very fast turn around for all of our projects.
Avantages :
I love being able to create a VR walkthrough, Browser-based walkthrough and 3D renders and all of this is on the cloud, also scenes load very fast and on lower tier devices.
Inconvénients :
Being able to change the location of saved projects instead of only the Documents folder, this way I can sync them using Google Drive. Most of the time we need different 360 background images depending on the view/ where we are on the 3D model, so 360 background changing by using camera volumes would be great to have. Jagged lines in VR due to no antialiasing. Being able to create a material repository that loads already setup materials to the scene, this way we don't have to re-create them all the time. Set up Camera paths, to export animations of our projects. Export stereoscopic 360 panoramas. VR/ Browser based meetings with Avatar creation. Needs more menu/ UI Customization
Nishant A.
Proprietor (Inde)
Urbanisme et architecture, 2-10 employés
Temps d'utilisation du logiciel : 1 à 5 mois
Innovation at it's max !
Commentaires : I consider this software as the first in the market to offer Real time rendering on a web browser. That says enough about it.
Avantages :
The only reason I love shapespark is that it's real-time everything ! And that is something which others aren't able to provide.
Inconvénients :
Non technical person would love using it at first. But, if he wants to improve the quality of his tours/scene, he would need to hire technical people for that.
Jay J.
Graphic Production (É.-U.)
Marketing et publicité, 11-50 employés
Temps d'utilisation du logiciel : 1 à 5 mois
Great Piece of Tech
Commentaires : Overall this has been a great experience. I look forward to Shapespark adding additional features in the future. With the current pandemic this is a really great piece of tech to have for showing architectural environments.
Avantages :
It was very easy our creative team to get going in Shapespark. Once we figured out a proper work flow it was a pretty seamless process. With a little practice we were able to make some pretty impressive visual experiences.
Inconvénients :
Some of the features are more difficult to pull off than others. I am still in the process of trying to get Zoom to work with the software. This would probably be my only issue.
Partha protim P.
Consultant (Inde)
Utilisateur LinkedIn vérifié
Services et technologies de l'information, 10 000+ employés
Temps d'utilisation du logiciel : 1 à 5 mois
Shapespark Review
Commentaires : It is one of the best architectural walkthrough softwares currently in the market. Anyone can turn a 3D model into an interactive architectural walkthrough.
Avantages :
From my own personal experience, Shapespark stands out from the rest due to its real time web based visualizations. We do not need any other software to be installed on our system. The project can be viewed from anywhere with just a shareable link. Apart from this, they also have a virtual reality platform and the pricing plans are also affordable including a 30 day trial period.
Inconvénients :
Non-availability of Objects library. Apart from this I have not seen anything negative about the software.