Description de Replyco
Replyco is a helpdesk software designed to help eCommerce sellers improve customer service. Centralize & organize messages from eBay, Amazon, Shopify, and more. Reduce workload with automated organization, auto-responders, auto-assign & priority settings. Respond to messages quickly with email templates & one-click access to order information. Plus get detailed reporting to monitor performance. Try it free today.
Qui utilise Replyco ?
Replyco is a customer service software that helps eCommerce sellers better manage their inbox. It's ideal for eBay, Amazon & Shopify stores that want to improve response rates to buyer inquiries.
Où peut-on déployer Replyco ?
Cloud, SaaS, web, Android (mobile), iPhone (mobile), iPad (mobile)
À propos de l'éditeur
Replyco
Fondé en 2019
Support téléphonique
Support 24/7 (réponse directe)
Chat
Pays disponibles
Australie, Canada, Royaume-Uni, États-Unis
Replyco - Prix
À partir de :
70,00 $US/mois
Oui, essai gratuit disponible
Non, pas de version gratuite
Replyco n'est pas disponible en version gratuite mais propose un essai gratuit. La version payante de Replyco est disponible à partir de 70,00 $US/mois.
À propos de l'éditeur
Replyco
Fondé en 2019
Support téléphonique
Support 24/7 (réponse directe)
Chat
Pays disponibles
Australie, Canada, Royaume-Uni, États-Unis
Replyco en vidéos et en images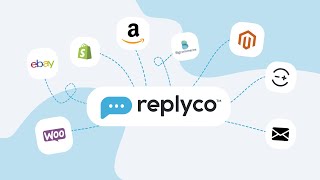 Comparez le prix du logiciel Replyco avec ses alternatives
Fonctionnalités - Replyco
Alertes et remontée des problèmes
Alertes/Notifications
Base de données de clients
Boîtes de réception partagées
Communication multicanal
Comptes d'utilisateur multiples
Configuration des workflows
Définition des priorités
Gestion des accords de service
Gestion des billets
Gestion des boîtes de messagerie
Gestion des contacts
Gestion des e-mails
Gestion des listes d'attente
Gestion des réponses
Gestion des signatures
Gestion des tickets de support
Intégrations de tiers
Macros et réponses types
Messagerie instantanée
Mesure des performances
Portail libre-service
Rapports et analyses
Répondeurs automatiques
Utilisateur vérifié
eCommerce Operations Manager (É.-U.)
Utilisateur LinkedIn vérifié
Électronique grand public, 51-200 employés
Temps d'utilisation du logiciel : plus d'un an
One of the Best
Commentaires : Previously, we used to manually manage all of our customer interactions on various marketplace portals. Replyco was instrumental in getting everything consolidated into 1 platform. They are constantly adding features and new integrations, and if you use Linnworks heavily, utilizing Replyco is a no-brainer. Their customer service is also great, and I've even had instances where the [SENSITIVE CONTENT] had personally helped me. For such a relatively young company, they truly stand out as one of the best helpdesk platforms out there.
Avantages :
They integrate extremely well with Linnworks, and it is fairly easy to set up, use and manage. The customer service is second to none and you get quite a lot for what you pay for.
Inconvénients :
Since they are a relatively small team that is based in the UK, they are usually sleeping during our business hours (in the US). This can sometimes cause delays in responses, but otherwise their customer service is amazing.
Vik K.
Company Director (R.-U.)
Vente au détail, 2-10 employés
Temps d'utilisation du logiciel : plus d'un an
Alternatives envisagées :
Excellent software thats grows with the business and very cost effective
Commentaires : From the 3 options I had, I definitely chose the right one. The fact that they are a smaller company makes them more personable to the customer. The price is perfect and flexible for multiple users as well as updates constantly being rolled out allowing businesses to merge different roles.
Avantages :
The customer service element is important to any business and ReplyCo has brought together most aspects of this role. The company, as us, has grown over time and is getting better and better with more and more features. The price has remained low and the customer support with [SENSITIVE CONTENT] and the team is second to none. They have listened to our concerns and recommendations - that have then been integrated within a week. The interface is getting easier to use too.
Inconvénients :
ReplyCo are constantly rolling out new features which is great, however sometimes a little buggy. It doesn't affect the purpose, however does get a little annoying. The interface at first is a little confusing and does take time to get used to. Ideally more deployment for users would be great from the admin account - signatures etc.
Amir B.
Company Director (R.-U.)
Vente au détail, 2-10 employés
Temps d'utilisation du logiciel : 6 à 12 mois
Offers a lot
Commentaires : overall is a good system, while we think its not necessarily the best for the price its well worth it and it does what we need for now.
Avantages :
It has a lot of functions and does what our business needs. The value is well worth it compared to the competition
Inconvénients :
it seems a little cluttered like there is too much on the screen, I think the workflow between the functions could be better and simpler. The colouring is not the best as the light grey text is sometimes hard to read
Steven S.
Director (R.-U.)
Marketing et publicité, 2-10 employés
Temps d'utilisation du logiciel : 1 à 5 mois
Alternatives envisagées :
Customer support - the right way!
Commentaires : Very positive. To be honest they are a breath of fresh air and I just wish all of our business partners were as responsive and accommodating. Even in the short time we have been with them <1 month, we are already seeing great additions and improvements being made. If this continues I believe Replyco will provide us with a comprehensive solution for dealing with all of communications both with external customers as well as internal partners. Go Replyco!!!
Avantages :
Tickets to keep support queries organized. Pulls in data automatically from Amazon, eBay, Linnworks etc. which is a great time saver. Love that we can have as many users set up as we need without extra cost - a massive advantage over much of the competition. Love the templates, rules etc which makes it very flexible. Love that new features are being added all of the time. [SENSITIVE CONTENT HIDDEN] is always extremely responsive to our suggestions or any bugs we flag up.
Inconvénients :
Features are being added all the time which while this is fantastic, means things can break some times which causes disruption. Currently lacks flexibility when initiating/creating new tickets. They are quickly improving this feature however :)
Réponse de l'équipe de Replyco
il y a 10 mois
Thank you so much for your kind words Steven. It makes our day that much brighter to know we've had a positive impact. We appreciate your flexibility and (and patience) as we continue to build a better Replyco.
Automobile, 11-50 employés
Temps d'utilisation du logiciel : 1 à 5 mois
Dont know why we have not moved over sooner.
Commentaires : Onboarding was brilliant - Any issues then their web chat worked a dream and problems instantly solved - software is nice - I love the Dark Mode! - Integration with Linnworks was very important to us - these guys have got it all sorted - amazing - well done.
Avantages :
Its very smooth - nothing clunky everything flows together nicely.
Inconvénients :
A few features are missing but you can add to a development list and more simple requests were put in place while we were waiting - amazing!