Emailgistics
Description de Emailgistics
Un outil de productivité destiné aux boîtes de réception d'e-mails d'équipe qui s'intègre de manière transparente à votre client de messagerie Outlook et à Microsoft Office 365 Exchange Online. Gérez
Lire la suite
de gros volumes d'e-mails plus rapidement pour les boîtes de réception d'équipe, comme ventes@ ou serviceclient@, avec des affectations automatisées, des alertes en cas de messages indésirables et un outil de reporting. Organisez la boîte de réception d'équipe avec des affectations et une visibilité claires en matière d'e-mails, afin de ne plus jamais en manquer ou répondre deux fois. Emailgistics optimise votre expérience de boîte de réception d'équipe dans Outlook.
Afficher moins
Qui utilise Emailgistics ?
Toute équipe utilisant une boîte de réception partagée Office 365 dans Outlook pour gérer les e-mails.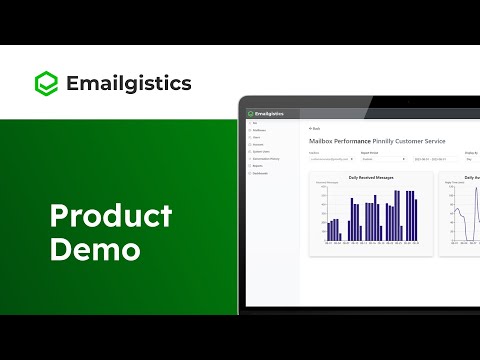 Vous hésitez à choisir Emailgistics ? Comparez-le à une autre option populaire
Version gratuite
Version d'essai gratuite
Version gratuite
Version d'essai gratuite
Pourquoi ce message s'affiche-t-il ?
Alternatives à Emailgistics
Chris
Technical Manager - Brushes (É.-U.)
Fabrication électrique/électronique, 201-500 employés
Temps d'utilisation du logiciel : 1 à 5 mois
Newbie to Email Management
Commentaires : Emailgistics has provided me with a means to monitor workload in a way that I was manually doing previously. The reporting functions have saved me hours a week.
Avantages :
The automatic assignment was a good change for my department. Knowing that the workload could be better balanced and "force" some individuals to make time for project work was a blessing. Previously, in a first come, first serve category system for emails, some individuals would get caught up in "emptying the inbox" before working on projects. Naturally, projects didn't get worked on often. Changing where they looked for work has already been providing dividends. Customer service and support has been top notch so far.
Inconvénients :
There were some bugs in the beginning. Slow Outlook operation, admin page acting goofy, and some of our internal processes making the use of rules tricky to rollout. However, support for any of these issues has been readily available and we've been getting through each of these in turn.
Chelsea
Enterprise Account Manager (É.-U.)
Transport routier/ferroviaire, 51-200 employés
Temps d'utilisation du logiciel : 6 à 12 mois
Emailgistics was a game changer for our organization.
Commentaires : I would recommend Emailgistics any day. The tool itself, as described, is such a game changer for simplifying day-to-day communication with customers and internally with team members. Additionally the team is incredible. We have received the utmost customer service from [SENSITIVE CONTENT] and the support team. Both are so responsive when I reach out for something that they usually are following up before I've even gotten back to them. Even functionality that is still in the works, or dependent on external providers, they work with me to innovate solutions for my team's needs within the available options so we don't lose any speed. Making my team and I THAT much more productive on top of the tool itself!
Avantages :
Emailgistics has a ton of value-adding features, but our top utilization falls in routing, ownership and reporting. The email routing goes beyond moving emails to folders like Outlook and other providers. With this tool we are able to organize our processes based on optimizing the tool which ultimately reduces handoffs and process waste. We were able to use the reporting capabilities to prove out that our team's response time had improved by over 50% as a result of implementing Emailgistics! With that also came a clear improvement in quality of conversation because fewer emails were being sent back and forth since less distraction was in each team member's inbox. We demonstrated this in a Client QBR in two ways - (1) they were our "noisiest" client and we were able to quantify the volume of emails sent by their team members compared to other clients! (2) In pulling those metrics, we also were able to show the decrease in email volume over time, showing a measurable impact of each email being more productive.
Inconvénients :
The tool is actually quite user friendly and our wish list has continued to align with their productive queue of enhancements they roll out nearly every quarter. They're also tremendously communicative about them.
Réponse de l'équipe de Emailgistics
il y a 6 mois
Hi Chelsea, Thanks so much for the review, we appreciate the feedback and support! Our support team strives to ensure every shared mailbox using Emailgistics is successful so we're very happy to hear what a difference Emailgistics is making for your team.
Elizabeth
Customer Service Manager (Canada)
Transport routier/ferroviaire, 201-500 employés
Temps d'utilisation du logiciel : 6 à 12 mois
Outstanding Service and Value
Commentaires : With the addition of Emailgistics we were able to remove the need to manually sort emails to the correct parties, resulting in an immediate increase in productivity. With their auto soft feature, you can easily apply rules to ensure that the email goes to the correct CSR. The reporting has provided insight into the volume of emails that we receive and has helped us be more productive in managing our email volume and also allows us to manage staffing levels more effectively. With visibility into our average response time, for both the hours of operation and the 24-hour period, we can measure our service level and ensure that our customers are receiving responses in a timely manner. Emailgistics is easy to use and if you have any questions, the team is always available to help. Members from the team regularly reach out to just "check in" and see how things are working. The service is very personal, making it easy to reach out when you have questions.
Avantages :
The team offered a 30-day trial and then extended the trail for several months through the start of COVID. This extended time allowed us to fully test the system even through this unpredictable time. This thoughtful level of service was truly appreciated. The program works right in Outlook and our shared inboxes – no need to use a different program or change the way that we handle emails. Emailgistics support team is amazing, quick to respond and very open to ideas on how they can improve or make the program work for you. The "assign to previous owner" feature ensures that when a customer responds back on an email, that email will go back to that person. The Add-In feature allows the team to log in and out of the shared folder direct from their email, as well as easily assign an email to another team member, make comments for follow up and snooze the email for a later time.
Inconvénients :
There are a few features that would be helpful that I know the team is working, such as being able to tag emails and more in-depth reporting. In the 7 months that we have been using it they have already added several features and they are extremely open to input and suggestions on how to make the program work for us. We did have some issues with installing the add-in with some of our users, however the Emailgistics support team was extremely helpful and solution orientated. There were also some lag issues in the beginning, but those bugs were discovered and resolved quickly.
Réponse de l'équipe de Emailgistics
il y a 2 ans
Thanks for leaving a review Elizabeth, the team hear at Emailgistics is thrilled to hear such good feedback! Stay tuned for User Schedules and Advanced Reporting - two new features coming soon. Happy Emailing, Zack
Brad
General Manager (Canada)
Transport routier/ferroviaire, 11-50 employés
Temps d'utilisation du logiciel : plus de deux ans
Emailgistics
Avantages :
How easy it is to use. How it has streamlined the flow of email in our office. How it integrates with outlook so easily. Your staff doesn't require any extensive training.
Inconvénients :
It doesn't answer emails automatically. That was a joke obviously ... lol I can't honestly think of a con at the moment.
Réponse de l'équipe de Emailgistics
il y a 2 ans
Thanks for the review Brad, delighted that we could help make your team more productive in Outlook. Happy emailing, The Emailgistics Customer Success Team
Carissa
Central Florida Maintenance Coordinator (É.-U.)
Génie mécanique ou industriel, 201-500 employés
Temps d'utilisation du logiciel : Essai gratuit
Thumbs Up for Emailgistics
Commentaires : Emailgistics has drastically reduced the amount of time each of us spends in our emails. We have become more efficient and are able to focus on our work instead of sifting through everyone's to find what we need to focus on. Hooray!! Onboarding and set up was very fast and seamless. Chris and Rick have been there every step of the way for any questions and have been very informative. They are both very professional and knowledgeable about the product they offer. Thank you!
Avantages :
Previous to having Emailgistics, there were 10+ people that would open and read every email that came in to our shared email. Since having Emailgistics, the emails are routed to the right people before anyone has to look at the email and determine if it is for them or should be reassigned to another Coordinator. This has drastically reduced the amount of time each of us needs to spend reading emails that were intended for another coordinator.
Inconvénients :
Currently, if an email comes in that is meant for more than one person, there is no way to assign it to multiple people. It would have to be forwarded to both intended recipients or assigned to one and then passed on to the other intended recipient. That may leave room for human error and the message not get passed on.