Description de Ventrata
Ventrata conçoit et construit des solutions intégrées de vente et de réservation qui sont reconnues par certains des plus grands noms du secteur du tourisme. L'éditeur adapte ses solutions à vos besoins précis pour vous permettre de développer votre entreprise, d'accroître votre efficacité et de réduire la complexité de toutes les parties de vos opérations, augmentant ainsi le nombre de réservations.
Qui utilise Ventrata ?
Conçue pour les opérateurs touristiques ainsi que les opérateurs de bus, les attractions touristiques et les bus touristiques à arrêts multiples, il s'agit d'une solution de billetterie qui permet d'intégrer les canaux de vente à la comptabilité et aux brochures des agents.
Où peut-on déployer Ventrata ?
Basé sur le cloud
Sur site
---
Assistance Ventrata
Support 24/7 (réponse directe)
Chat
Langues
allemand, anglais, espagnol, français, italien
Assistance Ventrata
Support 24/7 (réponse directe)
Chat
Langues
allemand, anglais, espagnol, français, italien
Ventrata en vidéos et en images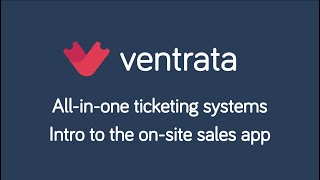 Fonctionnalités - Ventrata
API
Accès mobile
Alertes/Notifications
Automatisation du marketing
Billetterie des événements
Booking Management
CRM
Calendrier des événements
Confirmation et rappels
Création d'itinéraires
Création de packages
Gestion de la communication
Gestion de site web
Gestion des contacts
Gestion des données client
Gestion des inscriptions
Gestion des prix
Gestion des promotions
Gestion des ressources
Gestion des réservations
Inscription des visiteurs
Inscription en ligne
Intégrations de tiers
Lecture de codes-barres et de tickets
Mises à jour en temps réel
Paiements en ligne
Plan de salle
Planification des événements
Point de vente (PDV)
Rapports et analyses
Rapports et statistiques
Rapports personnalisables
Réservation d'activités
Réservations de billets
Sièges réservés
Stratégie de marque personnalisable
Tableau de bord d'activités
Traitement des paiements
Avis sur Ventrata
Avis classés par taille de l'entreprise (nombre d'employés)
<50
51-200
201-1 000
>1 001
Trouver les avis classés par note
Services et installations de loisirs, 51-200 employés
Temps d'utilisation du logiciel : plus d'un an
Cutting edge reservation software for activity companies
Commentaires : We switched systems during Covid which was a blessing and a curse. After being with our previous system for over 15 years it was a big project to switch systems. The Ventrata team were open and approachable during the switch. We are happy with our new system and look forward to the return of business levels to truly appreciate all its features.
Avantages :
Responsiveness of the team for development features. Analytics the system provided. Ease of use. Adaptability of the system.
Inconvénients :
User manuals and training could be improved. Communication with customers on system changes needs to be more frequent.
Alternatives envisagées : Peek PRO Tour Operator Software
Pourquoi choisir Ventrata : Needed to find a cutting edge software solution that would provide us with analytics as well as all the usual features of a reservation system
Logiciel antérieur : Zaui
Pourquoi passer à Ventrata : flexibility of the system and reputation of their team.
Daymon
General Manager (Canada)
Loisirs, voyage et tourisme, 51-200 employés
Temps d'utilisation du logiciel : plus d'un an
Fast and adaptable software for day excursions and single ticket experiences
Avantages :
The system is fast, and adaptable. Development requests are handled quickly, reporting is robust, fast and customizable which allows us to get business intelligence when we need it. the customizable dashboard is fantastic in this regard. Activities are complex and the system accounts for most of the oddities about setting up the variety of owned tours and activities we have, and the large assortment of resold activities and attractions we resell. The system is easy on the eyes and has a modern app. feel to the dashboard and different menu items that make it easy for our younger team members to adopt. There are countless parts of the system that we still are not using because they don't apply to our business model, or we simply have not had time to investigate them yet. There is something for every day tour company or attraction on this platform.
Inconvénients :
Charter services, a significant part of our business, are still cumbersome. The breadth of our charter service is big, and has lots of variables that include day tours/transfers, multi day tours, departure times, and vehicle size. In addition we also offer multi day tours. All of these create a huge matrix for the system to manage that I would like to be more transparent the end consumer. Once this area is dialled in, this software will be unstoppable.
Alternatives envisagées : Peek PRO Tour Operator Software et FareHarbor
Logiciel antérieur : Zaui
Sadie
Director of Project Mangement (France)
Divertissement, 11-50 employés
Temps d'utilisation du logiciel : plus d'un an
Functionality + Customer Support
Commentaires : Ventrata offers high level functionality with speedy customer support. My experience using the software for a little over a year has made financial reporting, customer service management, scheduling and reseller management incredibly easy and it has no doubt saved our company time and money. It's a bonus to see Ventrata's bi-weekly product update, monthly webinars, and have daily access to their agents to get issues sorted quickly. There are improvements to be made, and we have seen Ventrata actively tackling these one by one. We've appreciated the basic, easy-to-use platform that Ventrata offers along with more in-depth functionalities and their willingness to hear our suggestions on improvements.
Avantages :
Ventrata is extremely easy to learn. Many of the fields/tabs are self-explanatory and there are support articles online for every aspect of the software. When I wasn't able to find an answer, I had the option of a live chat where agents would assist within a minute. The reseller API connections are optimal; controlling the mapping of GYG, Expedia, and Viator from our end saves time. New connections are easily established as long as the other party is willing. The website is easy to use and produces a professional-looking site. Media resizing and optimization is especially appreciated, as is the use of the custom html field to embed a number of attributes. The bookings tab allows for custom views/agent and includes a reporting feature on all fields. This is extremely practical for all departments. The configuration of a specific product accounts for a wide array of options beyond your typical passenger type, time of day, etc. The ability to configure dynamic pricing, add in promotions + packages, and set up cost variants is well beyond the functionality of other systems that we looked at. It makes for easier business decisions, and allows us to be proactive in our industry.
Inconvénients :
The customer support/live chat option versus submitting a ticket for an issue/bug is still confusing. I'll often start a conversation with a chat agent who asks me to submit a ticket, and sometimes when I submit a ticket, I'll be asked to reach out to the chat agents. The email templates leave something to be desired, but the integration with MailJet allows us to send professional looking emails, be that confirmation emails or marketing. I wish that we could go one step further and integrate dynamic emails so as to retarget guests for new tours who have already toured with us. The website is lacking SEO optimizations like <h> tags and standard header/footers that aren't duplicated across pages/urls.
Hôtellerie, 11-50 employés
Temps d'utilisation du logiciel : plus d'un an
Solid solution that does everything you want in the way you expect
Commentaires : Overwhelming positive. It's good software that was put together with thought. Everything just works.
Avantages :
Steps to complete bookings over the counter make sense and are easy to train to new colleagues. Booking information is provided in a clear way that makes it easy to give quick simple answers to customer queries. I especially like the multiple ways that customers can be contacted from within their booking screen. The Calendar screen is clear and availabilities are very flexible.
Inconvénients :
It would be nice if it had a solid, out of the box, integration with one of the leading review companies. Some of the CSS on the calendar screen is a bit broken (when you're in eight week view). Also it would be nice to have some frozen row headers in the column screen also. These are obviously just small, day to day things, I really cant think of any big problems. Availabilities scare me sometimes since there are so many different places that they can be configured that I worry that some people might get tangled up in it and cause themselves problems. But in the end, it does always make sense and there is always a logical answer.
Liam
General Manager - Italy (Italie)
Hôtellerie, 11-50 employés
Temps d'utilisation du logiciel : plus d'un an
Easy to use, great interface
Commentaires : Easy to use, easy to train staff on, even unfamiliar functions and features are intuitive.
Avantages :
The layout of the dashboard and the ease of use
Inconvénients :
Only very small issues like you cannot set the dashboard to remember your preference for weekly view