Description de Jobtoolz
Jobtoolz is a recruitment platform for SMEs, with a strong focus on employer branding, an awesome candidate experience, an automated recruitment process and a marketplace that supports recruiters in every step of the hiring process.
Qui utilise Jobtoolz ?
Our vision is to create the smartest recruitment platform for SMEs & organisations with at least one active vacancy.
Où peut-on déployer Jobtoolz ?
Cloud, SaaS, web
À propos de l'éditeur
Jobtoolz
Fondé en 2016
Chat
Pays disponibles
Belgique
Jobtoolz - Prix
À partir de :
60,00 €/année
Oui, essai gratuit disponible
Non, pas de version gratuite
Jobtoolz n'est pas disponible en version gratuite mais propose un essai gratuit. La version payante de Jobtoolz est disponible à partir de 60,00 €/année.
À propos de l'éditeur
Jobtoolz
Fondé en 2016
Chat
Pays disponibles
Belgique
Jobtoolz en vidéos et en images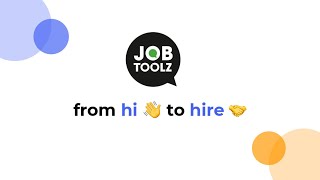 Comparez le prix du logiciel Jobtoolz avec ses alternatives
Fonctionnalités - Jobtoolz
Comptes d'employeurs
Facturation
Gestion des applications
Gestion des candidats
Gestion des e-mails
Gestion des entretiens
Gestion des flux de travail
Gestion des tâches
Gestion des évaluations
Gestion du recrutement
Intégration des employés
Intégration des médias sociaux
Modèles d'e-mails
Page Offres d'emploi
Planification des entretiens
Portail libre-service
Profils des candidats
Publication d'offres d'emploi
Rapports et analyses
Recherche de CV
Stockage des CV
Suivi des candidats
Sofie H.
HR Manager (Belgique)
Utilisateur LinkedIn vérifié
Produits chimiques, 11-50 employés
Temps d'utilisation du logiciel : 1 à 5 mois
User friendly and intuitive
Avantages :
I have recently discovered job toolz since I joined REIN4CED as HR Manager. The tool is very user friendly and intuitive to use. This is one of the very few tools that really delivers an added value and efficiency in my daily work. I also appreciate the quick and clear responses from the support team. It's a pleasure to collaborate in such a way!
Inconvénients :
From time to time, we have some minor suggestions for improvement. There's no such thing as the ideal world. But, the important thing is, job toolz is very open to listen to its clients and follows up on our feedback.
Réponse de l'équipe de Jobtoolz
il y a 2 ans
Thanks a lot for this positive review, Sofie! :-)
Mieke W.
HR Business Partner (Belgique)
Produits alimentaires, 51-200 employés
Temps d'utilisation du logiciel : 1 à 5 mois
Jobtoolz, efficient tool for recruiters
Commentaires : With Jobtoolz we solved our poor employer branding on our company website. It was not a good representation of the highly dynamic company that we really are.
Candidates know that their CV reached us and we can send well prepared templates in function of the process the candidate is in. We are a company that receives more than 2000 CV's every year, but we didn't have a well thought system to create a talentpool. Now we can create that and it will help to build relationships with possible future colleagues. Jobtoolz is really speciliazed in employer branding and in recruitment efficiency. They don't claim to be specialized in all aspects of HR, so that is why the can provide you links with your own HR organizational tools.
Finally and once again, the enthousiasm , the good service and hands-on mentality of the Jobtoolz team is a great plus and is completely in line with our own mentallity.
Avantages :
Jobtoolz is a software tool that really helps you with employer branding and efficient recruitment for a relatively low cost. Jobtoolz helps you create an attractive jobportal on your company website without having to spend a lot of money upfront on webdevelopment . You just pay a licencefee /month. You make a choice in the sections of the Jobtoolz menu and just add nice pictures/video material and good text. The Jobtoolz software takes over your jobsection on your company website which makes it easier for HR to be totally in control of that section. When help needed, you chat with a Jobtoolz colleague who helps you within a few minutes. Their enthousiastic and helpful attitude is infectious :-) We believe it can help us saving up to 50% on administrative work ( folluw up by email as well internally as externally ). You can do the whole recruitment communication with line managers and candidates from the Jobtoolz platform. With Jobtoolz we can now create a TALENTpool by simply adding tags ( of your choice ) on each CV.
Inconvénients :
Up till now, the only feature we like the least is the fact that you need to create a "recruitment procedure" for each jobadvertisement you place. It would be easier if you could add the same procedure for each advertismenent and then make specific adjustments/add when needed. We know the Jobtoolz team is working on it, so we are confident that this issue will be solved soon. When creating the sections on the jobsite, it was a "lot of work" . But looking back on that, we realized that the work invested by us, isn't something you can delegate to another party. The pictures you choose, the text you add are all things you have to do by yourself eventually, because only we know the real DNA of our company. So it was time well spent. Tip for saving workhours on the creation: make a good selection of pictures and movies you want to use, write down the values and strenghts of your company and check internally when you lack inspiration to write. That preparation will help you create a whole new jobsite in one day max., with Jobtoolz.
Réponse de l'équipe de Jobtoolz
il y a 2 ans
Hi Mieke, Wow, thanks a lot for this amazing feedback!!
Pieterjan H.
HR Assistant (Belgique)
Logiciels, 51-200 employés
Temps d'utilisation du logiciel : 6 à 12 mois
Jobtoolz has potential, but still a lot of work to be done
il y a 4 semaines
Nouveau
Commentaires : We took Jobtoolz because it was integrated with Officient. Jobtoolz has a lot of potential but there is still a lot of work. We are missing some pivotal things to say that this is the optimal tool for us.
Avantages :
Jobtoolz is very user friendly. You can find your way easy trough the software.
Inconvénients :
The data you get out of Jobtoolz is really not sufficient. For me this should be a big priority.
Valerie G.
HR Director (Belgique)
Marketing et publicité, 51-200 employés
Temps d'utilisation du logiciel : 6 à 12 mois
Vgo
Commentaires : win a lot of time , access for the hiring managers
Avantages :
Agility, easy to use, link between the recruitment site and company site
Inconvénients :
we miss some kpi's we need suach as costs of the search by example
Tinca S.
Cocreator of HR 3.0 in SME's (Belgique)
Ressources humaines, Auto-entrepreneur
Temps d'utilisation du logiciel : 1 à 5 mois
Alternatives envisagées :
Very good ATS choice for SME's
Avantages :
easy to use, fast setup, good user experience, customer service, open to customer feedback
Inconvénients :
Still relatively young company so there are definitely other softwares that have more features. First example that comes to mind: for now no attachments possible in e-mail templates that are being sent via the system. However I must immediately add that a lot of the issues I report, are already on the roadmap. When they're not, they are put in and their curstomer service is always willing to inform you on their roadmap and priorities. Have complete confidence that features will keep on being added continuously.
Réponse de l'équipe de Jobtoolz
il y a 2 ans
Thanks Tinca for your positive review!