Description de Hospitable.com
Les outils de Smartbnb offrent une fiabilité inégalée, y compris par le biais de connexions natives rapides à Airbnb et HomeAway/VRBO.
Les hôtes utilisent Smartbnb pour créer des messages automatiques à l'allure authentique et sincère pour leurs invités, leur permettant ainsi de rester en contact et de leur répondre à toute heure de la journée, en toute simplicité.
Smartbnb comprend également des fonctionnalités de délégation/notification de tâches, d'agenda unifié, de synchronisation des prix, d'outils de sélection des invités, parmi de nombreuses innovations en matière d'accueil.
Qui utilise Hospitable.com ?
Propriétaires de biens ou responsables qui dirigent entre deux et plus de 5 000 propriétés.
Où peut-on déployer Hospitable.com ?
Cloud, SaaS, web, Android (mobile), iPhone (mobile)
À propos de l'éditeur
Hospitable.com
Situé à Tallinn, Estonie
Fondé en 2016
Support 24/7 (réponse directe)
Chat
Hospitable.com - Prix
À partir de :
20,00 €/mois
Oui, essai gratuit disponible
Non, pas de version gratuite
Hospitable.com n'est pas disponible en version gratuite mais propose un essai gratuit. La version payante de Hospitable.com est disponible à partir de 20,00 €/mois.
Plans de tarification
obtenez un essai gratuit
À propos de l'éditeur
Hospitable.com
Situé à Tallinn, Estonie
Fondé en 2016
Support 24/7 (réponse directe)
Chat
Hospitable.com en vidéos et en images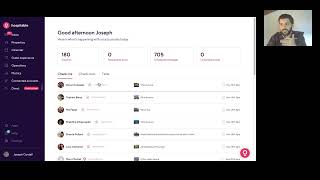 Fonctionnalités - Hospitable.com
CRM
Communications avec les invités
Gestion de l'expérience invité
Gestion de la réception
Gestion des canaux
Gestion des contacts
Gestion des leads
Gestion des réservations
Gestion des taux
Gestion des tâches ménagères
Pour locations saisonnières
Rapports et analyses
Réservation en ligne
Alternatives à Hospitable.com
Conseil en gestion, 2-10 employés
Temps d'utilisation du logiciel : 1 à 5 mois
Gain money, gain time
Avantages :
automatisation des messages. Gain de temps énorme.
Inconvénients :
Le logiciel est uniquement disponible en anglais.
Jonathan
Founder (É.-U.)
Utilisateur LinkedIn vérifié
Logiciels, 2-10 employés
Temps d'utilisation du logiciel : Essai gratuit
Phenomenal - I have tried it all - finally a company that deserves 5 stars in so many ways
Commentaires : This company solved most of my problems I was looking to solve by looking for a channel manager. I had created 150k/year of sales from just airbnb in just a year and new I needed to scale my biz, but I also knew I would not be able to handle more administrative work without finding a way to delegate and automate more fully. I knew I needed to scale to different marketplaces, VRBO, then flipkey, then booking.com... but knew I needed an integrative software to manage that process. I hunted and hunted, I reviewed 50 or 60 tools, pricing structures, features, claims, I tried 20 free trials, I actually set up 8 different tools, until I finally tried this one. While every other tool had a fundamental problem - profoundly over charging, taking a % of your company ( % of sales ), broken essential features like chat features ( tokeet ), broken import/export/linked listing features ( guesty )... this one didnt. Superhost tools was an exception - solid little tool for what it does, but SmartBNB does the same stuff - BETTER... specifically superhost tools automates communication - which is sometimes profoundly out of context but better then nothing, and smartBNB enables review of scheduled messages, which lets you edit them to fit to context. It literally does almost EVERYTHING I could have wanted, but BETTER. While the calendar feature needs a simple fix ( scrolling is the only workable means for that for ease of use like Airbnb ) - THIS is the app to set up and follow.
Avantages :
- $7/listing - No setup costs - Enabled automation of 90% of my communications - I can review communications that are scheduled automatically BEFORE they go out - They don't want a percentage of my COMPANY to provide a killer service ( no % of sales model ) - They are under priced and over deliver - They under sell and overdeliver I have tried SO many tools!! Guesty and Tokeet were so glitchy they cost me money to try to setup. Guesty wanted $1000 just to set me up AND a PERCENTAGE OF MY COMPANY ( % of gross sales ) STAY AWAY from any company like that! Wheelhouse automated my prices, for a PERCENTAGE OF MY COMPANY - meh. Guesty promised to scale my ads and failed miserably. Tokeet's chat feature was garbage, but import/export listing feature was awesome. In the end, you can only hook up one channel manager to your airbnb account, so if your like me, you have got to decide on one at a time. I have tried 8 and reviewed 50-60... and Im done looking. SmartBNB delivered in almost every way I could have wanted. - Dirt cheap for what you get - Perfect communications channel w guests ( I am super picky ) - Seamless automated messages WITH THE ABILITY TO REVIEW THEM BEFORE THEY GO OUT - Bad Review strategies and are automated, rational, and effective - Almost instant, and intelligent customer service - Killer Documentation that actually trains you and almost never confuses you - Phenomenal - like off the charts phenomenal customer service tools.
Inconvénients :
- The calendar viewing is weak. Its fine because you can just use Airbnbs... but to improve it guys: clicking to go to the next month? Really? You cant scroll to Jan 15th to feb 15th? Fix that. Make it scroll like airbnbs please immediately. I don't touch that, but again, its not really a point against the company because you don't actually need to use it, I can get everything from the airbnb cal with info imported via Ical from the other sites.
Colin
Owner and Co-Founder (É.-U.)
Hôtellerie, 2-10 employés
Temps d'utilisation du logiciel : plus de deux ans
I couldn't have scaled from $200,000 to $2 million without Hospitable
Avantages :
When I first started scaling and became a 3-home operation nearly overnight, I was really struggling to keep up with effective communication to my guests. I had dozens of note documents for each property on my iPhone for things like; Check-in instructions, the first morning follow up message, Check-out instructions, etc. I would have to copy/paste these into the messaging apps and found myself making frequent, detrimental errors such as sending check-in instructions for the wrong house to a guest. Another major challenge I was running into before Hospitable was that I couldn't travel easily or do anything that wouldn't have strong cell phone service because I always had to be available to send check-in/out messages to my guests. Hospitable solved all of this and more. After a few weeks using the platform I went from thinking I hit my ceiling at owning and operating 3 homes, to believing I could effectively manage 15 or more. Fast forward to today and my company, Good Life has grown to 8 (soon to be 9) independently owned and managed homes that are all top 10 revenue producers in their respective zip codes, all maintain a 4.9+ overall review, and gets tons of repeat renters. This simply would not be possible without the automated communication SmartBnB enables to our guests and team.
Inconvénients :
I honestly don't have any cons to list about Hospitable. I signed up for Hospitable and had the automated messages firing to guests and my cleaning team within a few hours thanks to the smooth onboarding flow and pre-built messages that were already populated. I've been using Hospitable for a few years now and have never had issues with it not performing. The few times I've had to contact support about questions, they were lightning quick to respond. It's amazing they don't charge more for this platform, honestly.
Alternatives envisagées : Hostify et Guesty
Pourquoi passer à Hospitable.com : Some of the other software takes a percentage of your gross revenue and SmartBnB charges an extremely reasonable flat-rate monthly fee. I've actually converted 3 friends from some of the other software out there after showing them Hospitable.
Barry
Directot (Nouvelle-Zélande)
Utilisateur LinkedIn vérifié
Hôtellerie, 2-10 employés
Temps d'utilisation du logiciel : plus d'un an
The best software out there with the easiest of setup
Commentaires : The support team is just amazing. Bubbly happy and just can do attitude, with personal responses, not just templated garbage that other software operators just try and fob customers off. The transparency of their roadmap and features, and allowing customers to vote for a feature or change is amazing, allowing hosts to drive the features that are needed, rather than some product manager that doesnt know what actual hosts want.
Avantages :
Ease of install, nothing complicated to do and doesnt mess with you logging into the actual AirBnb if you needed to. The automation of messages and bookings has meant I can go from 2 properties to 5 with very littler additional overhead or work. I plan to get to maybe 15-20 properties before I look to hire someone, but then still be able to enjoy my own personal time
Inconvénients :
The direct booking website was lacking, however in the last couple of months it has become par with other booking sites including AirBnb; so I cant provide a negative on this anymore
Alternatives envisagées : Guesty et Lodgify
Logiciel antérieur : Guesty
Cristian
CEO (République dominicaine)
Hôtellerie, 2-10 employés
Temps d'utilisation du logiciel : 1 à 5 mois
Great product but hard to undesnartd and generate bookings
il y a 3 semaines
Nouveau
Commentaires : Neutral it could offer more features like adding expenses on a listening
Avantages :
I like the Dashboard of hospitable . Has great interview.
Inconvénients :
Sync and integration where very basic ; and can't add expenses