Description de RUN Powered by ADP
RUN DIY Payroll Powered by ADP offre aux petites entreprises les services de RH et de gestion de la paie dont elles ont besoin pour gérer leur activité jour après jour et à chaque étape du parcours. Ces solutions dédiées à l'emploi aident les propriétaires d'entreprise à se concentrer davantage sur ce qu'ils aiment le plus, leur vision et leur passion, pour créer et développer une entreprise prospère, qu'il s'agisse d'une start-up recrutant son premier employé ou d'une entreprise bien établie fêtant son premier départ à la retraite.
Qui utilise RUN Powered by ADP ?
Les clients de RUN sont des propriétaires de petites entreprises qui ont besoin de gagner du temps. Ils sont passionnés par leurs activités, mais ne sont pas rentrés dans le monde des affaires pour s'occuper de tâches administratives comme la paie et les RH. Cette plateforme est faite pour vous.
Où peut-on déployer RUN Powered by ADP ?
Cloud, SaaS, web, Android (mobile), iPhone (mobile)
À propos de l'éditeur
ADP
Situé à Burlington, Canada
Fondé en 1942
Support téléphonique
Support 24/7 (réponse directe)
Pays disponibles
Canada, États-Unis
Langues
anglais, espagnol
À propos de l'éditeur
ADP
Situé à Burlington, Canada
Fondé en 1942
Support téléphonique
Support 24/7 (réponse directe)
Pays disponibles
Canada, États-Unis
Langues
anglais, espagnol
RUN Powered by ADP en vidéos et en images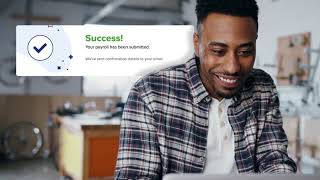 Comparez le prix du logiciel RUN Powered by ADP avec ses alternatives
Fonctionnalités - RUN Powered by ADP
Base de données des employés
Conformité fiscale
Formulaire W-2
Gestion de la conformité
Gestion de la paie
Gestion des avantages
Gestion des performances
Gestion des rémunérations
Impression de chèques
Intégration des employés
Pointage
Portail des employés
Portail libre-service
Prise en charge de plusieurs états
Profils des employés
Rapports de paie
Rapports et analyses
Rapports personnalisables
Saisie sur salaire
Suivi 401(k)
Suivi des candidatures
Suivi des vacances/congés
Versement direct
Alternatives à RUN Powered by ADP
Avis sur RUN Powered by ADP
Jeremy C.
Franchisee (É.-U.)
Utilisateur LinkedIn vérifié
Services aux consommateurs, 201-500 employés
Temps d'utilisation du logiciel : plus d'un an
Powerful Enough for Large Companies
Commentaires : Paying employees weekly or biweekly has been simplified.
Avantages :
I've used a few payroll companies during my time but ADP always seems to be the most dependable and reliable.
Inconvénients :
With convenience is going to come cost. However, the newer level additions have made programs more customizable and tailored to individual business owners.
Réponse de l'équipe de ADP
il y a 2 ans
Jeremy, How wonderful to hear that both our top notch RUN? Service Team and our powerful payroll engine provide you with features tailored to YOU. We appreciate you entrusting us with your partnership on your human capital management needs. -Your RUN? Service Team
Hôtellerie, 11-50 employés
Temps d'utilisation du logiciel : plus de deux ans
Alternatives envisagées :
The customer service is outstanding even late at night.
Commentaires : I have been using this software and ADP for 5 years. There have been more than a few times where something went seriously wrong on a payroll day and I was not able to run the payroll at my normal time. Inevitably, I am up late finishing it, "Murphy's law" happens, and I run into a problem on that particular night. It is nice to know I can get help when I need it.
Avantages :
This is easy to use and set up payroll software if you use ADP for payroll. When you sign up with ADP then you are given a dedicated customer service team that specializes in teaching you how to use the software. After about 60 days they allow you to call into their 24-hour customer service team from then on into the future. If you are ever stuck late at night trying to finish payroll and run into a problem, they answer the phone and help you solve the issue so can finish the job.
Inconvénients :
ADP is more expensive than a local payroll company. Although I like to support local small businesses like mine, it is nice to know that the payroll will be done right the first time. Your employees will appreciate it.
Réponse de l'équipe de ADP
l'année dernière
William, We welcome all feedback to ensure RUN Powered by ADP? continues to empower small businesses to more efficiently manage their payroll and HCM needs. We are glad to hear you find a user friendly experience within RUN along with quality support from the RUN Service Team. Thank you for the feedback on the fee structure. We are always working to enhance RUN and delight our users so we value your insights. - Your RUN Powered by ADP? Team
Samantha S.
Office Manager (É.-U.)
Automatisation industrielle, 11-50 employés
Temps d'utilisation du logiciel : 1 à 5 mois
User Friendly and Time Saver
Commentaires : We have had an absolutely wonderful experience with ADP Run. The set up was easy and they walked us through every step getting started. Their help functions are awesome and always help me with any questions quickly and efficiently. I love how user friendly their portal is and the employee portal is a great help for all of our employees to track their weekly pay.
Avantages :
The portal is so user friendly and the online chat function is great and easy to get help
Inconvénients :
I have had no problems with this program.
Réponse de l'équipe de ADP
il y a 19 heures
Samantha, Thank you for your review of RUN Powered by ADP?. We love hearing that our RUN Powered by ADP? is easy and intuitive for you! We appreciate your feedback and as always we continue to strive to add value to your organization and to add time back into your day through our products and services. - Your RUN Powered by ADP? Team
Santé, bien-être et fitness, 11-50 employés
Temps d'utilisation du logiciel : plus d'un an
Quit ADP because of their "security"
Commentaires : So, when I decided to leave ADP, they didn't file my quarter 1 even though I changed right at the end of quarter 1. Thus resulting in my filings being late, late fines, headaches, etc. I would not recommend ADP to anyone I care about.
Avantages :
ADP has some positives. Their customer service is always polite and helpful. Otherwise, hard for me to say much positive.
Inconvénients :
ADP must be the only software company in the world that hasn't resolved what is a very simple issue. If one of my employees forgot their password and could not log in to see their paystubs, I, the administrator, had to call ADP to get it resolved. Their is no option for employees to call customer service themselves to fix it. ADP always stated that this was for "security reasons," which I find hard to believe, as every other company has figured this out. I kept ranting at them and finally they gave me a code to give to any employee that was locked out to prove they had permission to see their paystubs. Next time it happened, I gave the code to the employee, and ADP still called me to make sure they had permission. That was the last straw! I am a business owner and administrator, my time is too valuable to be calling them all the time when this is absolutely resolvable.
Réponse de l'équipe de ADP
il y a 3 ans
Melody, We apologize for your frustrations with your experience during your time with us. Security is front and center in what we do to ensure the safety of your company and your employee's data. Your feedback is very important to us here at ADP so we thank you for the review. The RUN Powered by ADP? Team
Melinda G.
Executive Director, CFO (É.-U.)
Automobile, 11-50 employés
Temps d'utilisation du logiciel : 6 à 12 mois
Alternatives envisagées :
Great software
Commentaires : My overall experience with ADP RUN was phenomenal, not only because I loved the user-friendly site that made my life as the administrator so much easier, but the customer service I received was top-notch! I had my own personal representative every step of the way. Any time I needed anything and reached out whether it was via email, text, or phone I would get an immediate response. I loved RUN so much that I made multiple referrals to them. Did you know that you can earn gift cards that you can use anywhere when you refer someone who signs up with ADP?! And each time you refer another person/business the amount of the gift card increases!!
Avantages :
What I like most about the ADP RUN software is how user-friendly it is. You can literally be a first-time user with no instruction at all and successfully execute any task. The way the site is laid out makes it very easy to find what you're looking for. If you're not 100% sure what it is that you need but you have an idea you can even type a keyword into the search and all of the options associated with that word will pop up and trust me, you'll answer will be there!
Inconvénients :
The thing that I liked least about ADP Software was the GPS tracking feature. It does offer a feature that will show you the location of the employee when they clock in and out but that's it. For my business I really needed more out of this feature like geo-fencing for each job location and for me to be able to get an alert if the employee clocked in/out outside of the job location. ADP RUN does not offer those additional features.
Réponse de l'équipe de ADP
il y a 2 mois
Melinda, Thank you for taking the time to post this review of RUN Powered by ADP?. How wonderful to hear that RUN? provides you with the information and access you require at your fingertips, empowering you to focus on your business! We appreciate your valuable insights! -Your RUN Powered by ADP? Team