Description de Matillion
Matillion fournit le seul produit de transformation de données conçu spécialement pour les data warehouse dans le cloud (CDW). Cette solution gère :
1) L'extraction et la charge des données métiers dans un CDW, offrant l'évolutivité et les performances nécessaires à l'analytique axée sur les données.
2) La possibilité de joindre des sources de données métiers variées grâce à de puissantes capacités de transformation, complétant ainsi le processus afin de préparer les données à l'analytique.
Qui utilise Matillion ?
Les grandes entreprises et les entreprises de marché intermédiaire dans divers secteurs, comme les finances, les soins de santé, la vente au détail, etc.
Où peut-on déployer Matillion ?
Cloud, SaaS, web
À propos de l'éditeur
Matillion
Situé à New York, É.-U.
Fondé en 2011
Support téléphonique
Support 24/7 (réponse directe)
À propos de l'éditeur
Matillion
Situé à New York, É.-U.
Fondé en 2011
Support téléphonique
Support 24/7 (réponse directe)
Matillion en vidéos et en images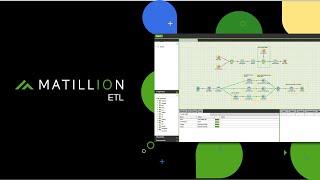 Comparez le prix du logiciel Matillion avec ses alternatives
Fonctionnalités - Matillion
API
Agrégation et publication de données
Connecteurs de données
Contrôles/Permissions d'accès
Correspondance et fusion
Extraction d'adresses e-mail
Extraction de documents
Extraction de données
Extraction de données web
Extraction de numéros de téléphone
Extraction des prix
Gestion de versions
Gestion des métadonnées
Gestion du stockage de données
Importation et exportation de données
Intégration de données
Migration de données
Outils d'analyse de données
Rapports et analyses
Recherche/Filtre
Saisie et transfert de données
Sources de données multiples
James
Senior Analyst (É.-U.)
Utilisateur LinkedIn vérifié
Services aux consommateurs, 51-200 employés
Temps d'utilisation du logiciel : plus de deux ans
Alternatives envisagées :
The best ELT tool on the market
Commentaires : Matillion is the single most important piece of software I use on a day-to-day basis. Its' ability to blend a ton of out-of-the-box functionality with the ability to script custom components in Python to author our own integrations is invaluable. It has enabled us to build transformed data within our warehouse, use pre-authored integrations to pull data from vendors, write our own integrations to pull from vendors, and is the single tool we use along with Redshift to provide visibility to all of the data within our business. I am a huge fan of Matillion and have used it in 2 different orgs. It is one of the only software tools I will champion across any org I move to.
Avantages :
-Extremely easy deployment with cloud formation template. -Excellent pre-authored integrations that are easily extensible/customizable. -Easy to use UI to build complex transformations. -Extremely flexible logic with static and grid variables to intelligently execute jobs and branch as needed.
Inconvénients :
-No automated scheduling based on dependent table updates. (This is possible to set up, but not out of the box.) -Support SLAs have gotten worse over time.
Graham
Solution Architect (R.-U.)
Marketing et publicité, 51-200 employés
Temps d'utilisation du logiciel : plus de deux ans
Alternatives envisagées :
Easy to use solution, allowing rapid delivery of ELT processes
Commentaires : We came to Matillion while looking for a tool that would allow us to orchestrate our load processes for Amazon Redshift. We'd used other ETL tools previously, were blown away by how easy it was to pick up and understand Matillion. We liked the simplicity, and the fact that we could always dig into the SQL that was generated. New features are added frequently, and we usually find one or two improvements that directly impact us with each release. Their support team are also very responsive, and Matillion are always keen to help you get the most out of their software, so there's a lot of support if you want it. 2+ years later, and we're using Matillion to run all our ELT jobs across various data warehouse projects, and very happy with it.
Avantages :
- Very intuitive design environment - super quick to learn. - Components map closely to SQL capabilities in Redshift. - Easy to view the SQL generated. - Sample, row count, and data lineage make it easy to unit test as you build. - Powerful management options via REST API (orchestration, Github integration, etc.). - Native AWS integration. - Aggressive release cycle, constantly adding new features. - Easy to document in-workflow. - Lots of third party integrations.
Inconvénients :
- User concurrency/licencing model (simple, but can't be customised to fit your need). - Exception handling could be improved. - A single Task View would be helpful for multi-environment/project support.
Roger
Software Engineer II (É.-U.)
Marketing et publicité, 51-200 employés
Temps d'utilisation du logiciel : plus de deux ans
Responsive to User Needs
Commentaires : Gets better and better with each release. Keep up the good work!
Avantages :
I've been using Matillion for about 2 and a half years. I've seen the software improve so much in that time. If I ever found a feature to be lacking, it would be included within the next couple release cycles. The software really seems to adapt as user needs have been evolving. Some of my favorite recent features are the ability to configure some components with just text (really saves me time) and the many Grid orchestration components which allow me to greatly reduce the complexity of the orchestration jobs.
Inconvénients :
UX is sometimes lacking or inconsistent. For example, let's say my goal is to replace an existing job with a new job of the same name. I delete the old job, and import the new one with the same name. All Orchestration components that used that job will understand to use the new job, but for some reason the scheduler doesn't. Also, jobs will have validation errors simply because the components haven't been validated (grey borders). It can be confusing because you may be searching for an error in your work when all you actually have to do is revalidate the job.
Michael
Director, Business Intelligence and Web Services (É.-U.)
Enseignement supérieur, 501-1 000 employés
Temps d'utilisation du logiciel : 6 à 12 mois
Alternatives envisagées :
Great for pipelining data to warehouse/lake, not getting it back
Commentaires : It was easy to get set up, and it worked great for pushing data into Snowflake as a data warehouse. However, we quickly realized that we would need yet another tool to get the data back out to the source systems to synchronize/integrate it. We could sort of do it with Matillion, but it required a lot of custom programming and was not very intuitive. We ended up using a different iPaaS tool that could handle traffic/integration in both directions.
Avantages :
It is extremely fast and easy to pull data from various sources and pipe it into Snowflake. The graphic interface lets this happen without programming.
Inconvénients :
There is almost no ability to get data back from your warehouse into the other systems to synchronize the data. It's great to have it all in the warehouse, but it seems pretty critical to have that data flowing back to other systems that are part of your environment. The pricing model is frustrating. You are billed for when the machine instance is ON, not when it is actively doing something. So, if you have a couple hours of job that run in a day, you have to shut down the machine to save money the rest of the day. With it shut down, development can't happen. So, we had to turn it on and off all the time. It would be much better if they billed as it is used, not as it is on.
Daniel
EVP Operations IT (É.-U.)
Services et technologies de l'information, 201-500 employés
Temps d'utilisation du logiciel : plus d'un an
Alternatives envisagées :
A good tool for large-scale ETL into Cloud Data Warehouses
Commentaires : We're able to rapidly load large amounts of data into Snowflake and schedule any SQL tasks to run against snowflake.
Avantages :
Web-based, Runs in AWS so it can sit close to your data if you're using a cloud warehouse. You only have to pay per minute that you have the instance on which is a BIG plus.
Inconvénients :
Not nearly as many features and user-friendly data transformation tools as a competing software such as Alteryx has. As such, this tool is not as convenient or flexible for detailed data transformations. We mostly use it for bulk loading which it is very fast and good at.