Description de Visual Chatbot Builder
Générateur de conversation visuelle pour créer des chatbots pour le support client automatisé, le marketing et les entreprises. Plusieurs canaux de communication (Facebook Messenger, Telegram, Twilio et Viber/WhatsApp/Alexa/Google Home à venir). Beaucoup d'intégrations d'entreprises et d'e-commerce.
Qui utilise Visual Chatbot Builder ?
Activechat Bot Builder s'adresse au support client d'entreprise et aux chatbots d'e-commerce et aux agents vocaux pour divers secteurs d'activité.
Où peut-on déployer Visual Chatbot Builder ?
Cloud, SaaS, web
À propos de l'éditeur
par Activechat
Fondé en 2017
Support 24/7 (réponse directe)
Chat
Pays disponibles
États-Unis
À propos de l'éditeur
par Activechat
Fondé en 2017
Support 24/7 (réponse directe)
Chat
Pays disponibles
États-Unis
Visual Chatbot Builder en vidéos et en images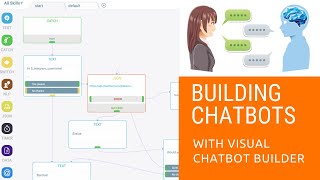 Comparez le prix du logiciel Visual Chatbot Builder avec ses alternatives
À partir de
9,00 $US/mois
s/o
6 000,00 $US/mois
140,00 $US/mois
Fonctionnalités - Visual Chatbot Builder
API
Aide contextuelle
Alertes et remontée des problèmes
Analyse des sentiments
Analyse du service client
Analyse en temps réel
Analyse visuelle
Base de données de clients
Bot pré-configuré
CRM
Chat et messagerie
Chatbot
Communication multicanal
Données en temps réel
Développement sans code
Enquêtes et feedback
Fonction de glisser-déposer
Fonctions pour développeurs
Gestion de l'expérience client
Gestion de la base de connaissances
Gestion de la communication
Gestion des commentaires
Gestion des e-mails
Gestion des flux de travail
Gestion multicanal
Intelligence artificielle et machine learning
Intégration des médias sociaux
Intégrations de tiers
Messagerie instantanée
Mesure des performances
Monitoring
Notifications en temps réel
Prise en charge de plusieurs langues
Rapports et analyses
Rapports et statistiques
Recherche en langage naturel
Recherche/Filtre
Reconnaissance d'intention
Reconnaissance vocale
Répondeurs automatiques
Saisie de leads
Segmentation de la clientèle
Stratégie de marque personnalisable
Suivi de l'engagement
Surveillance en temps réel
Synthèse vocale
Tableau de bord d'activités
Traitement automatique du langage naturel
Transcription des conversations par chat
Workflow configurable
Harish M.
CEO (Inde)
Utilisateur LinkedIn vérifié
E-learning, 2-10 employés
Temps d'utilisation du logiciel : plus de deux ans
Excellent Chatbot
Commentaires : Customer engagement
Avantages :
Amazing bot builder which I use for my Facebook messenger chat automation. The architecture of using skills is amazing as it saves us a lot of time. The UI is way different from many chat and may seem little overwhelming for a novice user but after a tiny bit of learning, it becomes a perfect tool which you cannot look beyond. The support is fantastic as they are ready to listen to us and take necessary action to meet our needs. Loved being part of their journey. Hoping they will be crowned as the best bot builder in the world.
Inconvénients :
It did not have the team feature in the past but now they have added it. so we can share bots with others. There are some features which are missing which are personal desires which cannot be mentioned as a con.
Marketing et publicité, Auto-entrepreneur
Temps d'utilisation du logiciel : plus d'un an
Worth every penny
Commentaires : I work with a lot of eCommerce websites. I thought it would be nice to get a chatbot to answer FAQs and provide a few links. This does so much more than that. It has opened the door for me to do so much for my clients and re-create for the next and the next after that. The best tools make you look like a genius and amaze your clients. This has proven to be that and more...
Avantages :
There are so many ways to use this that I'm still finding new opportunities years later. They keep adding to the options and I keep finding use cases for them.
Inconvénients :
I struggled at first to figure it out but then I had a call with the lovely Iryna and she helped me understand how to use it. Blue skies from that point on. I'm so happy to have it as an option in my product suite.
Govind R.
CEO & Founder (Népal)
Utilisateur LinkedIn vérifié
Logiciels, 2-10 employés
Temps d'utilisation du logiciel : plus d'un an
Clearly has potential but needs a lot of work
Commentaires : Active Chat, at the time when I was purchasing, was as an alternative to ManyChat and MobileMonkey. I am not happy with the experience at all.
They need to work on support. There are bugs and it seems the team doesn't even test before releasing the feature they completely rely on users to report the bugs which are okay but there are too many.
Avantages :
It has a lot of features if not all when compared to the likes of Many Chat and Mobile Monkey. It has plugins for WordPress making integration easy for WordPress users. Team working reasonably fast to develop features Facebook Group to help you with any issues you are facing
Inconvénients :
Support documents- Even though they have worked on their support documents I didn't find it to be organized. It still needs a bit of work Support- Realtime support is missing. It takes 24 hrs if you send an email for support or more (at least in my experience) which makes me upset.
Réponse de l'équipe de Activechat
il y a 2 ans
Hey Govind, thanks for reviewing us, but I have to admit that your negative experience has nothing to do with Activechat's product quality. The only support ticket that we have from you contains this video - https://www.loom.com/share/aaab5bad993143b4bd3c8f94fb7a1b62?fbclid=IwAR2Bc25I0BVaoJgS0sMTDlLZ5rjHsyPnMwVrd2PMaNAEP2vuE0icUQjoK0Y - and it clearly shows that you're making changes in your chatbot but do not trigger the skill again. Please check this part in our manual so that you understand how bots and skills work in Activechat - https://docs.activechat.ai/docs/manuals/visual-builder/triggering-bot-skills/ It looks like you did not read even "Platform Basics" part of the manual. Sorry about that. The last email in your support ticket was sent a week ago. It contained links to manuals to help you get started with the platform. Still no reply from you.
Akashlal B.
Asker, believer and achiever at the universe (Taïwan)
Utilisateur LinkedIn vérifié
Services d'information, Auto-entrepreneur
Temps d'utilisation du logiciel : 1 à 5 mois
A visual chatbot builder which makes complex chatbots easy
Commentaires : Got this chatbot deal on appsumo, and played around with it. Though it makes building bots easy, right now it lacks many things like delegating bot access, facebook comments grow etc.
Will look around till the software matures.
Avantages :
One of the easiest visual builders which makes it easy to build the most complex chatbots. The founder is extremely helpful, organizing chabot webinars every week etc. Support is great, too. It also has a number of templates, covering bots built for shopify, woocommerce, livechat, restaurants and other templates which helped me understand how the different blocks come together to build a complex chabot. Voice conversation integration with alexa echo/google home is also coming up, along with web widgets if the existing twilio, telegram, facebook integrations are not enough already.
Inconvénients :
The interface of most pages arent upto the mark. The software has a learning curve but can be overcome with training.
Tony E.
President (É.-U.)
Utilisateur LinkedIn vérifié
Marketing et publicité, 2-10 employés
Temps d'utilisation du logiciel : 1 à 5 mois
Powerful Chatbot Builder
Commentaires : Overall I'm very happy with it and have recommended it to some people. I've built a basic bot and currently working on a more advanced rewards bot and so far I like it a lot. I'm looking forward to the upcoming improvements, but I think it will be my bot tool of choice.
Avantages :
It's quite a different interface than ManyChat, Chatfuel or Mobile Monkey (not sure about the others), but once I got used to it I liked the workflow and layout. The UI looks a little dated, but supposed to be updated soon along with a lot of other features. Excellent ecommerce integrations as well.
Inconvénients :
It doesn't have all of the growth tools yet, but assured those are coming soon. It's a fairly new service, so documentation is lacking, very basic for now but I've been able to figure out everything I need to do so far. There have been some bugs but also assured those are being resolved very soon...I'm sure it's growing pains from adding so many users so quickly.