Description de The Pet Friend
Pet Friend helps organizations from small to large manage their animal records and modernize their computer systems. We did this by creating software that's mobile friendly and uses the cloud. Pet Friend supports devices such as smart phones, tablets, laptops and traditional desktops, anything with an internet connection and a browser! We work with organizations such as humane socities, animal shelters, animal control, animal rescues, and vet offices to provide you quality software.
Qui utilise The Pet Friend ?
We work with Animal Shelters, Vet Clinics, Rescues, Animal Control, Transport Groups, Disaster Relief, from small to large!
Où peut-on déployer The Pet Friend ?
Cloud, SaaS, web, Android (mobile), iPhone (mobile), iPad (mobile)
À propos de l'éditeur
The Pet Friend
Fondé en 2015
Chat
Pays disponibles
États-Unis
À propos de l'éditeur
The Pet Friend
Fondé en 2015
Chat
Pays disponibles
États-Unis
The Pet Friend en vidéos et en images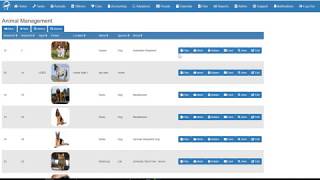 Comparez le prix du logiciel The Pet Friend avec ses alternatives
Fonctionnalités - The Pet Friend
Base de données des animaux
Dossiers médicaux
Gestion d'adoption
Gestion des admissions
Gestion des bénévoles
Gestion des cas
Gestion des collectes de fonds
Gestion des licences
Alternatives à The Pet Friend
Tamara
Shelter Manager (É.-U.)
Vétérinaire, Auto-entrepreneur
Temps d'utilisation du logiciel : 1 à 5 mois
Great product!
Avantages :
This is the first product of it's kind that we have used for our shelter management. So far it's been very helpful in allowing us to keep track of all the features we did the old school way. I checked out many different software option and chose this one because it has all the features I felt we needed as a non-profit and it is web-based.
Inconvénients :
Still wish there were more color of animal choices haha, I just don't have to time to list them and send to the company. Also would love to have the ability to reduce the kennel card to half a page and make the pet name more obvious/larger. My team has wanted cage cards for some time now and are very happy that we now have them:)
Kris
Lead Animal Control/Code Enforcement (É.-U.)
Administration publique, 2-10 employés
Temps d'utilisation du logiciel : 6 à 12 mois
Great for the price
Commentaires : Pet friend is the only software currently being used at the local animal shelter to track all intakes, returns, adoptions & licensing. It is designed to more than needed in out small shelter but could use a few adjustments for record keeping & billing statements.
Avantages :
The price fit the small business budget. Once you get to know the program it's pretty easy to use. Customer service has been one of the best. Any software requests that have been requested are made in a short time. Any issues with the software is corrected right away.
Inconvénients :
It takes some getting use to. Connections are not made in the software. multiple unconnected documents for every case. Reporting issue when doing a weekly report you would need to complete another billing step on top of the other 2 forms to get weekly/monthly billing reports.
Phyllis
Shelter Manager (É.-U.)
Gestion d'organisme à but non lucratif, 2-10 employés
Temps d'utilisation du logiciel : 6 à 12 mois
Pet Friend Software
Commentaires : At this time the only real benefits are that it is accessible from any location. We also like the feature of being able to take a picture while in the program to add to the kennel card.
Avantages :
That it is accessible from any location.
Inconvénients :
It is very difficult to retrieve information about an adopted animal - unless we have the name of the animal when it was at the shelter. Most adopters change their names. We need to be able to retrieve the information from adopter's name, micro chip # & Rabies #. One of the reasons we purchased the product was that it was to automatically add our animals to Petfinder. That feature simply doesn't work. The choices for color are not geared to the colors of dogs & cats, no brindle option, or calico option, etc. We do have the option of purple???
Réponse de l'équipe de The Pet Friend
il y a 2 ans
Additional adopter information has been added to be searchable at https://thepetfriend.com/pf/adoptions_history_search . We will look into the color issue but purple exists because we also support reptiles and birds. Thanks,
Cassie
Record Keeper (É.-U.)
Gestion d'organisme à but non lucratif, 2-10 employés
Temps d'utilisation du logiciel : plus d'un an
Works for what we need
Avantages :
Easy to navigate and put data in when it comes to animals in the rescue
Inconvénients :
Would like to be able to add extra fields on our own
Juan
General Administrator (Équateur)
Vente au détail, 11-50 employés
Temps d'utilisation du logiciel : Essai gratuit
Simple, forward and easy to use
Avantages :
The features that I liked the most were: the organization of the web page is perfect, going from general information to really specific ones, like the in-depth description each animal has, its not cramped up in just one page, its located in diferent windows inside each animal of choice. This allows each client to really get to know each animal and make the best choice for them and for the animal.
Inconvénients :
I feel that the features or the way the features are displayed are a little bit uncomfortable to the eyes. Meaning, that by trying to be too straight forward in the information you are trying to put out, the details of the web page (making it interactive and pleasant to interact) need to be improved. Humans are creatures that need to be entertain...nothing too crazy, but maybe a design that is cute (baby style) would make the people that interact with the web page more prone to adopt or support this wonderful site.