Litmus
Description de Litmus
Plateforme web de création, de test et d'analytique d'e-mails permettant aux utilisateurs de créer, tester, dépanner et optimiser chaque campagne.
Afficher moins
Qui utilise Litmus ?
Une plateforme de création, de test et d'analytique d'e-mails idéale pour les entreprises de toutes tailles qui souhaitent optimiser l'ensemble du processus de création d'e-mails.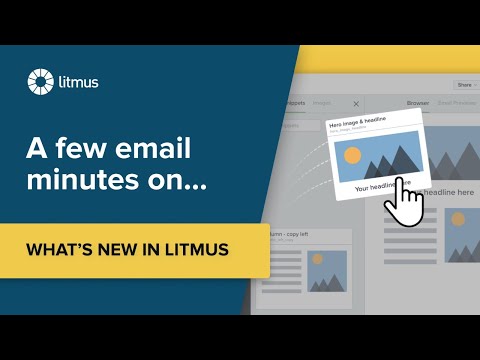 Vous hésitez à choisir Litmus ? Comparez-le à une autre option populaire
Indisponible dans votre pays
Version gratuite
Version d'essai gratuite
Intégrations introuvables
Version gratuite
Version d'essai gratuite
Pourquoi ce message s'affiche-t-il ?
Kay
Email Marketing Specialist (É.-U.)
Utilisateur LinkedIn vérifié
Marketing et publicité, Auto-entrepreneur
Temps d'utilisation du logiciel : plus de deux ans
A pricy option for a freelancer or small agency, but Litmus blows the competition away
Commentaires : Litmus vastly increased my efficiency in building and testing email campaigns and email templates.
Avantages :
I was hesitant to switch to a remote editor as my default, but Litmus' instant screenshot testing completely changed my workflow - compared to the "old school" method of sending in an email, it's nothing short of revolutionary. In addition, the product is constantly being improved and updated, and the community and support around it is fantastic.
Inconvénients :
The pricing is not freelancer/small agency friendly. I am mildly annoyed by the presence of tabs for features that are not included in my account level - in my view, if I can't use it, I shouldn't see it.
Utilisateur vérifié
marketing manager (É.-U.)
Utilisateur LinkedIn vérifié
Services et technologies de l'information, 1 001-5 000 employés
Temps d'utilisation du logiciel : plus de deux ans
Litmus is one of the best out there for email previews
Commentaires : Overall I have had great success learning how to get the most out of Litmus and I would recommend for just about any marketing and design group. This helps to preview email templates and design, and check through potential email issues prior to launching an email in real time - the overall benefits have been very helpful in generating the greatest email experience for our digital audience.
Avantages :
What I really like most is the ability to generate email previews across a number of different email clients, so that it helps to optimize the look and design of email templates - this has been super helpful for our marketing team.
Inconvénients :
There are a few features that would be nice to have included the basic subscription, such as the ability to test an html email for potential spam delivery - while it is a feature that we really like, we often feel like it should be part of the basic package in case we decide to go a level down in our subscription.
James
Digital Marketing Manager (Allemagne)
Transport routier/ferroviaire, 201-500 employés
Temps d'utilisation du logiciel : plus d'un an
"Pro tool for email marketing!"
Commentaires : We have been benefitting from this software through template QA and creating templates that are responsive enough. Our QA process is powerful and we have different stakeholders. All the email marketing issues have been solved and a great deal of our time has been saved through the usage of this app. Our emails now look as if a designer has designed them. This tool has helped us a lot. For us, email testing was a cumbersome job that has now become a piece of cake. Our whole team was able to save plenty of time through this amazing tool.
Avantages :
Litmus is a very collaborative tool for building templates, sorting out the issues in the code, and implementing responsive templates. Modules can be incorporated. Brand designs and colors can be set up. Plus, the performance of your organization can be evaluated. It also helps users to confirm if their email is going to give a cool look on all devices. The builder part of the app is just mind-blowing.
Inconvénients :
A live builder option that is currently not available should help a lot. For instance, if one is asking for changes in the code, he should be able to see the changes correspondingly to have a better idea of what could be the best option. Apart from that, many features of Litmus do not fit in our workflow. I can understand that many people might find them useful but part of our payments goes to those features which are not assisting us in any way. So, a solution must be found for such discrepancies.
James
Team Lead, Campaign Specialists (É.-U.)
Utilisateur LinkedIn vérifié
Marketing et publicité, 501-1 000 employés
Temps d'utilisation du logiciel : plus d'un an
The best platform available for inbox previews
Avantages :
- Simple, powerful campaign approvals - Easy to use builder - Integrations with ESPs like Emarsys, SFMC, and others - Continually developing new features and enhancing existing ones (send tests directly from Litmus, proofs, convert checklist to builder, access post-rendered HTML, etc.)
Inconvénients :
- Cannot unsubscribe test email address directly within Litmus. Since we work on hundreds of accounts, we naturally forget to unsubscribe some test addresses. Our test addresses are probably subscribed to 20-30 mailing lists, and it is very time consuming to attempt to unsubscribe from those lists. This results in cluttered checklists and higher than necessary render counts. There should really be a quick unsub option on each checklist. - Spam tests are not quick to set up - Litmus Scope is an essential tool, but it is inconsistent and seems to be a largely ignored feature - No notification system for when campaign approvals are finished
Jason Taylor
Governance, Risk & Compliance Administrator (É.-U.)
Utilisateur LinkedIn vérifié
E-learning, 51-200 employés
Temps d'utilisation du logiciel : 6 à 12 mois
Easy to use Email Testing
Commentaires : We needed to make sure emails were being universally received the way we wanted them to be, across all different platforms. It suits our needs perfectly. There was definitely some adjusting on the level of tests we would need to run, but the sales/support staff was very generous in working with us to identify the right level. Even if you go above the test "limit" you're not cutoff, so if you need to scale up Litmus will keep supporting you.
Avantages :
I'm a huge fan of the multiple platforms for testing emails- desktop, mobile, etc. They keep their testing suite up to date with all the new build releases for iOS and Android and you can run through the different potential platforms all at once with a single test. There's also pretty good engagement insight and A/B testing functionality. The interface is very intuitive so the tool is handy for getting more folks involved in the actual testing process without a complicated onboarding.
Inconvénients :
The intended use applications are great, my only "complaint" is with the data retention aspects. While Litmus has very clean compliance documentation, if you receive a data deletion request, the effectuation insofar as Litmus is a little manual/pedantic. But it's not unworkable.