AutoEntry
Description de AutoEntry
Simplifiez vos tâches comptables en supprimant la saisie manuelle des données et gagnez du temps. S'intègre à plusieurs solutions de comptabilité, notamment Quickbooks, Xero, Sage, Kashflow,
Lire la suite
Fuzemetrix, etc.
Afficher moins
Qui utilise AutoEntry ?
Conçue pour les petites et moyennes entreprises, cette plateforme de saisie automatique des données rationalise le processus de comptabilité et de tenue des comptes.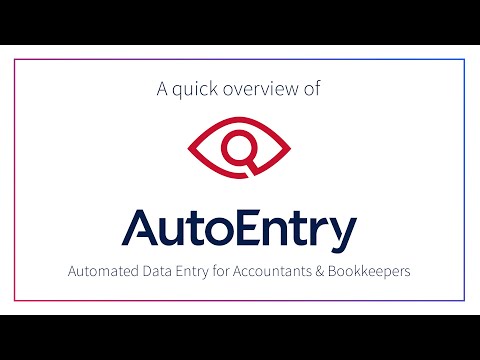 Vous hésitez à choisir AutoEntry ? Comparez-le à une autre option populaire
Indisponible dans votre pays
Version gratuite
Version d'essai gratuite
Version gratuite
Version d'essai gratuite
Pourquoi ce message s'affiche-t-il ?
Comptabilité, 2-10 employés
Temps d'utilisation du logiciel : plus de deux ans
Alternatives envisagées :
Change how you deal with clients and your own accounts
Commentaires : Cut down on time spent on repetitive and labourious tasks to free up staff to work on higer paid tasks such as accounts preparation instead of record-keeping
Avantages :
Easy to use New users are enthusiastic about the package Inexperienced users can make progress on data entry the package skims documents to pick up dates and amounts but also picks up on invoices where the invoice is entered twice and points out duplicates At the end of the accounts process everyone can log in and view an image of the actual invoice uploaded thereby cutting down on verbal explanations and long conversations and misunderstandings
Inconvénients :
Possibly too easy to use Users sometimes click an invoice as paid which causes complications later
Génie mécanique ou industriel, 2-10 employés
Temps d'utilisation du logiciel : plus d'un an
AutoEntry Accuracy and Time Saving
Commentaires : I have realized that I don't need to pay someone to do this work . I simply spend 10 mins a day on AE and then pay everyone myself at the end of the month. The accounts have never been so tidy and up to date and I can get figures out of Sage that I know are correct.
This product is outstanding and costs the business a fraction of paying someone's wages.
You can also use it for statement s and expenses.
Avantages :
I started using Auto Entry Last January after a member of staff left who looked after the accounts. We have about 250 purchase invoices a month and around 40 suppliers to pay so manual entry is time consuming and errors compound when statements don't tally. Any change is daunting but I was talked through the install on our main server and within a few days I was flying along. You teach to AE which account to put invoices to then it remembers. The package attaches a copy of the invoice to the line in Sage. No need for hundreds of lever arch files of purchase invoices, or searching through them to find what yo u paid for something, accounts add up for payment . I simply e mail them to AE from the main accounts e mail and to whoever placed the order so that they can be checked Any questions and there is a chat on the screen and the help sorts out any little issues in 5 mins.
Inconvénients :
Occasionally there are delays in publishing the invoice through to Sage but these never last more than a few hours and by the morning everything is there , which is much faster than the manual way which sometimes took weeks.
Utilisateur vérifié
Managing Director (R.-U.)
Utilisateur LinkedIn vérifié
Comptabilité, 2-10 employés
Temps d'utilisation du logiciel : 1 à 5 mois
Source : GetApp
Good pricing structure and features, but could do with more development
Avantages :
The pricing structure for AutoEntry is spot on in terms of paying what you use and carrying over of credits. AutoEntry copes very well with bulk invoices and has a good range of 'rules' to code the transactions. Once rules are set up, they are applied to the inbox instantly, so mass processing for bulk invoices is very efficient. AutoEntry copes with complex tax summaries and foreign currency quite well. Another unique feature, as compared to Receipt Bank, is the ability to process sales invoices. Some of our clients use 3rd party software to raise invoices, which does not integrate with the accounting software, so AutoEntry provides a cost-efficient 'bridge' between the two. Bank statement processing is unique and quite quick, but does require good resolution scans. The ability to import digitised bank statements directly into the accounting software (we use Xero) is excellent.
Inconvénients :
We have had some issues with the app, where receipts go 'pending' and never make it to the software. Because of the bugs in the app and the client experience, we stopped using AutoEntry for some clients, but it remains the software of choice for internal processing. The functionality of the app is very limited - there is no editing or leaving notes, it is simply view and publish. OCR technology is not as powerful as, for example, Receipt Bank, so some supplier details are not picked out accurately. The support team are sometimes slow to respond (sometimes in excess of 72 hours) and some of our issues didn't get a satisfactory resolution.
Trevor
Finance Manager (R.-U.)
Art/artisanat, 11-50 employés
Temps d'utilisation du logiciel : 6 à 12 mois
Alternatives envisagées :
Our experience with AE
Commentaires : Excellent. Very good help desk
Avantages :
Clear , links will in accounting products. Our staff are uploading their invoices and coding on line. Much better than paper invoices floating around.
Inconvénients :
Could do with expenses being a little more clear on the page for people not frequently in AE, they have a little trouble getting used to how to do their staff expenses - but we are getting there. Also some features like when an invoice was paid by debit card or credit card. not yet available for Sage users but on the development list. Now owned by Sage I expect it will work even better with sage as time goes on.
Comptabilité, Auto-entrepreneur
Temps d'utilisation du logiciel : plus de deux ans
Alternatives envisagées :
Brilliant
Commentaires : Have been using Autoentry for about six years and now work much more accurately and efficiently. Find it very easy to use and the support is always very good when issues arise. Took on additional clients as a result of the time savings gained
Avantages :
Easy to use and teach clients Integrates smoothly with the other I use
Inconvénients :
Has most desired features Easy to use Doesnt always integrate well with Sage desktop