Top Hat
Description de Top Hat
Top Hat est une plateforme d'enseignement et d'apprentissage tout-en-un conçue pour motiver, stimuler et communiquer avec les étudiants.
Afficher moins
Qui utilise Top Hat ?
Top Hat rend l'enseignement amusant et efficace pour les professeurs universitaires. Dynamisez votre classe en posant des questions, en lançant des discussions et en évaluant la compréhension des élèves au sein d'une seule application.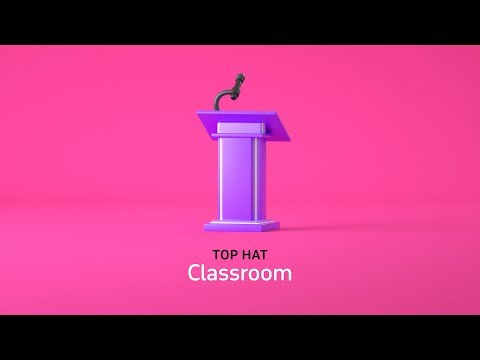 Vous hésitez à choisir Top Hat ? Comparez-le à une autre option populaire
Indisponible dans votre pays
Version gratuite
Version d'essai gratuite
Version gratuite
Version d'essai gratuite
Pourquoi ce message s'affiche-t-il ?
Vaidas
Associate professor (É.-U.)
Utilisateur LinkedIn vérifié
Gestion de l'enseignement, 501-1 000 employés
Temps d'utilisation du logiciel : plus de deux ans
Excellent for its purpose in education
Commentaires : Overall, I have had positive experience with the platform and I would encourage educators to at least take a look and decide if it suits for you. There is no 'one size fits all' approach in higher education.
Avantages :
I have used the platform for years. Started using it to take attendance, but then transitioned to a more inclusive approach. What I like the most is that you can setup your lecture flow with PowerPoints, include quizzes/assessment points throughout, include videos (or other multimedia), and export grades/attendance at the end. There are a lot of small features that can be catered to individual faculty needs, such as types of questions, integration, etc. Their tech support is excellent! They helped me transition my course to tophat in no time.
Inconvénients :
I liked everything about the platform as it suited my needs. My only issue is the pricing model where the students have to pay for access individually. Not all of my students have the means to pay for access (which can really impact their grade if they don' use the platform). However, there is a discount if the platform is used in multiple classes. I also think they have site licenses, too.
SB
Teaching Assistant (É.-U.)
Enseignement supérieur, 1 001-5 000 employés
Temps d'utilisation du logiciel : 6 à 12 mois
Easy to use and helpful features
Commentaires : Overall I am pretty happy with Top Hat. It would definitely fall in the upper end of programs I have used. The students also seem to enjoy it as well.
Avantages :
I was able to log into Top Hat and immediately start using it without any training. It's a pretty intuitive site. Seeing the grades and attendance is straightforward and has been easier to edit than other programs that I have used.
Inconvénients :
When students are submitting their quizzes or comments there is major lag time and I am not sure if that is because of the software or internet connectivity. I am never entirely sure if I know how many people have turned in their questions. Until about 3 minutes after the questions is over. Also, I wish there was a way to edit slides when they are posted into Top Hat because when I upload sometimes the slides become distorted and I need to make the text smaller or rearrange it so that it fits on the screen and can be read. Also, sometimes the link to videos do not work.
Utilisateur vérifié
Web Designer (É.-U.)
Utilisateur LinkedIn vérifié
Gestion d'organisme à but non lucratif, 2-10 employés
Temps d'utilisation du logiciel : 6 à 12 mois
It works, but isn't the most cost effective solution
Avantages :
Students answer questions in real time and the percentages of what answers were chosen can then be displayed.
Inconvénients :
As a student who had to use the software, the cost can be annoying. You have to pay based on how long you think you'll need the software, which you won't always know if you're not sure whether future classes will use the software. For example, you might decide to pay for 1 years use because it's "cheaper" over time, but you only ended up having a class use it for 3 months. So you wasted money paying for the rest of the subscription and the company gets more money from struggling college students. And of course, the opposite could happen where you pay for 1 quarter, then another classes uses it and you'd have to pay for it again. Before Top Hat came along, iClicker was the more commonly used tech and does the same job. With iClicker, you only had to pay one time for the remote and then you could sell the remote to another student, which was much more cost effective for students.
Graham
associate professor (É.-U.)
Enseignement supérieur, 5 001-10 000 employés
Temps d'utilisation du logiciel : plus de deux ans
Testing my students
Commentaires : I could not run in class quizzes without this software. It has made this part of the course easy to administer.
Avantages :
This software has made giving in class quizzes very easy. I use it every semester and have had a great experience with administering the quizzes and grading them. It has made it easy to go over material and to provide immediate feedback.
Inconvénients :
I would like them to add a feature that allows for grading of word answers. I have to look at all the different spellings of a word. It would be nice to have a wild card or contains option for answers
Shaylynn
Project Manager (É.-U.)
Utilisateur LinkedIn vérifié
Gestion de l'enseignement, 10 000+ employés
Temps d'utilisation du logiciel : 6 à 12 mois
Top Hat Student Review
Commentaires : It has helped me so much with this class. It has given me a new way to go about grasping the material and I would highly suggest it to other people.
Avantages :
I used it in my economics class, and we had embedded questions within our chapters. It really makes you slow down to understand and grasp the concepts.
Inconvénients :
We had problems with being able to go back and view which questions were answered correctly or incorrectly. I also wish there were more functions like notes and bookmarks along with the highlighting.