Description de Appogee HR
Gérez les employés du moment où ils acceptent une mission jusqu'à leur départ. L'accès en libre-service donne accès à la gestion avancée du rendement des employés, à l'intégration, aux demandes et approbations d'absence rapide, aux profils des employés, aux dossiers de formation, aux avis du rendement, à la gestion des actifs, aux documents de l'entreprise et plus encore.
Les intégrations dans G Suite, Office 365, LinkedIn Talent Hub (ATS (Applicant Tracking System)) et Xero vous offrent des avantages supplémentaires tels que l'authentification unique, les intégrations d'agenda et le téléchargement d'utilisateurs.
Qui utilise Appogee HR ?
L'éditeur compte plus de 700 entreprises allant de 10 à plus de 1 000 employés. L'éditeur prend plusieurs langues en charge, notamment l'anglais, le français et l'espagnol.
Où peut-on déployer Appogee HR ?
Cloud, SaaS, web
À propos de l'éditeur
par Appogee HR
Situé à Bracknell, R.-U.
Fondé en 2009
Chat
Pays disponibles
Royaume-Uni
Langues
anglais, espagnol, français
Appogee HR - Prix
Starting Price:
2,00 £GB/mois
Oui, essai gratuit disponible
Non, pas de version gratuite
Appogee HR n'est pas disponible en version gratuite mais propose un essai gratuit. La version payante de Appogee HR est disponible à partir de 2,00 £GB/mois.
Plans de tarification
À propos de l'éditeur
par Appogee HR
Situé à Bracknell, R.-U.
Fondé en 2009
Chat
Pays disponibles
Royaume-Uni
Langues
anglais, espagnol, français
Appogee HR en vidéos et en images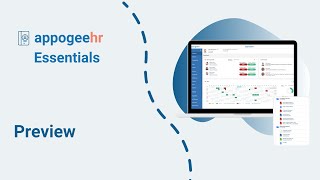 Fonctionnalités - Appogee HR
API
Apprentissage et développement
Autorisations basées sur les rôles
Base de données des employés
Contrôle du processus d'approbation
Contrôles/Permissions d'accès
Demande de congés
Feedback à 360 degrés
Gestion de la conformité
Gestion de la formation
Gestion de la paie
Gestion des avantages
Gestion des calendriers
Gestion des candidatures à l'emploi
Gestion des congés
Gestion des documents
Gestion des employés
Gestion des feuilles de temps
Gestion des flux de travail
Gestion des performances
Gestion des présences
Gestion des ressources humaines
Gestion des rémunérations
Gestion du recrutement
Importation et exportation de données
Intégration des collaborateurs
Intégration des employés
Intégrations de tiers
Modèles personnalisables
Planification de la relève
Pointage
Portail des employés
Portail employés
Portail libre-service
Profils des employés
Rappels
Rapports en temps réel
Rapports et analyses
Rapports et statistiques
Rapports personnalisables
Stockage de documents
Stratégie de marque personnalisable
Suivi des candidatures
Suivi des congés
Suivi des congés maladie
Suivi des présences
Suivi des vacances/congés
Tableau de bord d'activités
Workflow configurable
Évaluation des performances
Logiciels de ressources humaines : afficher la liste complète
Jarrod G.
CEO (Australie)
Utilisateur LinkedIn vérifié
Médias de diffusion, 11-50 employés
Temps d'utilisation du logiciel : plus de deux ans
The perfect HR program that is perfect for staff, hr and finance
Commentaires : Appogee HR is the all round system and I highly recommend it
Avantages :
I love the fact that it solves our annual leave issues in our organisation. This means that our staff have a one - stop shop and have full control in applying for leave and knowing where in the process it is.
Inconvénients :
The only small thing that I would suggest be changed is that when applying for leave, the application for leave section has both applying to take leave (Personal and Sick) along side applying to have TOIL added to their account. This is confusing to staff and subsequently many people apply for TOIL think that they are 'taking' TOIL rather than 'adding' it to the account
Réponse de l'équipe de Appogee HR
il y a 3 ans
Thank you so much for stopping by to leave us a great review. We are happy to hear that Appogee HR has been so perfect for your organisation. Thanks for the update idea, please feel free to add any feature suggestions to our forum.
Logiciels, 11-50 employés
Temps d'utilisation du logiciel : plus d'un an
A year of Appogee HR
Commentaires : The support was generally responsive; the application did what it said and the fact that we had very little push back from users implies it was good for them as well.
Avantages :
As with many software packages adoption tells you if it's successful. How many support questions usually starting with "how do I", "where was it", "I'm confused" . While of course there has been some; in the case of the HR deployment its been minimal. We adopted Apogge for the self-service nature; to remove the emailing holiday, sick requests, to remove the manual tracking of policy agreements, Toil requests and personal details. These have been a great success; all the employees get it; and our whole HR processes flow is so much more streamlined.
Inconvénients :
There will always be some gripes with new software; the two that stick in mind over our initial teething problems was the inability to remove the log on options - we quickly integrated into our Office 365 login, but on the login screen you still had the option to log in manually -(or with Gsuite) so many users kept trying the wrong one - and it would have been easy to remove those that weren't required. Secondly, we had issues with the document management side; having to request authorisation of policies one by one instead of in bulk. These were both annoying but certainly no close to deal breaking
Alternatives envisagées : Access People HR, Zoho Recruit et BambooHR
Pourquoi passer à Appogee HR : It covered all the features we were looking for including very flexible time working; in both hours and or days
Réponse de l'équipe de Appogee HR
il y a 11 mois
Thanks for reviewing Appogee HR, Adrian. It's great to hear your employees have found the system easy to pick up and you've streamlined your processes. The login page is universal for all customers, so we need to provide all login options, however we take your feedback on board. You can access the app from the Microsoft Apps Launcher it will take you straight into the application. We can also provide you with the O365 specific log in link, which you could ask your employees to bookmark, again, bypassing the main login page. We support the acknowledgement of documents in bulk, this can be done by setting up a 'rule' per document, which you could add to All Employees, Teams or specific individuals. Although you do set up the acknowledgement requests on a per document basis, to give you flexibility.
Utilisateur vérifié
Entrepreneur (Somalie)
Utilisateur LinkedIn vérifié
Gestion d'organisme à but non lucratif, 51-200 employés
Temps d'utilisation du logiciel : 1 à 5 mois
Appogee Leave Review
Commentaires : hard copy leave letters to online one is very good
Avantages :
easily leave application was amazing to the organization and all employees
Inconvénients :
staff can access and send their leave applications
Réponse de l'équipe de Appogee HR
il y a 3 ans
Thank you for taking the time to leave us a review. It sounds like you have found Appogee Leave easy to use and the employees have been happy with requesting their own leave. It would be great if you could get in touch with some further feedback on some of the star ratings. We always love to hear how our solutions work for you so we can continue to develop.
Marcelle V.
Operations, Associate (Thaïlande)
Services financiers, 51-200 employés
Temps d'utilisation du logiciel : plus de deux ans
Energi Core Review
Commentaires : So far for me it's been amazing dealing with the Appogee team, they have almost become like family.
Love the product but think there can be some great improvements made.
Avantages :
Customer service is the best, very friendly and helpful. Integrated with GSuite Onboarding is easy and quick Customization
Inconvénients :
Could do with a better visual way of set up Improvements to be made on goals and performance reviews. Improvements on reporting Would be great to add time clocking feature
Alternatives envisagées : GoCo
Pourquoi choisir Appogee HR : We are growing massively and expected to double if not triple in size over the next year. We need a system that includes better reporting features, time tracking feature, integration with ATS system, better performance review and goal setting feature. The goal is to eliminate manual input and having a combination of platforms in one.
Pourquoi passer à Appogee HR : We chose it as it suits as a start up company.
Réponse de l'équipe de Appogee HR
il y a 11 mois
Thanks for taking the time to review Appogee HR, Marcelle. We've really enjoyed working with you too, and being able to help out your organisation with centralising your HR processes! We've just launched the ability to track time within the system, too!
Anne-laure M.
Operations Director (R.-U.)
Services et technologies de l'information, 51-200 employés
Temps d'utilisation du logiciel : plus de deux ans
An absolute time saver
Commentaires : We didn't have a dedicated HR function so we needed an easy to use platform that had an employee self service portal to ease the burden of keeping the system up to date. Being able to configure the system exactly as we want it has been amazing and the AppogeeHR team has been very responsive whenever I needed help.
Avantages :
Having everything in one place with an easy search functionality saves tons of time. It is in the cloud so I can access the information from anywhere and I know my data is secure which is so important for an HR system. Having an employee self service portal has completely changed the way we run HR. Employees can change their address, bank details, contact information themselves so the onus is on them to update their information, rather than HR. No more chasing or double guessing. It's all there and up to date. The integration of the Leave Functionality with Google Workspace is incredibly well thought out and implemented. The whole process is now automated from email requests to approval, with everything logged in calendars. The headache of tracking holidays has completely gone away.
Inconvénients :
There is a lot of functionality and customisation options, so you need to think carefully how to configure it from the outset.
Réponse de l'équipe de Appogee HR
il y a 11 mois
Thanks for your glowing review Anne-Laure. It's great to hear that you've managed to automate a lot of processes and you can use the system as a single source of truth. Our configuration options allow you to make sure the system is set up in the exact way that you need!