Description de Drag
La plupart des choses commencent et se terminent par des e-mails, mais se répartissent rapidement sur de nombreux outils. Ne passez plus d'un outil à l'autre et gérez l'intégralité de votre flux de
Lire la suite
travail depuis votre boîte de réception grâce à Drag. Drag est la boîte de réception partagée conçue pour les utilisateurs de G Suite. Vous pouvez transformer Gmail dans l'espace de travail de votre équipe pour aider les clients, gérer les tâches et conclure des transactions en un seul clic. Utilisé par plus de 30 000 professionnels dans plus de 30 pays. Facile à installer. Le logiciel est simple à configurer. Aucune formation requise.
Afficher moins
Qui utilise Drag ?
Plus de 30 000 personnes et équipes utilisent Drag pour s'organiser et collaborer par e-mails dans plus de 30 pays.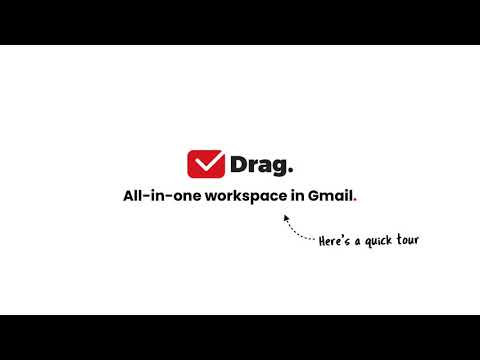 Vous hésitez à choisir Drag ? Comparez-le à une autre option populaire
Indisponible dans votre pays
Version gratuite
Version d'essai gratuite
Version gratuite
Version d'essai gratuite
Pourquoi ce message s'affiche-t-il ?
Recrutement, 2-10 employés
Temps d'utilisation du logiciel : Essai gratuit
Alternatives envisagées :
Went for something else
Commentaires : It was ok. The support team was actually quite slow to respond and I'd already removed the extension and gone with something else before they came back to me. Perhaps if they were quicker to troubleshoot I would have stayed with the tool.
Avantages :
Great user interface and fairly intuitive tool. Looks really clean and well built. Quick load times.
Inconvénients :
I like to filter and archive emails A LOT. Annoyingly if you archive an email it disappears from the Kanban if you haven't asked support to switch this feature off. This was not clear and frustrated me, hence the switch to something helse.
Réponse de l'équipe de DragApp
il y a 2 ans
Hey Sam, I'm really sorry our team was offline when you left a question in our live chat. Still, we must point out that out 4 hour response time (for a question that was left outside of our working hours) is still below average for companies in our space! It's a shame that you've changed your mind in such a small period of time. Don't hesitate to contact us if you need further help. Best, Drag Success Team
Fernando
Games Director (Espagne)
Utilisateur LinkedIn vérifié
Divertissement, 1 001-5 000 employés
Temps d'utilisation du logiciel : 1 à 5 mois
Enhanced focus and peace of mind
Commentaires : I'm tackling most of the tasks than arrive to me through mail using Drag. Some of my mails become tasks in my external app, which I keep using (because not all of my tasks come from my mail, and I need a way to manage these ones), but Drag definitely helps me managing the tasks that come through my mail by (a) avoiding the overhead of translating many mails to tasks, and (b) allowing me to open my mail and knowing instantly what's going on at a glance.
Avantages :
The most noticeable improvement has been opening my mail and knowing instantly what's going on at a glance, which frees resources in my mind (peace of mind, what a treasure!) Besides that, I use the GTD method to organize my tasks. Every day I process my inbox following GTD's algorithm: 1. If something takes less than 2 minutes, I do it and archive the mail. 2. If I can delegate it, I do it and either archive the mail or put it in Doing, to follow it up. 3. If I want to do it, I move it to "Doing". This is an improvement over having just a list of tasks outside of my mail, because a lot of mails don't need to become tasks in an external app, and can be managed more easily with Drag, which reduces significantly the overhead of having to create tasks and follow up somewhere else, besides avoiding having to switch between between apps (from tasks to mail, etc), simplifying my workflow and increasing my productivity.
Inconvénients :
I haven't found any opportunity cost so far in using Drag. I miss some functionalities, though. Mainly, I miss a way to defer mails I don't want to pay attention to now until a later date. This functionality already exists in Google's Inbox Mail App and I need it because it's one of the steps of the GTD's algorithm I mentioned before.
E-learning, 51-200 employés
Temps d'utilisation du logiciel : plus d'un an
More People Need to Know About Drag!
Commentaires : I can't really imagine using Gmail without Drag now, having used it for over a year. This is especially true for companies that utilize Shared Inboxes and Groups - the collaboration functionality is top-notch. We can basically incorporate project management practices & tools directly into Gmail, as opposed to having a separate tool in another platform.
Avantages :
The functionality for Shared Inboxes & Groups is excellent. The Kanban inbox style with notes, attachments, internal tagging, and automations to auto-sort email has boosted our team's productivity massively. Our company gets a massive volume of email in our shared inboxes each day, and prior to implementing Drag, emails were sometimes lost or responses were slow. Organization and lack of automation was to blame - Drag has fixed that.
Inconvénients :
Though it is very rare, every so often there will be a new back-end update to Gmail which sometimes would cause Drag to glitch out. The Drag team usually anticipates these rollouts and there is no issue, but twice in the past year or so we've encountered an issue. That said, they have always fixed it very quickly, same-day.
Sahr
Founder (Canada)
Utilisateur LinkedIn vérifié
Temps d'utilisation du logiciel : 1 à 5 mois
Drag is a lifesaver for my inbox and gave me the ability to get things done more productively.
Commentaires : This software has helped me streamline my email process and not forget about the emails that have not received a response (whether that's on my end or the other party). It's has allowed for less work to fall through the cracks and for less prospective, current, or future business to be lost.
Avantages :
Before Drag, my inbox was a mess. I would not have any proper method of keeping track of emails and it got to the point where things fell through the cracks which amounted to lost business. What I like most about Drag is that it resembles kanban boards that I'm familiar with in the software space and it gives me a good means to make sure that emails don't get forgotten about. I also like how it seamlessly integrates into your email using the Chrome extension and doesn't require any additional onboarding steps. Usually, the problem with bringing on new software is that it is too laborious to integrate it into your daily routine. That's not the case with Drag. With the toggle of a button, you can switch it on and off at your discretion, as well.
Inconvénients :
One of my email inboxes has over 11,000 emails. I found that integrating Drag with that particular email really slowed things down when it came to website speed. This is more mismanagement on my part and it's my goal to reduce the number of emails I have in that inbox so that I can actually use Drag. In addition, Drag doesn't currently allow you to customize the labels on the kanban board or add any additional steps. To my understanding, this is a feature that they hope to launch in the future, however.
Mazyar M.
Candidate (É.-U.)
Utilisateur LinkedIn vérifié
Temps d'utilisation du logiciel : 6 à 12 mois
The Solution for Inbox Confusion
Avantages :
Drag is intuitive, easy to use, and most importantly, visual. All necessary features to turn my daily e-mail torrent into meaningful action. The first step in that process is to organize messages into a hierarchy before reviewing and assign each one. Drag does this right away by letting me sort my messages by importance, subject, whatever I want. The key is the clear visualization.
Inconvénients :
While a great product, Drag is still developing. At the moment, it doesn't appear to sort messages by criteria, so I am still doing that by hand. In addition, the column structure (which works great) can easily stretch past your screen real estate. This means a lot of sideways scrolling. I would like to be able to collapse columns or stack them in order to keep the action on a single screen. But I'll bet they play on making such changes in the future.