Description de Remarkety
Remarkety est une plateforme d'e-mail marketing automation leader pour la vente en ligne. Ce système d'e-mail marketing axé sur les données a été conçu entièrement pour fonctionner avec votre site web de vente en ligne.
Avec Remarkety, vous pouvez segmenter votre liste de clients et vos prospects selon le comportement d'achat en temps réel sur votre site web et l'historique des achats.
Qui utilise Remarkety ?
Remarkety propose une tarification et des forfaits multiniveaux pour toutes les entreprises de vente en ligne. Le logiciel s'adresse spécifiquement aux PME d'e-commerce qui souhaitent faire passer leur e-mail marketing au niveau supérieur.
Où peut-on déployer Remarkety ?
Cloud, SaaS, web, Mac (ordinateur), Windows (ordinateur), Linux (ordinateur), Android (mobile)
À propos de l'éditeur
Remarkety
Situé à Newark, É.-U.
Fondé en 2012
Support téléphonique
Chat
Pays disponibles
Australie, Canada, Royaume-Uni, États-Unis
Vous aimerez peut-être...
Mailchimp Transactiona...
Afficher plus d'alternatives
À propos de l'éditeur
Remarkety
Situé à Newark, É.-U.
Fondé en 2012
Support téléphonique
Chat
Pays disponibles
Australie, Canada, Royaume-Uni, États-Unis
Remarkety en vidéos et en images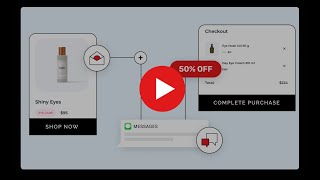 Comparez le prix du logiciel Remarkety avec ses alternatives
Fonctionnalités - Remarkety
Actions découlant d'un événement
Analyse des campagnes
Automatisation du marketing
Campagnes de drip marketing
Campagnes multiples
Champs personnalisables
Conformité CAN SPAM
E-mails optimisés pour format mobile
Gestion de contenu
Gestion des abonnés
Gestion des campagnes
Gestion des campagnes e-mail
Gestion des canaux
Gestion des contacts
Gestion des leads
Gestion des listes
Gestion des modèles
Marketing multicanal
Marketing social
Outils de collaboration
Pages de renvoi et formulaires web
Planification des campagnes
Qualification de leads
Rapports et analyses
Saisie de leads
Segmentation
Suivi des visiteurs de sites web
Suivi du ROI
Tests A/B
Éditeur WYSIWYG
Andrew
eCommerce Manager & Web Developer (Australie)
Utilisateur LinkedIn vérifié
Temps d'utilisation du logiciel : 6 à 12 mois
High end capabilities without the high end price
Commentaires : Huge improvement in ROI from email marketing since we switched to Remarkety
Avantages :
- ROI tracking is not only built in, but a focus of the reporting dashboard, a solid indicator that this platform was built for ecommerce first and foremost - ROI tracking is complimented by the Google Analytics tracking which allows you to compare various attribution models and view overlap with other marketing efforts - Automatic proactive feedback on campaign performance based on industry benchmarks, along with suggestions on how to improve - Plenty of ways to segment and target customers, for both automated emails and newsletters - see support articles for full list or options - Very impressed with how seamless the integration with Magetno 1 is, by connecting through the Magento API they are able to retroactively segment customers (eg. make a new category with selected products in it, then target based on past sales of products in that category - also useful for excluding select products from some campaigns) - Built in templates cover a wide use case, but also easy enough to make and modify templates that work in the drag and drop editor - my content guys have had no issues at all using the wysiwyg editor - I was able to make our responsive email template from another platform compatible with Remarkety in a few hours.
Inconvénients :
- Geographic targeting could be improved, currently can target based on State/City/Suburb /Country , but not by postcode/zip and not by using a map UI like other platforms
John
Digital Marketing and Design Associate (É.-U.)
Institutions religieuses, 11-50 employés
Temps d'utilisation du logiciel : 1 à 5 mois
Intuitive and Perfect for small or large businesses that need fast results
Commentaires : 100% Customer Satisfaction!
Avantages :
The editor Automation In-app recommendations The way segmentations is configured Integrations between software Assigned representative to handhold the integrations and the setup Customer Service is second to none Sped up my ability to Email Market Feature Request do not fall on deaf ears! Nikita Dhillon is an amazing representative to work with.
Inconvénients :
Not being able to set brand colors and secondary subject line/pre-header text cannot be set, and nothing else. I sent in a feature request for this. I bet they quickly address this.
Utilisateur vérifié
Director (É.-U.)
Utilisateur LinkedIn vérifié
Produits alimentaires, 11-50 employés
Temps d'utilisation du logiciel : 6 à 12 mois
Good idea but needs work
Commentaires : Our experience started out great for the first several months but things have deteriorated because of so many glitches in their new system. At this point, it is very difficult to successfully make one new email and support has not been able to solve the big issues like the "save" button not working. Our account manager is always great but in the end, if things don't work and we waste many hours each day because of all of the bugs I can't say our overall experience is good.
Avantages :
Many options to setup automated/trigger emails which are a great way to stay in touch with customers and offer customized specials to certain customers for certain things they do on your site.
Inconvénients :
Until a few months ago everything ran very smooth and was simple to use. Recently Remarkety started "upgrading" their system and adding new features and options. That's when the problems started. We now take a week to set up one email that used to take one day. I literally sit and watch the person here creating our emails and he runs into problem after problem every single time. Almost every day the save button stops working at random. He will spend a few hours setting an email up and he clicks save several times during that process only to find at some point the save button stops working and there is no way for him to finish the email. At that point, he has to totally start over from the beginning and hope he can get the email finished before the save button stops working. It's extremely frustrating to spend a lot of time setting an email up and find you have to start over from scratch because it cant be saved. This is an ongoing problem that began after Remarkety did recent upgrades and now we encounter it daily. Additionally in our Remarkety control panel there are features that are missing one day and reappear the next day and the disappear the following day. For example they have an option to create a desktop and mobile email all at the same time. One day we were working on it and set up an email that was optimized for desktop and mobile view using that feature. Then a few days ago when we started building another email the mobile option was gone.
Jasmine
Ecommerce analyst (Espagne)
Mode et vêtements, 1 001-5 000 employés
Temps d'utilisation du logiciel : 6 à 12 mois
An excellent tool for email marketing, a 100% price-quality ratio
Commentaires : Excellent. It has become a key tool for automated marketing.
Avantages :
Offering many options to create campaigns, segmentation is very practical and useful. The templates are very flexible and allow us to create whatever we need. Automations are the best thing about Remarkety
Inconvénients :
I am very comfortable with the whole tool. There's nothing i don't like
Articles de sport, 2-10 employés
Temps d'utilisation du logiciel : plus de deux ans
Amazing Email Marketing Software
Avantages :
Very professional support team, you feel like you are the only customer. Great deliverability. Only the features you need, not over complicated yet does not lack anything.
Inconvénients :
I would love for it to double as a CRM. They are so close, just need a few more features and they are a CRM.