Buildxact
Description de Buildxact
Buildxact est un logiciel de création de devis et de gestion pour le secteur du bâtiment, spécifiquement conçu pour les petites entreprises en construction et rénovation, afin de leur permettre de
Lire la suite
gérer l'ensemble de leurs projets de manière simple et fluide, du premier contact à la facture finale. Avec Buildxact, vous pouvez prendre des mesures, calculer les coûts des tâches et créer des devis 80 % plus rapidement qu'auparavant, tout en traitant facilement les opérations de planification, de suivi des coûts rationalisé et d'achat. Buildxact est hébergé dans le cloud, pour une mise en œuvre en moins de deux heures.
Afficher moins
Qui utilise Buildxact ?
Buildxact est particulièrement adapté aux petits constructeurs et rénovateurs.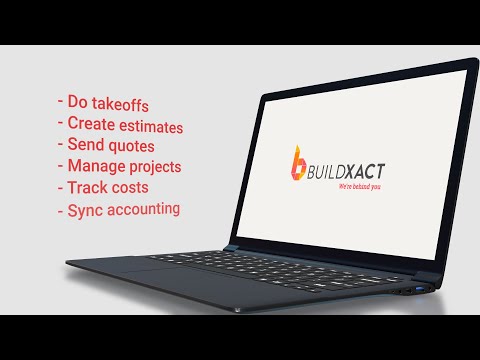 Vous hésitez à choisir Buildxact ? Comparez-le à une autre option populaire
Indisponible dans votre pays
Version gratuite
Version d'essai gratuite
Version gratuite
Version d'essai gratuite
Pourquoi ce message s'affiche-t-il ?
Stephen
Project manager (Australie)
Utilisateur LinkedIn vérifié
Construction, 2-10 employés
Temps d'utilisation du logiciel : 6 à 12 mois
builder use
Commentaires : We absolutely love Build xact, it's not perfect for my individual desires but it sure does capture my needs in a massive way, we can't imagine operating without it now. there is nothing like being certain on your pricing when negotiating with clients and subbies, it puts you in such a more powerful position and takes away a lot of the stress
Avantages :
I love the take off tools and the ease of generating a quotation, it allows me to get ontop of pricing and take offs and the ability to calculate variations based off of subcontractors m2 rates without waiting for my subbies to get back to me is invaluable. also when entering the line items I love that it can allow me to add in a picture into the specifications so that my client knows exactly what products are included in my quote and it also gives me to option to nominate items as provisional costs or provisional sums at the click of a button further more, I can select if the item is a task in the schedule so I have the ease of generating a gannt chart as i go with little to no down time so when I submit my quote I know exactly how long I need to build.
Inconvénients :
overall they have captured everything well and the only items I dont like are some of the little bugs that come with developing such a great software such as: 1. I would like a little more functionality in the plan scaling section. 2. The RFQ's tie themselves to line items and can't be adjusted without deleting the RFQ's or overriding them manually 3. All RFQ's have to be tied to a Job, you can't send off rfq's once the project becomes a Job for further item shopping for savings nor can you issue the rfq to subbies without having to mess around with your Quotes and categories. 4. the project cost analysis only seems to work off of purchase orders and work orders, you can't just tally up numbers under line items such as fixings which may require 10=15 receipts so you need to create a purchase order to tally it up. also, you can only issue invoices in the cost plus projects for expenses worn and not preempt expenses which makes it impossible to issue invoices in a pro active manner to get the client paying the bill. 6. The gannt chart lacks the flexibility and function that I am used to from such programs as smart sheet (another great software that we use) 5. It would be great to have it as an app and in the future look at expanding the software to a fully integrated project management software similar to plan grid
Jordan
Owner/President (É.-U.)
Construction, 2-10 employés
Temps d'utilisation du logiciel : plus d'un an
Alternatives envisagées :
Best band for you buck
Commentaires : Buildxact was exactly what I needed to run my business at a professional level without forking out tons of cash for features I don't need. Their team works to help you get exactly what you need out of the software. I highly recommend this to anyone from residential to high end commercial contractors of all trades.
Avantages :
Easy to setup and start using from day one regardless of your skill level. Intuitive setup and all the features one needs to professionally quote and manage a construction project. Lots of built in tools to help those just starting and tons of customization options to mold the platform to work with your specific business.
Inconvénients :
Time card application and RFI/submittal tracking would elevate this product beyond all others in the market.
Andre
Director (Australie)
Construction, 2-10 employés
Temps d'utilisation du logiciel : plus de deux ans
Buildxact experience from an Architectural inner city builder.
Avantages :
Take offs and simple estimating is fine. Just use the simple template the rest are painful. Use it only for fixed price/lump some. If you have forman then there is no decesent app for them. So small simple builder only.
Inconvénients :
The cost plus accounting system is not practical or logical and considering most luxury or highly complicated residential builds are built with this type of contract in NSW, its useless. They are melbourne based and victoria doesn't have much cost plus contracting. Purchase orders have to be made in a 10 minute work around. That is a pain for xero integration so i ended up just putting lines into to account. We ended up using a spreadsheet to account for the project actuals. We had to manually enter the line items as they encrypt from their so called exported xls or csv files. so you can't copy the text you entered in the first place. So annoying and silly as it is your data in the first place. The worst thing is the coding and server speed, since they have branched out into the states it is now half the speed it use to be in the evenings. A huge template we created over months that calculated materials quantities from our suppliers and our own formulas was corrupted and we were told we would have to rebuild it. The response time for customers on critical matters is shocking too. You have to deal with an annoying bot that comes up everytime. We spent many months rebuilding a spreadsheet from the formulas as well has juggling the running projects and the normal pressures of covid and material prices. Not one phone call for a 3 + years customer, who created 3-5 customers for them over the years. A total nightmare I'll never forgive, only learn from.
Dj
Company Director (Australie)
Construction, 2-10 employés
Temps d'utilisation du logiciel : plus de deux ans
Necessary
Avantages :
after setting up the recipes for regular used items I found it so easy to use
Inconvénients :
the software is a little slow, when you are trying to do things quickly, the program tells you to slow down. this is then you are using quick features like setting tasks in scheduling
Harold
Administrative Consultant (É.-U.)
Construction, Auto-entrepreneur
Temps d'utilisation du logiciel : plus d'un an
Alternatives envisagées :
My Buildxact review
Commentaires : Estimate writing is much easier, and more reliable than previously done. I just tried another software package for 6 weeks. Had thought of making the change on based on monthly Pricing. What I have here may be a bit more per month, but the overall savings on time, reliability, presentation organization, is worth much more.
Avantages :
The ease of Authoring the Quote. Being able to create and add Categories and line items keeps the quotes organized and easy to review. I like my quotes to be presented chronologically as the work will be progressed. The ability to Move categories, and or individual items is great. And simple as this sounds, being able to insert a line where ever I want, is priceless.
Inconvénients :
I have only used this software for the writing of quotes. After 1.5 years of use, the only shortfall I have is to be able to total out individual items throughout the quote such as labor, materials, equipment.