Rocketseed Email Signatures
Description de Rocketseed Email Signatures
Avec Rocketseed, vous pouvez relever les défis du marketing moderne : obtenir un véritable engagement dans un monde bruyant. Transformez chaque e-mail envoyé par votre entreprise en un canal
Lire la suite
marketing grâce aux signatures pour e-mails professionnelles, aux bannières interactives ciblées et aux clauses de non-responsabilité personnalisées intégrées dans ce logiciel. Rocketseed est optimisé pour les principaux appareils et plateformes de messagerie, offrant un affichage parfait à chaque fois. Son design personnalisé crée un impact supplémentaire et son contrôle centralisé garantit la cohérence.
Afficher moins
Qui utilise Rocketseed Email Signatures ?
Toutes les entreprises, des startup aux entreprises internationales en passant par les start-up, peuvent contrôler, protéger et promouvoir leur marque sur tous les e-mails de leurs employés grâce à la solution évolutive de signature d'e-mails de Rocketseed.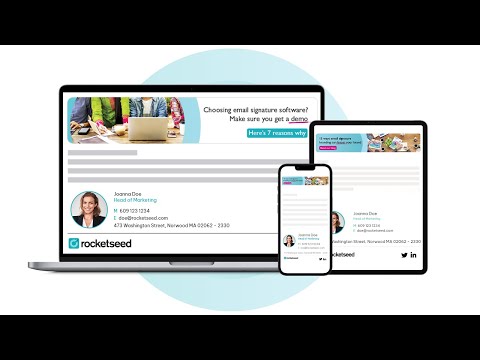 Vous hésitez à choisir Rocketseed Email Signatures ? Comparez-le à une autre option populaire
Rocketseed Email Signatures
Indisponible dans votre pays
Version gratuite
Version d'essai gratuite
Version gratuite
Version d'essai gratuite
Pourquoi ce message s'affiche-t-il ?
Alternatives à Rocketseed Email Signatures
Avis sur Rocketseed Email Signatures
Laura
VP of Marketing (É.-U.)
Utilisateur LinkedIn vérifié
Logiciels, 11-50 employés
Temps d'utilisation du logiciel : plus de deux ans
Amazing Product, Amazing Team
Avantages :
In addition to their amazing product, Rocketseed has the most amazing customer success team. [SENSITIVE CONTENT HIDDEN] is the absolute best and goes above and beyond to make our lives easier. You won't find a better product or team to work with.
Inconvénients :
It's a little difficult to add users, but their great support helps with that.
Réponse de l'équipe de Rocketseed
il y a 2 ans
Hi Laura, We are absolutely thrilled that you have such positive things to say about our Customer Success team. Please contact your Customer Success Manager and they will be more than happy to set up a call to revisit how to add new users.
Neil
Senior IT Analyst (É.-U.)
Services et technologies de l'information, 51-200 employés
Temps d'utilisation du logiciel : 6 à 12 mois
Alternatives envisagées :
Amazing Product and Support
Commentaires : Our experience with RocketSeed has been amazing. Everything from sales, implementation, account management, and technical support have been outstanding. One of my favorite things (being in IT) is that they listen to feedback and actually implement feature requests. RocketSeed's email signatures and banners now rank as our third highest website traffic generator and has become an integral part of our marketing stratedgy.
Avantages :
RocketSeed has been very reliable, and we have not experienced any downtime. We were able to utilize Gsync to pull in our user directory from Google reducing our on-going maintenance. The signature designer and HTML editor are simple to use for both our IT and Marketing teams. It has the ability to schedule banners and signatures to automatically run within certain timelines. They have great report generators which give us insight into our campaigns. It also integrates with Google Analytics to generate even more insight.
Inconvénients :
RocketSeed's documentation is lacking, but their support team makes up for it. The signature design preview on the site is not always 100% accurate, so it's best to test the signature using a variety of email clients to ensure it renders how you want.
Réponse de l'équipe de Rocketseed
il y a 2 ans
Hi Neil, We are happy to hear that you find our HTML editor simple to use. Our marketing campaigns are the "bread and butter" of our software and we're happy you are finding success with our campaign timelines functionality. We take your notes seriously and will do better with our documentation. We look forward to sharing our future updates with you.
Tamryn
Marketing and Sales Manager (Afrique du Sud)
Services et technologies de l'information, 11-50 employés
Temps d'utilisation du logiciel : plus de deux ans
Rocketseed review
Commentaires : Great experience, friendly staff, always willing to help and support.
Avantages :
Easy to use, user friendly. Artwork is always done on time. Insights results are accurate
Inconvénients :
Nothing so far All seems to be good for now
Réponse de l'équipe de Rocketseed
il y a 2 mois
Hi there. Thanks so much for your positive feedback. We're happy to know that you've had a positive experience with the Rocketseed Email Signature Software & the support team behind it!
Mona
Office Manager (É.-U.)
Cabinet d'avocats, 11-50 employés
Temps d'utilisation du logiciel : 6 à 12 mois
Impressive options
Commentaires : This experience left me feeling mostly satisfied and impressed. All of the details were helpful and taught us more about email and our clients.
Avantages :
This has a large variety of options and I think it's impressive. I read the tips blog and really liked it, I learned a lot. The reports show us a lot too. There are a variety of different signatures and branding. The emails are sent safely and correctly. Rocketseed has some of the best customer service, they will talk with you any time.
Inconvénients :
This is a lot to manage and I don't think smaller offices really need all of that. I work for a law firm with less than 50 employees. I think Rocketseed should have made a better effort to simplify it.
Réponse de l'équipe de Rocketseed
il y a 2 mois
Thank you for the feedback! It's great to hear you are enjoying the tips we provide. We do try to cater for all client needs, and make sure they are aware of all the things they could do with the tool so they have the choice. The interface is designed so both small and large companies can easily utilise if needed - with just a few clicks branding can be assigned to all staff at once - although training may have covered rather a lot!
Kyle
Solutions Engineer (Canada)
Services et technologies de l'information, 11-50 employés
Temps d'utilisation du logiciel : 6 à 12 mois
Rocketseed Review
Commentaires : The part thats great about Rocketseed is that they build a partnership with you. Its not a one and done kind of deal. They check up, they want to be apart of your influence, and they want to build with you. Not many organizations do that kind of partnership. That partnership, basically helps us decide to move forward leaving Exclaimer behind. And also with my role, incorporating it with re-selling O365.
Avantages :
There approach is very much driven towards helping the end user/administrator deploy it. So you are not on your own reading documentation and or watching videos on how to set the product up. I would say it is not necessary as its not very complicated to set it up. But at the same time, there is a level of confidence I get when I am working with them on deployment. The next thing is, I don't have to design the signature. They do it for you, and work with you through the design of it and making sure everyone is happy. And the end result, everyone was pretty happy. Their support is easily accessible. Our other provider uses a ticketing system and takes a few tries to get it escalated to speak with someone. There response times are also very good.
Inconvénients :
Its fairly specific to the cloud such as O365 and or GSuite. Which is great as most people are going there. Although we do have some clients who have On-Premise Exchange Servers we would like to deploy on that have the same features as you say Exclaimer does, such as showing up in the Sent Items. Although, its not a deal breaker, there just competing in the space where mostly everyone is moving towards.
Réponse de l'équipe de Rocketseed
il y a 2 ans
Hi Kyle, Thank you for taking the time to write a review. You are correct, Rocketseed prides itself on always being available to help and assist customers administer their account. We always offer a "refresh" in training at your request. Rocketseed has taken your review seriously and have noted what we could improve on. We look forward to sharing our new updates with you in the future.