Description de Shift
Shift est le poste de travail des personnes productives. Bénéficiant de la confiance de centaines de milliers de personnes amatrices de la productivité à travers le monde, Shift rationalise vos flux
Lire la suite
de travail afin que vous puissiez accomplir vos tâches plus efficacement. Lassés de se connecter et de se déconnecter de plusieurs comptes, les utilisateurs de Shift bénéficient d'un accès en un clic à plus de 900 applications, extensions, comptes de messagerie et services cloud les plus populaires du web.
Afficher moins
Qui utilise Shift ?
Shift a été conçu pour tous ceux qui gèrent plusieurs comptes de messagerie et d'application, y compris les entrepreneurs, les PDG, les concepteurs, les travailleurs indépendants et ceux qui effectuent la majorité de leur travail en ligne.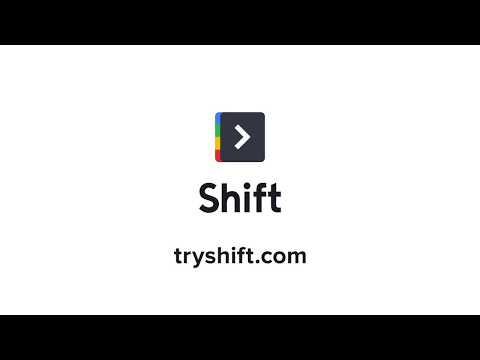 Vous hésitez à choisir Shift ? Comparez-le à une autre option populaire
Indisponible dans votre pays
Version gratuite
Version d'essai gratuite
Version gratuite
Version d'essai gratuite
Pourquoi ce message s'affiche-t-il ?
Hana
Virtual Assistant (É.-U.)
Utilisateur LinkedIn vérifié
Services aux consommateurs, 11-50 employés
Temps d'utilisation du logiciel : plus de deux ans
The Concept is Great, Quite a Few Bugs
Commentaires : Overall, the value of Shift is outweight the cons. I hope they remedy the MacBook usage dilemma because it often slows my computer down.
Avantages :
I manage a dozen or so email addresses and Shift does a great job with letting me access all of the accounts in one space. A couple of years ago, we sent a request for Shift to integrate with Lastpass and they integrated with it pretty quickly, which is helpful with password management of all of the accounts I juggle. I also love that Google Drive and Calendar work well right there in the platform very well.
Inconvénients :
Shift is quite buggy. It freezes often and takes up a lot of CPU memory on my MacBook. It often makes my fan start spinning quickly to cool my MacBook down. Microsoft Outlook doesn't work as well as Gmail accounts, so I still use a browser for Outlook. I like that it integrates with Dropbox so you can save email attachments in a Dropbox folder right in the app. However, in my experience, several documents that I would save would end up not saving even when indicating it was saved. I would not find out until weeks later when looking for that document. The thing I dislike most is the option to have external links open inside of Shift or your preferred browser. I would prefer all of my external links to open in Chrome, but this preference will also apply to Google Suite products. So if I open a Google Doc or Spreadsheet, it will open in a browser instead of in Shift. That gets annoying.
Médias en ligne, Auto-entrepreneur
Temps d'utilisation du logiciel : plus d'un an
IMAP E-Mail System Would Be The Cherry On Top
Commentaires : Overall the experience has been very beneficial to the productivity of our operation and simplification of the many different accounts and applications that we have to use with our variety of clientele.
Avantages :
The ability to switch between so many Google accounts and additional applications has saved me countless hours, at this point probably days worth of time, allowing me to become far more efficient and effective with my consulting firm.
Inconvénients :
As a consulting firm we will be assigned e-mail accounts within a clients domain for short periods of time during our contracts that are not always a gmail based e-mail account, but just IMAP accounts. We currently use Spark as our e-mail client and it's frustrating that the only option within Shift to manage multiple non-gmail accounts is to pay for another subscription model, instead of being able to use Spark, RoundCube, or another free e-mail client. The program has had issues from time to time with how it handles toggling between different accounts. When switching between Asana companies it will open a new window instead of working within shift. At times Google Sheets will try to open in the web browser instead of a Shift window, even with the settings set for Shift window. While these issues do get addressed at updates, the seem to continue to randomly happen as the app is used.
Marketing et publicité, 11-50 employés
Temps d'utilisation du logiciel : plus d'un an
Overall Shift has been perfect
Commentaires : I rate this software a B+ / A grade essentially. I am very happy. I have not added in a ton of applications such as evernote, and zoho. I really am just happy with the email aspect part of my day to day.
Avantages :
I have 5 total emails. 2 of them are office 365. You may ask, why 6. We we are a company that develops strategic relationships with other Marketing Agencies, and we are required part of a white label to communicate part of other teams. Having multiple emails is a crucial part of our operations. Originally I used Kiwi, but Kiwi only supports Gmail / Gsuite accounts. 3 years ago I had everything in outlook, but calendar appoints was horrible. Shift allows me to keep everything in front of my eyes with all email accounts. I am very happy with Shift, and several of our team members use it. if your happy with the Gmail interface, but have multiple email accounts. This software is exactly for you. Look no further, because I spent years trying to find a Windows Based desktop application to manage my emails. Before Shift I have multiple chrome logins and browser tabs open for Gmail. I was missing emails, and everything was out of sorts.
Inconvénients :
The only issue I see and experience is sometimes having 6 accounts in Shift my emails are about 30 seconds to 60 seconds delaying incoming. Not the end of the world. The other issue, is about 2 times a weeks one or all of the accounts prompt me to re-authenticate. A little bit of a pain, but not a deal breaker.
Marketing et publicité, Auto-entrepreneur
Temps d'utilisation du logiciel : 6 à 12 mois
My New Dashboard for Everything
Commentaires : I started out looking for a solution that would let me run multiple Gmail accounts without having to log out of one to log in to another. Shift did exactly what I was looking for.... and more. Simply by clicking an account icon, I could switch between Google accounts and have full access to ALL services in that Google account. Pretty soon, I was using Shift as my primary email client. Then I started using it as my interface to all my GDrive accounts. Then I discovered that I could add other common apps. The latest update added a built in browser. Now, I am pretty much using Shift as my dashboard for most of what I do online. It's a marvel of design that combines simplicity, ease-of-use, and powerful functionality into a single window with multiple panes. This is the front end tool that Google would have designed if it had done a better job of understanding how its products were used in the real world, i.e. multiple services across multiple accounts, combined with frequent use of other apps. The only problem I have had is that they frequently update the product, and one update became incompatible with my older MacOS. But the support people were super helpful, and within a week or so they had come up with a patch to fix things. At this point, Shift has become a more important tool in my online activities than Google Chrome, and that says a lot.
Avantages :
- intuitive, simple user interface - ability to control multiple accounts in multiple apps without signing in and out - seamless integration with Google mail, drive and other services - ability to add practically any app that I might use - works on both my WIndows and Mac devices
Inconvénients :
- would like a little more flexibility to customize the gmail interface - have had a couple of issues with newer upgrades not working with my older MacOS
Christopher
Sr Vulnerability Manager (É.-U.)
Produits pharmaceutiques, 10 000+ employés
Temps d'utilisation du logiciel : 6 à 12 mois
Love your Product, Except
Commentaires : I do not need to have multiple applications open to find out what is going on, Social Media, Email, internal SLACK, School applications, webhooks, git hub all in one location means that I have only a single
Avantages :
Ease of use, simple. I love having all my social media sites, emails, Cloud Locations in one place. The add-ons for all the tabs really helps. I like that I do not have to have all my browser windows open.
Inconvénients :
At the start before the update in July 2019, MS Teams worked really well. NOW, it does not work and locks up the application completely, to the point that I have no choice but to remove it from my shift. The lack of 64 Client is also an issue, I am sure with an i9 CPU processor the use of more than a 32-bit application has its limitations. But, I wish it would use more of the active CPU usage so that I can utilize this.
Réponse de l'équipe de Redbrick Technologies
il y a 3 ans
Thank you for the review! We're very happy to hear you love having multiple apps in one location in Shift. Are you still having an issue with MS Teams? If so, our support team would love to hear from you: https://support.tryshift.com/new.