Description de ClientWhys
CountingWorks PRO is an all-in-one marketing automation platform and CRM, built for tax and accounting professionals. Move on from the slow, one-by-one referral mindset into the automated machine stage, where CountingWorks PRO develops your digital presence that will drive new business for years to come. The team at CountingWorks PRO promises better financial outcomes for pros and their clients. Easy communication, world class web presence, seamless video interviews, and client onboarding.
Qui utilise ClientWhys ?
Online marketing tool and CRM for small and medium-sized tax and accounting professionals looking to deliver a personalized client experience and digital presence to grow their practice in the digital age.
Informations sur ClientWhys
ClientWhys
Informations sur ClientWhys
ClientWhys
ClientWhys en vidéos et en images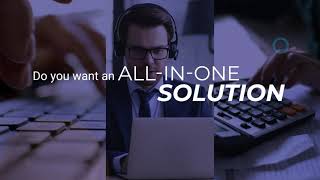 Comparez le prix du logiciel ClientWhys avec ses alternatives
À partir de
29,95 $US/mois
N/A
4 800,00 $US
29,00 $US/mois
Déploiement et prise en charge de ClientWhys
Déploiement
Cloud, SaaS, web
Android (mobile)
iPhone (mobile)
iPad (mobile)
Fonctionnalités - ClientWhys
API
Alertes/Notifications
Analyse des campagnes
Bibliothèque de contenu
Calendrier éditorial
Campagnes multicanales
Catégorisation/regroupement
Ciblage du public
Contrôle du processus d'approbation
Filtrage
Fonction de glisser-déposer
Gestion SEO
Gestion de contenu
Gestion des campagnes
Gestion des flux de travail
Gestion des modèles
Importation et exportation de données
Intégration des médias sociaux
Intégrations de tiers
Modèles personnalisables
Planification de l'édition
Planification des campagnes
Promotion sociale
Rapports et statistiques
Stratégie de marque personnalisable
Suivi de l'engagement
Suivi des activités
Suivi des conversions
Suivi des médias sociaux
Tableau de bord d'activités
Visualisation de données
e-mail marketing
Emily P.
Tax Associate (É.-U.)
Utilisateur LinkedIn vérifié
Comptabilité, 51-200 employés
Temps d'utilisation du logiciel : plus d'un an
Great for email blasts
Commentaires : During the pandemic we had a lot of related emails to send to clients. Clientwhys provided an easy option to do that.
Avantages :
This software has many features but I've used bulk emails the most. It's easy to create emails and schedule them to send out on the schedule you want
Inconvénients :
It took some time to figure how to do things In the software but customer support was very helpful and there were plenty of online tutorials to help.
Jennifer M.
Office Manager (É.-U.)
Comptabilité, 2-10 employés
Temps d'utilisation du logiciel : 6 à 12 mois
Clientwhys
Commentaires : Before we had client whys, we were using about 3-4 different programs to store, share, and upload files. Our previous software was not very user friendly to our customers. With client whys, its all wrapped up into one and integrated together.
Avantages :
This software was easy to deploy and implement with all of our employees, so far it is much more user friendly than what we previously used. We are able to implement Trello with it in order to track tasks throughout the office
Inconvénients :
So far I have not found any dislikes with this software, the other employees here enjoy its ease of use.
Michelle H.
CPA/Woner (É.-U.)
Comptabilité, Auto-entrepreneur
Temps d'utilisation du logiciel : 6 à 12 mois
Alternatives envisagées :
Cannot get questions answered or issues resolved
Commentaires : I can't get questions answered or issues resolved. I have many on a list for after tax season because I just didn't have time to deal with it anymore. I asked them open ended questions about functionality only to receive one sentence responses with "have you tried this?" I have multiple clients that I can't figure out how they are in their multiple times. I have message notifications that I can't clear, the Trello connection is buggy - i"ve disconnected, I was only able to get one electronic signature to work, and when I get a lead, I get a text, but the backend won't show that a message came in, I have to manually find it through resorting the leads by date - the same way every time - and if I respond via the website, the clients response only appears via email. At this point, I see no other alternative other than to find a different provider after tax season ends because of all the issues. If I could get even decent customer service, I would stay just for the content.
Avantages :
The newsletter and customer facing functionality of the website it fantastic.
Inconvénients :
Software seems to have a lot of bugs. At least I have a lot of little issues all around.
Dianette B.
Owner (É.-U.)
Utilisateur LinkedIn vérifié
Services financiers, Auto-entrepreneur
Temps d'utilisation du logiciel : 6 à 12 mois
ClientWhys for TaxSlayer
Commentaires : I really enjoyed the platform and how much content it produced
Avantages :
I liked the website creation the most. I had a chatbot, along with links to all my products and services. Very professional
Inconvénients :
scheduling, lead notifications. Messages. the time to scroll through messages, was always longer than anticipated. clients would upload documents and it would take time before I could see it.
Cheryl R.
Administrative Assistant (É.-U.)
Comptabilité, 2-10 employés
Temps d'utilisation du logiciel : plus de deux ans
Clientwhys
Commentaires : The benefits are that we can send our documents through a secure portal to clients. They can send their signed documents back to us and other documents that are needed. If there is a problem with our email, website, face book or twitter they take care of it. it is a one stop company.
They take the headache off us so we can continue to take care of our clients. I highly recommend ClientWhys.
Avantages :
You can send connect with your clients easily and it is safe. They take care of monthly newsletter for us and also face book posting and twitter postings. They take care of our website and it has an appointment calendar for our clients. There is a lot of information our clients can receive from all of the above. It is like one big package.
Inconvénients :
The least I like about the software is sometimes you have to read through a lot of information to get to the issue, but their chat line is available and helps a lot with this. They point you in the right direction.