Clarifai
Description de Clarifai
API de reconnaissance d'image pour les développeurs.
Afficher moins
Qui utilise Clarifai ?
Non fourni par l'éditeur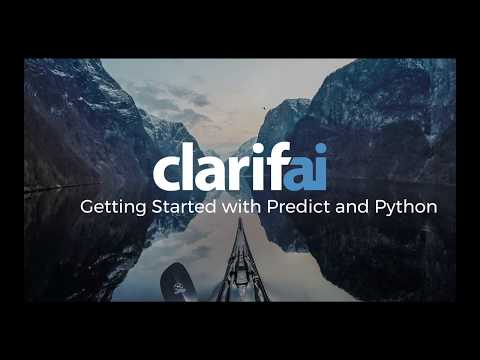 Vous hésitez à choisir Clarifai ? Comparez-le à une autre option populaire
Version gratuite
Version d'essai gratuite
Version gratuite
Version d'essai gratuite
Pourquoi ce message s'affiche-t-il ?
Rahul
Lead Android Engineer (Inde)
Utilisateur LinkedIn vérifié
Internet, Auto-entrepreneur
Temps d'utilisation du logiciel : plus de deux ans
The best image recognition API that I've found
Commentaires : I'm using Clarifai image recognition for one of my Android apps which recognises an uploaded image and suggests Instagram hashtags.
Avantages :
Accurate and detailed results for image recognition is most cases. Even beats Google Cloud Vision and Bing Vision APIs for a lot of images. Very fast API responses. Easy to set up.
Inconvénients :
Fails miserably for quite a few images. Baseline results would be helpful.
Corina
Analista de Garantias (Venezuela)
Automobile, 11-50 employés
Temps d'utilisation du logiciel : Non fourni
Excellent image processing and classification system.
Commentaires : Improvement for the search of images of pieces in the warehouse.
Avantages :
-It has a great creative system that allows you to make models from your own personalized concepts, in turn analyzes, predicts and warns you what images are inside the application. -The realization of searches through concepts improves the obtaining of results by classification probability or images of images. -It has great simplicity to realize integration with the businesses, since it only must have or edit some lines of codes. -Versatility online and offline that allows to create mobile applications of great utility and capacity. -The AI system can be managed from servers to ensure a greater degree of application security. -It has an excellent multilanguage support that covers more than 20 languages.
Inconvénients :
* You can still have NLP improvements and optimize certain visual characteristics. * There should be a desktop application that can be integrated with this tool and help to improve the web base, without the need to just be connected, since it limits the user search of files.
Internet, Auto-entrepreneur
Temps d'utilisation du logiciel : 1 à 5 mois
Used there Object recognition API - Brilliant!
Avantages :
1. When it comes to making AI products, most of the times company don't understand the importance of simplicity. Clarifai nailed it 2. Easy API for image classification, text analysis, mining, object recog and sentiment analysis 3. Super easy to set up 4. Much of coding is not required
Inconvénients :
1. Limited to a certain extent 2. I would prefer a desktop application 3. Not very happy with NLP api
Jon
Systems Engineer (É.-U.)
Automobile, 11-50 employés
Temps d'utilisation du logiciel : 1 à 5 mois
Great image recognition software with good customization
Commentaires : We are looking into Clarifai to help with object recognition on difficult to identify items. We think this is the best software available for assisting use in this application.
Avantages :
One of the best features of this software is that it gives the ability to create custom models to identify things not already built into their default identification software. This is very useful for my company as we want to use the software to identify uncommon and unique items that look similar to each other. It's a lot of work to build the custom model, but the software works well. I also like the ability to upload "negative" images that are not matches to item you want associated with the identification. The software is fairly easy to use for how complex the operations it performs are. Their website has good instructions and examples to help get you started.
Inconvénients :
One of the things I liked least about this software was that the software only works on still images. I would like to be able to use the software to identify objects through a live webcam view, but this is not yet possible through Clarifai. The software is great, but the cost can get high with heavy usage.
Sagar
Software Engineer (Népal)
Logiciels, 201-500 employés
Temps d'utilisation du logiciel : 1 à 5 mois
Easier and advanced API for image processing and classifications
Commentaires : using API for classification is easier
Avantages :
It has very interactive image classification and training UI for models. The API provided by Clarifai is documented very well to integrate with own application python, java and js being my primary programming language.
Inconvénients :
The user interface and user experience has yet to improve a lot. The classification model can be improved more.