Description de Sejda
Un ensemble complet d'outils PDF faciles à utiliser.
Qui utilise Sejda ?
Les entreprises qui exploitent le format PDF et recherchent une alternative à Acrobat.
Où peut-on déployer Sejda ?
Cloud, SaaS, web, Mac (ordinateur), Windows (ordinateur), Linux (ordinateur)
À propos de l'éditeur
par Sejda
Fondé en 2012
Chat
Pays disponibles
Pays-Bas
À propos de l'éditeur
par Sejda
Fondé en 2012
Chat
Pays disponibles
Pays-Bas
Sejda en vidéos et en images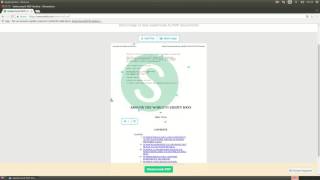 Comparez le prix du logiciel Sejda avec ses alternatives
À partir de
5,00 $US/unique
10,00 $US/mois
84,00 $US/année
149,95 $US/unique
Fonctionnalités - Sejda
Annotations
Comparaison côte à côte
Contrôles/Permissions d'accès
Conversion en PDF
Filigranes
Fusionner et ajouter des fichiers
Gestion des formulaires
Mise en forme de texte
Notes et commentaires
Pivoter des pages
Recherche en texte intégral
Reconnaissance optique de caractères
Retouche numérique
Réarranger des pages
Signature électronique
Stratégie de marque personnalisable
Suppression de pages
Bruno C.
IT Service Engineer (Brésil)
Utilisateur LinkedIn vérifié
Services financiers, Auto-entrepreneur
Temps d'utilisation du logiciel : plus d'un an
Excellent alternative for personal use
Commentaires : I started using Sejda in early 2020, almost two years ago. At the time I was looking for a tool precisely to manipulate PDFs. I've tested other free and paid solutions, especially MasterPDF, but the one I use continuously is Sejda.
Avantages :
Sejda can do a lot of things and still have a clean, intuitive interface, with virtually no learning curve. It has a desktop application, which makes all the difference to me, there is no need to use web apps. You can quickly manipulate PDFs, such as filling out forms sent in PDFs, inserting an illustration containing your physical signature of the document (not a digital signature, just an illustration representing your signature). I think of everything, what I like the most is the speed at which I can do all this with Sejda. It's not time consuming.
Inconvénients :
To be honest, I have no complaints about the tool. For my use it works perfectly. Of course, there are many things that the tool doesn't do, and for that it is necessary to use another tool. Especially reading and tagging PDFs, a constant demand in many management professions, cannot be done in Sejda.
Utilisateur vérifié
Video Editor (É.-U.)
Utilisateur LinkedIn vérifié
Divertissement, Auto-entrepreneur
Temps d'utilisation du logiciel : 6 à 12 mois
Great for simple PDF edits
Commentaires : Despite its limitations, Sejda PDF is a powerful application that is easy to access (online or as a desktop app), intuitive to use, and is fairly priced. I use the software all the time, and I'm usually able to accomplish what I need within the limits of the free version - but if I need more, I might purchase a short-term subscription, which is affordable and much cheaper than alternative programs. This program is still much less powerful than Adobe Acrobat Pro, but it suits my needs very well most of the time.
Avantages :
This program can do almost anything you'd need to do with PDF documents - converting to a text or image file, merging or splitting pages, compressing based on file size, editing the document, e-signing documents, and more. It's also free to use up to three times a day, and I can usually get my tasks done within those three uses. (The premium version is fairly priced, and much more affordable than Adobe Acrobat, but of course Acrobat is a much better, more powerful application.)
Inconvénients :
The program (both the desktop version and the online version) is divided by function (such as merging documents, converting, editing...). This can sometimes make it cumbersome and inefficient to accomplish many different kinds of tasks in one go. This is especially significant if you are using the free version, because you are limited to 3 tasks per day. However, it's still a useful tool that works relatively well, and can save you a lot of money if you only need a PDF editor every now and then.
Rutendo R.
Software Engineer Intern (Turquie)
Logiciels, 51-200 employés
Temps d'utilisation du logiciel : plus d'un an
It works the way I want every time!
5
il y a 4 semaines
Nouveau
Commentaires : Editing pdfs was a very hard task for me until I came across Sejda. It's a very efficient tool and any person can use it. It does not require any expertise to use and is very time-saving. It is totally worth having.
Avantages :
I really like how I can easily edit the text without converting the whole document to word. It's like I'm continuing writing the original document, with the font style, size all the same. I also love that I can access the tool from anywhere as long as I have an internet connection. It's a very time-saving tool that has all the features you would want in a pdf editor, which could be editing, merging, annotating you name it!
Inconvénients :
There really isn't anything I dislike about sejda but it could be a lot easier if i could duplicate the text fields
Waleed A.
Trainee Medical Officer in Psychiatry (Pakistan)
Utilisateur LinkedIn vérifié
Cabinets médicaux, 501-1 000 employés
Temps d'utilisation du logiciel : plus de deux ans
A comprehensive Set of PDF tools
Commentaires : A handy PDF editing tool for your PC also available online that is like a combination of various tools rather than a single software that can do all of these things. I use this as my primary PDF conversion tool on the desktop.
Avantages :
several tools available some very unique tools like' breakdown by bookmarks' available on the web as well as desktop very nice appearance pretty stable, rarely encounter errors, does its job also has the ability to convert between various other document formats and PDF and converts them very fast merging two files is quite advanced compared to other PDF editors. you can even alternate and mix two documents which come very very useful at times several free to use features (3-tasks per day) which is more than enough for occasional users updates so frequently with new features and fixes flexible pricing options, including even weekly.
Inconvénients :
you first choose what you want to do and then choose the file. a pretty unusual and problematic approach devoid of most file editing capabilities, so you can not use it to compose a PDF subsciption is too costly. it will cost you as much as microsoft office 365 which seems way to much for a PDF tool
Utilisateur vérifié
Administrative Assistant (É.-U.)
Utilisateur LinkedIn vérifié
Services financiers, 51-200 employés
Temps d'utilisation du logiciel : plus de deux ans
For Perfect PDFs!!
Commentaires : Very helpful for all your PDF editing needs. Would recommend!
Avantages :
I especially like that with Sejda, they have a whiteout option for PDFs and that it lets you erase previous remarks and comments.
Inconvénients :
I have no complaints. I don't even know what else they could add to make their features better. Maybe an option to send PDFs for e-signature?