BigBlueButton
Description de BigBlueButton
Solution de conférence web pour l'apprentissage en ligne. S'intègre à votre LMS existant.
Afficher moins
Qui utilise BigBlueButton ?
Non fourni par l'éditeur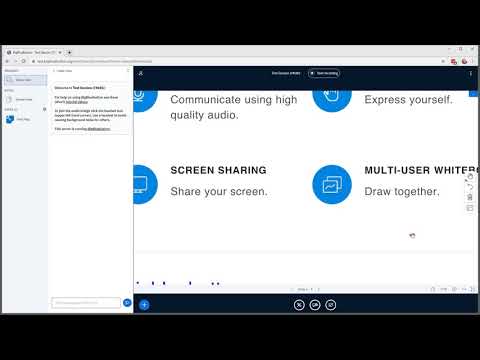 Vous hésitez à choisir BigBlueButton ? Comparez-le à une autre option populaire
Indisponible dans votre pays
Version gratuite
Version d'essai gratuite
Version gratuite
Version d'essai gratuite
Intégrations introuvables
Pourquoi ce message s'affiche-t-il ?
Alternatives à BigBlueButton
Rubangakene
Game Developer (Ouganda)
Utilisateur LinkedIn vérifié
Jeux vidéos, 2-10 employés
Temps d'utilisation du logiciel : plus d'un an
Perfect tool for video Conferencing and Online Discussions
Commentaires : Throughout my experiences using BigBlueButton i noticed the software works best with computers of RAM starting from 4GB anything below tends to slow down the video real time signal and it freeze
Avantages :
The best thing I like about BigBlueButton is its integration with the Learning Management Systems. This saves a lot of time and effort since all the necessary tools are available to aid learning sessions. Another thing is also it's customization for example choosing own colors and designs for the online classroom, enabling or disabling features based on your demands
Inconvénients :
I think have no issue with BigBlueButton and still hoping to discover more interesting features
Utilisateur vérifié
Systems Engineer (Sri Lanka)
Utilisateur LinkedIn vérifié
Services et technologies de l'information, 51-200 employés
Temps d'utilisation du logiciel : plus d'un an
Alternatives envisagées :
Bigbluebutton, Is it worth?
Commentaires : I have integrated Bigbluebutton for many reputed IT companies in our country and in overall it was very good customer satisfaction than other most expensive products.Hence this is open source and can be customized per companies like their own platform.Also, it was really easy to use and they had only a good experience with this.
Avantages :
With compare of the other products,such as zoom,google meet; Bigbluebutton is free and open source software with same as payable product features. Also with compare of the other open source products like jitsi, Bigbluebutton has most reliable and feature base product for me.
Inconvénients :
As of this product has limitations of the users per meeting in a sessions. As compare with the zoom, this has limitations per session with more than 250+ users. Currently this limitation improved with using mediasoup , but it need more improvement of this limitations per session with lots of users with video and audio on per session. Also it's better to have the remote desktop feature for this product.
Islam
web developer (Égypte)
Utilisateur LinkedIn vérifié
Gestion de l'enseignement, 51-200 employés
Temps d'utilisation du logiciel : plus d'un an
Alternatives envisagées :
good software ... but!
Commentaires : overall bbb is good software to manage video conference if develop process continue as it is maybe in 3 years we will have golden product
Avantages :
bbb is very easy to set , implement and lunch and has very simple view help anyone to manage it , beside it is large community and devloping proccess
Inconvénients :
i think the position of developing cycle is wrong i mean bbb need more develop for customer and end user who is not technical i mean for all our teacher how hard it was to manage and customize and that is first; second bbb has weak error view system for example sometimes internet connection is too bad for sharing and bbb loading for ever it will be greate to show error msg "hi your connection is bad" that so simple but i think end user ( no technical user ) is not calculated here.
Madragule
Software developer (Ouganda)
Logiciels, 51-200 employés
Temps d'utilisation du logiciel : 6 à 12 mois
A thought on BigBlueButton
Commentaires : I have personally enjoyed using BigBlueButton, the experience has been okay, except for the fact that when the system seems to be overwhelmed with traffic, it immediately crashes down, I would I definitely recommend
Avantages :
One of the BigBlueButton's pros is it's pricing compared to other options out there I believe it wins the pricing battle
Inconvénients :
The only con with BigBlueButton is that whenever there's a high traffic onto the system it tends crash down and also the fact that there's no remote control feature but, as long as all other features are concerned it is great
Marc
Ph.D. Student (Computer Science) (Allemagne)
Recherche, 51-200 employés
Temps d'utilisation du logiciel : plus d'un an
Alternatives envisagées :
Like black coffee: Plain and it always works!
Commentaires : Overall, BigBlueButton is spotless and covers the standard use cases for online meeting and online teaching. I would choose BigBlueButton over any alternative product because of its simplicity in use and service delivery.
Avantages :
BigBlueButton has become a daily companion for me. It is nothing more and nothing less than a simple service for online communication, without attracting attention with desktop applications or data integrity concerns. In the field of academic work, where it is also important that meetings between researchers can be realized worldwide and quickly, BigBlueButton is simple and highly functional. BigBlueButton is simple and to the point in its basic functionality. What makes BigBlueButton particularly elegant is that it can be installed on your own infra structures via Docker and scaled according to capacity. Especially in the field of online teaching and research, it is particularly appealing that BigBlueButton can be used on one's own systems without sharing information with third parties.
Inconvénients :
It is often noticeable that BigBlueButton has problems with audio connection. Especially if the browsers used are not Chrome, Firefox or the InternetExplorer it can be that BigBlueButton does not allow a connection to headphones. Often this can cause delays in meetings.