Description de WaiverFile
Avec WaiverFile, vous pouvez collecter et organiser vos formulaires de décharge de responsabilité de manière plus simple et rapide. Ses fonctionnalités d'organisation événementielle vous permettent de gérer des fêtes et événements, de réunir des participants et de gérer leur enregistrement facilement. Toutes les informations de vos événements sont stockées dans une base de données sécurisée afin que vous puissiez rapidement rechercher des noms, générer des rapports et utiliser les coordonnées des participants à des fins marketing.
Qui utilise WaiverFile ?
L'éditeur cible les stades, les parcs de trampoline, les salles de sport et de nombreux autres lieux qui offrent des activités physiques. WaiverFile convient à toute entreprise qui souhaite envoyer des décharges de responsabilité par voie électronique.
Où peut-on déployer WaiverFile ?
Cloud, SaaS, web, Android (mobile), iPhone (mobile), iPad (mobile)
À propos de l'éditeur
WaiverFile
Situé à Bayville, É.-U.
Fondé en 2004
Support téléphonique
Chat
Pays disponibles
Canada, États-Unis
À propos de l'éditeur
WaiverFile
Situé à Bayville, É.-U.
Fondé en 2004
Support téléphonique
Chat
Pays disponibles
Canada, États-Unis
WaiverFile en vidéos et en images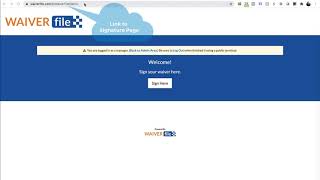 Comparez le prix du logiciel WaiverFile avec ses alternatives
Alternatives à WaiverFile
Avis sur WaiverFile
Avis classés par taille de l'entreprise (nombre d'employés)
<50
51-200
201-1 000
>1 001
Trouver les avis classés par note
Laurent
Senior SAP HCM & SuccessFactors Project Manager (É.-U.)
Utilisateur LinkedIn vérifié
Conseil en gestion
Temps d'utilisation du logiciel : 1 à 5 mois
Excellent services, they know how to listen and to tailor the solution. Great job!!
Commentaires : Streamlining our processes and get rid of paper.
Avantages :
I started the process of looking into improving my process around waivers. I put all my specific requirements and send them over 4 different vendors. 75% responded and for some reason, I like the answer from the owner of the company. I start the process to get the free trial to start looking into the product to make sure it was going to work for us. Remember that all companies are different and a single solution can't fit all business. Few emails later and a phone call allows us to get the solution that fits. 10 days later I was able to launch it.
Inconvénients :
At first, I realized they do not have an app for Droid or iPhone but realized quickly this is an advantage as any customer can use their own phone to sign the waiver. No need for an app.
Réponse de l'équipe de WaiverFile
il y a 5 ans
Thanks for the review, Laurent! We're so happy to hear that WaiverFile is working well for you. We're also working on iOS and Android apps in which will allow for kiosk signing to continue if internet is lost, but as you say, signing works anywhere with no need for an app. Thanks again for taking the time to review!
Loisirs, voyage et tourisme, 2-10 employés
Temps d'utilisation du logiciel : Essai gratuit
Alternatives envisagées :
Customer Service Excellence
Commentaires : Customer service was top notch. I emailed a question and got a response within an hour. When we communicated further, I asked to speak to someone on the phone, they immediately called me. We were able to get so much sorted out during our call and [SENSITIVE CONTENT] customized my profile based on what our needs were. He was able to anticipate features we might need and showed me features that I wasn't aware of. If you are thinking of choosing WaiverFile, give them a call to see exactly what they can offer!
Avantages :
The software is great to use and offers features that make the tedious waiver job easier. Organization of the completed waivers and the features you can add like Events help to streamline that process.
Inconvénients :
it looked basic at first and I was worried about it being only for US customers. Perhaps it would be more attractive immediately for potential customers if there was a place to choose Canada. There were some issues with address fields because the default is set to USA.
Réponse de l'équipe de WaiverFile
il y a 9 mois
Thanks so much for the review! We do have plans to make the address field offer different styles depending on country, so look out for those updates soon. In the meantime, the custom fields handle it. Thanks for taking time to share your feedback with us!
Jennifer
Recreation Therapist (É.-U.)
Santé, bien-être et fitness, 2-10 employés
Temps d'utilisation du logiciel : 1 à 5 mois
Operation Comfort
Avantages :
Able to use from the iPad when out and about at programs.
Inconvénients :
All the info you have to input. With the paper version of DSUSA waiver it only requires name, signature & date. With the waiver file they have to input name, signature date, address & email. Don't like that the media & liability waiver are 2 forms & you have to enter same info again.
Réponse de l'équipe de WaiverFile
il y a 3 ans
Thanks for your review, Jennifer! Regarding the specifics with that form, DSUSA specified that they wanted the two forms to be separate. I'll reach out to them to see if they would allow us to combine them, and/or make any of the extra fields optional. (Our software supports that, it's just the way it was decided to configure it). There's also an option to make it jump immediately to the second form after completing the first, I'll make sure we have that enabled on your account since it's a new addition and may not be turned on. If the requirement is to still have two forms, this at least makes the flow easier. Thanks again for your feedback, we always strive to do all that we can to ensure the entire process is as easy as we can make it! Feel free to contact us if you have any other thoughts or questions!
Taryn
Recreation Event Manager (Canada)
Hôtellerie, 501-1 000 employés
Temps d'utilisation du logiciel : 6 à 12 mois
Thank-you!
Commentaires : Incredible! I have dealt mostly with the rep who has been absolutely amazing. Thank-you!! I haven't even needed to try to reach out to anyone else because he is always helping and answering any questions I have. He has been helping from the beginning before we even signed up and I was just asking questions.
Avantages :
1. It is so easy to use. Just being able to play around and learn how to input different waivers myself was extremely handy because we are adding more waivers into our account each season. If I ever needed help or changes, it was done almost immediately! 2. The fact that group leaders can log in and view who has completed a waiver for their group is a game changer when we are dealing with hundreds of required forms a day. 3. Their customer service!!!
Inconvénients :
Nothing because any issue I may have had was taken care of so quickly by their amazing customer service.
Réponse de l'équipe de WaiverFile
il y a 3 ans
Thanks so much for your review, Taryn! We're delighted that everything is working out so well for you!
Divertissement, 2-10 employés
Temps d'utilisation du logiciel : plus d'un an
Great Waiver System and Great Support
Commentaires : Very responsive and willing to listen to users to add new features. I have been using WaiverFile for over a year and I can not say enough good things about the product and the people who make it. I have been able to converse directly with their president, on many occasions, and have had outstanding responsiveness. It is very rare when your suggestions are acted upon by the company leader and not some customer service person located who knows where.
Avantages :
I like its flexibility, dashboard and the way it handles events. They are very responsive to improvement suggestions that we make and are quick to implement them. Until I started using WaiverFile, every other system I considered always involved some sort of compromise. With WaiverFile, I have what I exactly need.
Inconvénients :
I have no cons. Honest. This is one of the best experiences I have had with a software provider.
Réponse de l'équipe de WaiverFile
il y a 4 ans
Thanks James! I¿m so happy to hear that you¿re satisfied with our service!