Description de Articulate 360
Storyline 360 et toutes les autres applications primées avec mise à jour permanente pour introduire les nouvelles fonctions.
Qui utilise Articulate 360 ?
Solution de gestion de la formation en ligne basée sur le cloud, qui aide les entreprises de toutes tailles à créer des cours en ligne personnalisés et interactifs avec des modèles, des caractères, des photos, des vidéos, des icônes, etc.
Où peut-on déployer Articulate 360 ?
Basé sur le cloud
Sur site
---
À propos de l'éditeur
Articulate Global
Situé à New York, É.-U.
Fondé en 2002
Assistance Articulate 360
Support téléphonique
Support 24/7 (réponse directe)
Chat
Langues
allemand, anglais, chinois, espagnol, français
Articulate 360 - Prix
À partir de :
1 299,00 $US/année
Oui, essai gratuit disponible
Non, pas de version gratuite
Articulate 360 n'est pas disponible en version gratuite mais propose un essai gratuit. La version payante de Articulate 360 est disponible à partir de 1 299,00 $US/année.
obtenez un essai gratuit
À propos de l'éditeur
Articulate Global
Situé à New York, É.-U.
Fondé en 2002
Assistance Articulate 360
Support téléphonique
Support 24/7 (réponse directe)
Chat
Langues
allemand, anglais, chinois, espagnol, français
Articulate 360 en vidéos et en images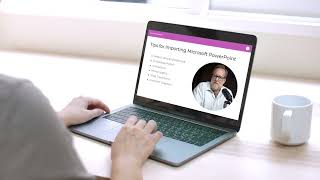 Fonctionnalités - Articulate 360
Apprentissage interactif
Bibliothèque de contenu
Conformité SCORM
Contenu interactif
Conversion PowerPoint
Création de cours
Création de plan conceptuel
Curation de contenu en libre-service
Enregistrement audio et vidéo
Gamification
Gestion de la formation
Gestion des certifications
Gestion des cours
Gestion des formations
Gestion des modèles
Gestion des utilisateurs
Importation de médias
Importation et exportation de données
Modèles personnalisables
Portail des employés
Prise en charge de plusieurs langues
Questions personnalisables
Quiz
Rapports et statistiques
Stratégie de marque personnalisable
Suivi de la progression
Suivi des cours
Support multimédia
Tableau de bord d'activités
Tests et évaluations
motivation des collaborateurs
Édition de cours
Alternatives à Articulate 360
Raphael
Digital Learning Manager (France)
Assurance, 10 000+ employés
Temps d'utilisation du logiciel : plus de deux ans
Avis Articulate 360
il y a 3 semaines
Nouveau
Avantages :
Grande offre d'éléments graphiquesLogiciel très complet avec la possibilité d'intégrer du contenu Java Script
Inconvénients :
Parfois pas très intuitifTemps de chargement un peu long
Shyla
US Training Coordinator (É.-U.)
Services et technologies de l'information, 51-200 employés
Temps d'utilisation du logiciel : plus d'un an
Source : SoftwareAdvice
Easy and Powerful
Commentaires : Overall, I'm thrilled with the experience my team and I have had using Articulate 360 to develop the eLearning content and assessments that we need to bring our training program in to a blended training environment. We started using Articulate 360 in a post-COVID world and were able to be up and running with it after only a few hours of training. It is truly intuitive to use. The support provided to my team has been amazing the few times we have had issues.
Avantages :
Articulate 360 comes with a full and powerful suite of software that is easy to learn and easy to use, including Storyline 360. My team consists of a mixture of veteran and novice instructional designers and facilitators. Presenter 360 is especially useful for my novice designers and facilitators as it is so easy to use and mirrors the PowerPoint software they are already familiar with, while giving them the power of a Storyline project. The training and community support available are unmatched with any other software I have used to date.
Inconvénients :
Templates can be built and reused easily for Storyline, but not as easily for Rise. There have been a few issues with certain fonts not being supported, but the help desk reached back out to me (almost 8 months later) when the issue was resolved. The content library is immense and included, but will not load more than ~20 pictures at a time.
Alternatives envisagées : Adobe Captivate et SAP Litmos
Pourquoi passer à Articulate 360 : We chose to go with Articulate 360 as it had the shortest learning curve and the easiest onboarding. The support and training are unparalleled.
Jennifer
Corporate Trainer (É.-U.)
Assurance, 51-200 employés
Temps d'utilisation du logiciel : 6 à 12 mois
This software will make your life easier - and much more fun for your learners.
Commentaires : I am able to create engaging and interactive training content. Gone are the days of uploading a video recording or PowerPoint for my corporate learners. They get a condensed, to-the-point training that is meaningful and FUN.
Avantages :
This software has changed my life and the experience of the learners I develop content for. Articulate 360 gives options. Have an amazing idea and need to start from scratch? Storyline is the place to go. It is so easy to use and there are a ton of tutorials, suggestions, and examples in the community forums. The templates in Rise allow for quick development of modern, easy to navigate online training (and I have used them to present information as well). The Content library is AMAZING! From photos to illustrations and icons - you'll find what you need. I no longer have to go to outside sources - everything I need is in the content library.
Inconvénients :
The only suggestion I have is regarding Rise. I love how easy it is to plug and play information but I would like to see just a little more flexibility with editing. If I want to change more of the look I will just use Storyline, but Rise has a nice feel to it and would just like to make small edits - like remove a line in one of the text formats (I think it's statement A. There are workarounds, but more flexibility with design)>
Alternatives envisagées : Adobe Captivate
Pourquoi passer à Articulate 360 : I chose Articulate 360 because of it's ease of use during the trial period. Unfortunately I could never get Captivate to download. I loved how my finished product looked when using Storyline and Rise, the content library is so extensive, and it is super easy to download my finished course and upload it directly into my LMS. My customers love the product I am delivering and its all because of this software.
Chris
Instructional Designer (É.-U.)
Banque, 501-1 000 employés
Temps d'utilisation du logiciel : plus de deux ans
Game Changer for Instructional Designers
Commentaires : This has completely elevated our department's ability to create organization-specific training. We can quickly create professional looking programs that continue to impress our stakeholders. I cannot confidently say that our previous internally created eLearning courses were up to this caliber that now Articulate 360 gives us.
Avantages :
This is such an easy tool to adopt and use for training. We use this to create training programs for various initiatives at our organization. All products help us make the final eLearning courses for our stakeholders. From the video creation capabilities found in Peek and Replay 36 to making interactive content in Storyline and Rise. It also makes it absolutely easy for your stakeholders to give feedback on the material created when using the Review feature. Comments can be made directly onto a slide and/or scene of your course. It is also extremely easy to create a professional looking and cohesive program using the different templates and media found in the Content Library. I am so happy we got this product since Adobe is a steep learning curve for those of us new to instructional design.
Inconvénients :
Perhaps my biggest pain point is in regards to logging in. Sometimes, I receive errors while logging on. I believe it has something to do with my organization's strict information security / networking guidelines. They are wary of cloud-based systems right now.
James
Dir. Sales and Marketing (É.-U.)
E-learning, 2-10 employés
Temps d'utilisation du logiciel : plus de deux ans
Storyline is Good - Could be Better
Commentaires : Great tool for creating/editing e-learnings. Will need to take some courses to become proficient in it as it's not the easiest software to learn. Customer care is not always the best as they will point you to a blog of other IDs who are posing questions and relaying on other IDs to build that. Storyline support should be able to answer more questions than relying on their users to answer them.
Avantages :
Overall features are great for designing e-learning courses. Overall user friendly. Ability to publish in multiple ways including SCORM, PPT, etc. Streamlines the creation of elearning courses
Inconvénients :
While overall its easy to user, there are some features that are missing from Storyline and require you to build using java script. Thus in order to be a master of Storyline, you also have to be a master of java script. If the software can do something, it should be able to be built using the software, not going somewhere else.
Alternatives envisagées : Adobe Captivate
Pourquoi choisir Articulate 360 : Storyline is more inline with the future of elearning than captivate.
Logiciel antérieur : Adobe Learning Manager
Pourquoi passer à Articulate 360 : Storyline allows for more interaction in the creation of courses than captivate does.