Smartcat
Description de Smartcat
Smartcat fournit un ensemble complet de technologies de traduction automatique pour les entreprises et les traducteurs tout en leur permettant de se connecter et de collaborer avec facilité. Les
Lire la suite
caractéristiques uniques de Smartcat incluent : l'automatisation des paiements, l'accès gratuit pour un nombre illimité d'utilisateurs, la collaboration multiutilisateur avancée et l'accès à un marché de plus de 110 000 autoentrepreneurs et fournisseurs de services linguistiques.
Afficher moins
Qui utilise Smartcat ?
Les entreprises de services linguistiques, les clients finaux et les traducteurs individuels.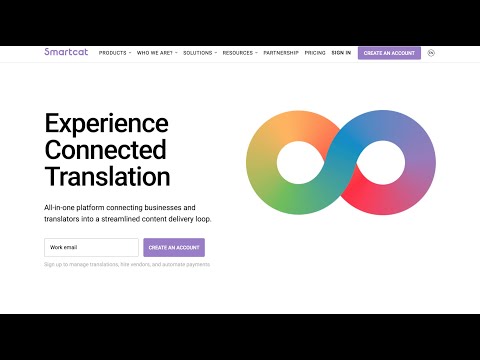 Vous hésitez à choisir Smartcat ? Comparez-le à une autre option populaire
Indisponible dans votre pays
Version gratuite
Version d'essai gratuite
Version gratuite
Version d'essai gratuite
Intégrations introuvables
Pourquoi ce message s'affiche-t-il ?
Ignacio
Freelancer Translator (Brésil)
Traduction et localisation, Auto-entrepreneur
Temps d'utilisation du logiciel : plus de deux ans
A good option to translate and manage translation projects online.
Commentaires : Smartcat is an online platform where you can manage and work on translation projects. It's easy to use (especially if you are from the industry) and you can integrate your own TMs/glossaries, add new terms and apply standard quality check routines. It has an embedded online CAT tool, but it also allows you to download the .xliff file and work offline on your preferred tool (to upload it back to the platform). Also, it works as a whole project management system, where you can contact/hire translators, organize different language pairs in a same project and track each file status.
For translators, it also allows you to work online, submit your job and get paid directly on the platform (although I personally had a slightly bad experience with that, described in the cons). Overall, it's a useful option for translators and Project Managers and it's worth trying it.
Avantages :
It's easy to use and, if you are already familiar with a CAT Tool, you won't miss any basic feature on their online alternative. It's 100% online, so you can access it anywhere and keep working. It has a simple, yet intuitive interface. It allows you to work both online or offline with your preferred third-party tool.
Inconvénients :
I had a bad experience when receiving payments from one project delivered on their platform. Their page said there would be no charges, but I've got charged USD 3.00 on my first transfer, which was a high percentage, considering the paid amount. Their support team was kind, but didn't solve my problem, saying that this charge was probably from my selected receiving method (Payoneer). The real con here is that they automatically transfer your funds after any small payment if you keep a chosen method. Thus, you may want to be careful with your receiving method and do not leave any selected until you actually want to transfer your funds, avoiding unnecessary charges. This should be better explained there!
Prodip Kumar
Translator (Inde)
Traduction et localisation, Auto-entrepreneur
Temps d'utilisation du logiciel : plus de deux ans
Scope of upgradation
Commentaires : Hi, Thanks and congratulation for making SmartCat very useful CAT tool. I use Smart Cat from the beginning and very much satisfied compare to Trados, MemoQ, Wordfast and some other online CAT tools. Previously I had informed about some bugs in this Cat tool for working with xliff file for compatibility with Trados.
And thank you very much Team to solve those issues. Now It works fine. I am mainly Bengli/Hindi Translator, working with all Indian languages. Working in this industry for 17+ years. I am requesting you if possible solve following 2 points only. 1. SmartCat allows to export bilingual file but working with this it is not uploaded/updated. In other Cat tools like Trados and MemoQ I can export bilingual word file and can work or edit offline and after that it easily upload/update. For this facility one can work offline in a exported word file. Also for this facility translation done on CAT tool can be reviewed by other translator who do not CAT tool. After reviewing the file Translator can update. 2. Proofreading very much important part for translation and some times client want proofread files along with changes marking, i.e track change mode. Where Reviewer's changes are shown on that file. This facility can be done with Trados in Review by active Track change mode. This is very important facility in trados for Proofreading. If you can add above two facilities Smart Cat will be a complete number one CAT tool. Feel free to write me if any support require.
Avantages :
Showing text normal size, does not show small or big as shown in original document compare to Trados. Very simple tag management
Inconvénients :
Unable to update the translation after working on SmartCAT exported doc file.
Roel
Freelance Translator (Pays-Bas)
Traduction et localisation, Auto-entrepreneur
Temps d'utilisation du logiciel : plus d'un an
Smartcat, an excellent tool for freelance translators
Commentaires : In general, Smartcat is a wonderful tool with a great MT/TM motor that allows for rapid translations in all kinds of fields. The best features are the AI behind the segmentation and the fact you can import .xliff files an translation memories. I can use this tool for direct clients or clients through Smartcat without the use for any other translation software, and the price is great. The QA check needs to be improved.
Avantages :
I love it when I receive translation jobs from clients (translation agencies) and I don't have to o any configuring or preparing. I can just start translating. Also, when I receive documents that need to be translated, they can easily be converted into a translation file and at the end you can just download the completed translation in the same original file format. Finally, it has been a huge support for me that Smartcat accepts .xliff files and translation memories from SDL Trados.
Inconvénients :
The QA is one of the least developed features of Smartcat. You can only review each segment at a time (for as far as I know) and when you indicate you want to ignore an error, the software does not apply it automatically to each of the same issues. It therefore takes a lot of time to do the QA. Also, it would be great if you could receive -xliff files, complete them and then export them to the original .docx, .xlsx, etc. Finally, it would be great if the PDF converter becomes more powerful. In this case it is still difficult to upload PDF files with a lot of images.
Moazzam
Translator & Interpretor (Pakistan)
Traduction et localisation, Auto-entrepreneur
Temps d'utilisation du logiciel : plus de deux ans
Best cloud based CAT tool for translation
Commentaires : I prefer to use SmartCat and choose to use other CAT Tool software only when the client requires me to work on SDL Trados or MemoQ. It also supports Xliff projects and easy to use.
Avantages :
1. Itis could based so no need to take you files with you. Just login and start your work. 2. It uploades almost all kinds of document format and give good export options 3. Machine Translation assistant, QA checking System, Translation Memory and Glossary are vice easy to use, handly and very easy to import and export.
Inconvénients :
It does not have support for Punjabi.western language and we need to manually adjust the right-to-left context direction for tables, Phone numbers, coding strings etc after exporting the target file.
Yujie
Technical translator (É.-U.)
Utilisateur LinkedIn vérifié
Services et technologies de l'information, 11-50 employés
Temps d'utilisation du logiciel : plus de deux ans
A freelancer's must-have!
Avantages :
The thing I like best about SmartCAT is that I can accomplish everything in one place in CLOUD and FOR FREE there! I'm a very early user of SmartCAT and stick to it ever since my first trial. It's a highly integrated platform that I can set my profile, get contact from clients, accept tasks, do translation, submit translation and get paid all on there. The experience is very intuitive and smooth. Basically anyone who have ever used any CAT tool would master it without problem. SmartCAT also has a large translator and PM pool. I have formed good relationships with many translators and PMs there with whom I have collaborated. It has made my life as a freelancer so easy and I'm really grateful to it.
Inconvénients :
I don't have major pain points about this software, but of course there are places for improvement. For example, it would be great if it could provide a calendar feature for translators so that it could send out-of-office replays to project invitations automatically during the translator is away on vacation. Currently I have to send chat messages to clients manually before I leave for vacations and that's kind of inconvenient.