Description de Uplisting
Uplisting est la solution tout-en-un spécifiquement conçue pour les locations à court terme. Une solution intuitive et fiable qui peut créer de la valeur ajoutée à votre entreprise dans les 30 minutes suivant le début de votre version d'essai gratuite de 14 jours.
Importez automatiquement vos annonces directement depuis Airbnb et connectez-vous à Booking.com et à d'autres sites en quelques minutes. Synchronisez instantanément les réservations, les tarifs et les disponibilités sans commission, sans frais d'installation ni frais cachés.
Gagnez des heures chaque semaine grâce à des messages automatisés, des tarifs intelligents et bien plus encore.
Qui utilise Uplisting ?
Propriétaires de location à court terme, opérateurs et gestionnaires traitant entre 5 et 1 500 locations à court terme.
Où peut-on déployer Uplisting ?
Cloud, SaaS, web, Android (mobile), iPhone (mobile)
À propos de l'éditeur
Uplisting
Situé à Otley, R.-U.
Fondé en 2016
Support téléphonique
Support 24/7 (réponse directe)
Chat
Uplisting - Prix
À partir de :
100,00 $US/mois
Oui, essai gratuit disponible
Non, pas de version gratuite
Uplisting n'est pas disponible en version gratuite mais propose un essai gratuit. La version payante de Uplisting est disponible à partir de 100,00 $US/mois.
Plans de tarification
obtenez un essai gratuit
À propos de l'éditeur
Uplisting
Situé à Otley, R.-U.
Fondé en 2016
Support téléphonique
Support 24/7 (réponse directe)
Chat
Uplisting en vidéos et en images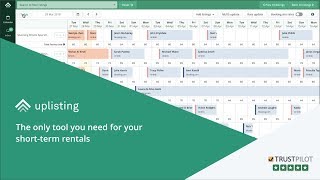 Fonctionnalités - Uplisting
Automatisation du marketing
CRM
Communications avec les invités
Facturation
Gestion de l'expérience invité
Gestion des canaux
Gestion des contacts
Gestion des employés
Gestion des fournisseurs
Gestion des leads
Gestion des ordres de travail
Gestion des partenaires
Gestion des stocks
Gestion des taux
Intégration GDS et OTA
Intégrations de tiers
Pour locations saisonnières
Rapports et analyses
Rapports et statistiques
Relevés de propriétaires
Réservation en ligne
Traitement des paiements
Miguel
CEO (Canada)
Utilisateur LinkedIn vérifié
Hôtellerie, 2-10 employés
Temps d'utilisation du logiciel : 1 à 5 mois
The Best I've Found
Commentaires : Phenomenal, I won't be going anywhere, they have really proved themselves to vacation property managers that they put us first. They are slowly trying to master each new feature without comprising the overall use of what makes them great.
Avantages :
I love how uplisting connects with AirBnB & Booking seamlessly, the integrated all in one inbox absolutely amazing as well makes it easier for my team to access everything in one area. I'm happy with the support as of now, the team is always on it and from the start [SENSITIVE CONTENT HIDDEN] has helped our team from the beginning, to onboarding, questions, and any difficulties we've had. I've worked with so many other PMS/Channel managers and have been hopping around with massive frustration, I'm glad I can finally end the headache of timewasting of switching every 6 months to a new PMS with one I can finally call home. Thanks [SENSITIVE CONTENT HIDDEN].
Inconvénients :
The onboarding with VRBO is slow but this is mostly issues with Homeaway rather than uplisting, also some third party pricing tools have to be tweaked around to be able to customized with uplisting so you don't get the full ability of some apps, also they don't have a widget for direct bookings on website (their new link payment makes up for this in some way but not if your a marketer wanting to send traffic) however, the [SENSITIVE CONTENT HIDDEN] has mentioned that this it is something that will be coming out soon so Im looking forward to seeing that and their app in action.
Alternatives envisagées : Avantio
Pourquoi passer à Uplisting : integrated inbox, pricing, support, and the temptation of future new features like the app, and website widget.
Hôtellerie, 2-10 employés
Temps d'utilisation du logiciel : 1 à 5 mois
The Best PMS!
Commentaires : Automation, collection of guests details. My workload in dealing with guests and new bookings has decreased by 2 thirds. Allowing me to crack on with running my business.
Avantages :
I have been doing serviced apartments for nearly 3 years now. I am still new, still learning and adapting. I have been with 2 other PMS's. I left the first one because they started off well, but kept taking away features and adding them as an add-ons, and the UX/UI kept changing- I felt like I had to keep re-learning how to use it. The second one, they promised me the world and hyped up their software, but in reality it was just no good. Uplisting was recommended to me as easy-to-use and alot of features. I'm happy I was sent in the direction of Uplisting. The ease of use of the software couldn't be easier. The features included are excellent. They are always adding new stuff. The customer service team actually work for Uplisting and aren't a hired team reading a screen. As long as Uplisting stay on this path, I'm not going anywhere. Very happy! Keep up the excellent work guys!
Inconvénients :
I can't comment on cons. The reason being because there's nothing that comes to mind. The team are always implementing new features. And they listen and work on other features. It's not about "cons" and what's least to like, it's about how the team deal with it. And for that, I have no negative comments.
Alternatives envisagées : Guesty
Pourquoi choisir Uplisting : My website developer couldn't integrate with Little Hotelier due to the lack of API integration. I had to make a swift change. At the time it was low on my priority list as I was making live 5 units. But it had to be dealt with there and then. Within a week I went from learning I have to change PMS to going live with all units on Uplisting. My website is now integrated.
Logiciel antérieur : Tokeet et Little Hotelier
Pourquoi passer à Uplisting : 2 reasons: 1) Guesty was very expensive 2) Guesty looked like I needed a diploma to use it
Hôtellerie, 2-10 employés
Temps d'utilisation du logiciel : plus d'un an
Ease of use
Commentaires : Great team that is responsive to needs and concerns.
Avantages :
Software makes managing our 7 properties a breeze. Best one we found so far.
Inconvénients :
The mobile app is too basic and we cannot use for high level tasks.
Alternatives envisagées : Guesty For Hosts
Logiciel antérieur : Lodgify
Emily
Property manager (R.-U.)
Hôtellerie, 2-10 employés
Temps d'utilisation du logiciel : 1 à 5 mois
Could be so good - but has too many issues...
la semaine dernière
Nouveau
Commentaires : I wish wish wish these guys improved their software. It has the potential to be amazing but there are some major flaws. We decided to go with uplisting as their price is so competative compared to Guesty - but it seems that you get what you pay for - a buggy, wannabe SAAS. Building a software that can't be used on a phone, for an industry that is often on its feet, is hard to understand. Uplisting's suggestion forum for is full of ideas from customers, but I believe this is precisely because their software doesn't do the trick for most. What makes the experience of this software so infuriating, is that you want it to be good, so invest loads of time in the set up, give the benefit of the doubt to customer service, hang on until everything is set up to evaluate it - only to find that it still doesn't work. I wish I could get back the time I've spent in trying to set up our Uplisting account (over 2 weeks). I don't recommend others waste their time like I have.
Avantages :
This system has so much potential - lots of neat features like direct booking websites, deposit systems, automated messages (if it is working). Great integrations with platforms (except VRBO). Great pricing control. Really nice 'how to' videos by the founders for most setup needs...
Inconvénients :
The design is not responsive - so we can't use any of the features of this software on our mobiles, that's right: none at all, not even when you're in a bind and can't get to a desktop. The mobile app that does exist is less than minimal only allowing you to message guests: BUT: - the saved responses don't work - it doesn't load previous conversations - you can't see when a guest has sent a messages (could be a minute ago, could be 1 day ago). The automated outbound messaging system doesn't work for last min bookings so guests are left without checkin details and info about their booking (!) The UI is really hard to read (tiny font, it's really hard to distinguish between properties on their calendar, the design is actually harder to read quickly than a spreadsheet would be). The customer service has real people (which I suppose is a plus) and they do try to help, but 9/10 they don't know how to help and even take around 1-2 days to respond to you. They don't run customer service for a hospitality software on the weekends, which to me makes no sense as their customers are all using their platforms on the weekend... All of this compounds to make it really hard to use. Leaves an awful lot to be desired.
Cory
Real Estate Property Manager (Italie)
Immobilier, 2-10 employés
Temps d'utilisation du logiciel : 1 à 5 mois
Exactly what I was looking for...
Commentaires : My overall experience has been very positive and I truly feel that I am good hands with the Uplisting team.
Avantages :
After nearly 10 years with one of the largest channel managers on the market and then a bumpy 6 month run with another provider over promising and under delivering, I was so relieved when I stumbled upon Uplisting by chance in a Google search. It is exactly what I was looking for - as if it were designed by property managers like myself. The customer service is outstanding and the Uplisting team is willing to listen and implement customer feature requests.
Inconvénients :
If I had to find one flaw, I would say not having the ability to edit reservation line items (costs and fees) and in turn the automatically calculated owner payout totals is probably the most important issue that needs to be addressed. However, after suggesting some ideas, the team is working on making this feature available.
Alternatives envisagées : Smoobu, Lodgify et inReception
Pourquoi choisir Uplisting : I switched from KIGO because the core user interface is run on outdated technology and instead of recreating a new platform KIGO has continued adding to an outdated system which caused so many errors and issues. After a long run with KIGO, it was just time for a change.I switched from Direct because ultimately it was more common to see an error page when navigating the system than an actual functioning page - although I was always happy with the implementation manager, [SENSITIVE CONTENT HIDDEN], as well as the [SENSITIVE CONTENT HIDDEN]. It is a good product but has a long ways to go and unfortunately I couldn't be patient any longer.
Logiciel antérieur : Kigo
Pourquoi passer à Uplisting : Uplisting offers quick customer service which is extremely important to me. It also offers an easy to use platform that is constantly offering more and more features without causing problems with the core features.