Automate.io
Description de Automate.io
Connectez toutes vos applications cloud : Gmail, Slack, Trello, CRM, e-mail marketing et paiements. Automatisez les tâches de routine et créez des flux de travail.
Afficher moins
Qui utilise Automate.io ?
Non fourni par l'éditeur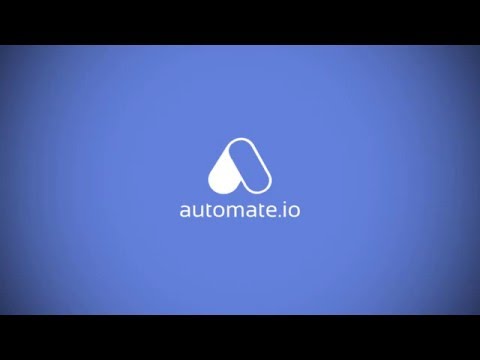 Vous hésitez à choisir Automate.io ? Comparez-le à une autre option populaire
Indisponible dans votre pays
Version gratuite
Version d'essai gratuite
Version gratuite
Version d'essai gratuite
Pourquoi ce message s'affiche-t-il ?
Alternatives à Automate.io
Boris
SaaS Sales Consultant (R.-U.)
Utilisateur LinkedIn vérifié
Conseil en gestion, 2-10 employés
Temps d'utilisation du logiciel : 1 à 5 mois
Was a big Zapier Fan until I found Automate.io
Commentaires : So far really glad I found them, since Zapier is just too expensive for a small business
Avantages :
The guys have pretty much the same functionality from what I saw so far, but they are unbeatable on pricing and customer service. Our rep from the support team replied several times almost faster then I could formulate my questions. That's something I've so far only seen at Intercom directly. Thumbs up!
Inconvénients :
Hmmm, on the free tier the bots are paused when the threshold is reached. I wasn't aware of this so that was a little downer.
Carmen
Program Manager (É.-U.)
Utilisateur LinkedIn vérifié
Biotechnologie, 51-200 employés
Temps d'utilisation du logiciel : 1 à 5 mois
Source : GetApp
Alternatives envisagées :
I'm so glad that I chose Automate.io!
Commentaires : We're trying to automate the new hire onboarding experience. Automate.io is making it possible for us to move tasks onto new projects within Asana. Then use the various Asana statuses to automate the process of sending the new hire employee a welcome email, sending IT a ticket for getting the new hire's computer setup and mailed out to them, getting the new hire added to multiple existing orientation meetings, etc. We estimate that this automation is going to save one of our employee's about 30-40 hrs a week.
Avantages :
This is definitely the best product that I've found for doing what I need to automate our Asana workflow. Compared to the other products that I've trialed, Automate.io has been the most user -friendly, least buggy and most easily configurable. I could also easily determine what types of functionality would be included in the paid versions where some of the other systems made the tiers super confusing. But by far, my favorite part about automate.io has been the customer service. Every time I've had a question, the support team has been extremely quick to respond (~5 mins) and has been able to help me understand what I was doing wrong within a short amount of time. [SENSITIVE CONTENT] specifically has done a spectacular job!
Inconvénients :
The only thing that I've found so far that automate.io has been unable to do for me is to move completed documents out of Docusign and into Google Drive. I can create the folders in Google Drive based on the file name in Docusign via automate.io so that get's me halfway there. It sounds like this functionality is on their roadmap.
Vaibhav
Digital Marketing Specialists (Inde)
Services et technologies de l'information, 51-200 employés
Temps d'utilisation du logiciel : 6 à 12 mois
Workflow management is easy for medium businesses
Avantages :
Managing data from various sources is important for medium technology services organization and automate.io helps in managing all things easily.
Inconvénients :
Little bit expensive than Zapier but more features for multiple data sources management.
Santé, bien-être et fitness, 2-10 employés
Temps d'utilisation du logiciel : Essai gratuit
Great Support
Commentaires : Customer support is FANTASTIC! Thank you!!
Avantages :
The Support team was great! The support staff worked everything out I needed and followed up even when I left the chat to end the day. This saves so much time on the day when it comes to billing/payroll.
Inconvénients :
I would be great if when I moved times from Google calendar to Sheets that the time wasn't in military time. Can't figure out how to change that. :)
Chip
Solutions Architect (É.-U.)
Utilisateur LinkedIn vérifié
Logiciels, 2-10 employés
Temps d'utilisation du logiciel : 1 à 5 mois
Source : GetApp
Alternatives envisagées :
Automate.IO is actually pretty amazing. Especially if you use HubSpot
Commentaires : Ok, this may be a long read. For a client, we switched to Gravity Forms from Fluent Forms as we are beginning to use Hubspot, and fluent form HubSpot support was basic. Turns out Gravity forms did not do everything we needed for hubspot either but at least it Created OR Updated contact info. Not just failed to save if an email address already existed in Hubspot. But it did not
1) create notes in hubspot. Third party add on will though (but...)
2) Bad one, wont save easily to google sheets. YOu have to use the cloud console WHICH is not a good idea. Gravity forms recommended Zapier. We dug into it Did not do very much frankly. We also looked at a few other solutions (FYI all better than Zapier) Found Automate.io. Started to dig into it and see what all it would do with Hubspot ..
OK Bluntly, Automate.io is SERIOUSLY king of the hill when it comes to Hubspot integration.
Oh yeah and works perfectly with google sheets as well. Let me give you a workflow that no one could match.. 1) User fills out a post-conference survey on future sponsorship.
2) AIO Creates OR Updates A Hubspot contact.
3) AIO then adds Notes to the contact from the Form Submission
4) Next AIO creates a deal for the contact from the form submission
5 ) AIO Creates a Hubspot Task For that deal and assigns it to the correct person. In another Bot I will add that Task to Clickup with a link back to the task in hubspot ALSO and this is Huge. We can keep using Fluent Forms
Avantages :
Its hubspot integration, and I can pull some crazy stunts with it.
Inconvénients :
Ok this is small. wish you could save webhooks for reuse.