Vous aimerez peut-être...
Description de SmartrMail
Outil de marketing destiné aux magasins d'e-commerce, conçu pour l'envoi d'e-mails personnalisés en vue d'augmenter les ventes.
Qui utilise SmartrMail ?
SmartrMail est conçu pour permettre aux petits et grands magasins d'e-commerce d'automatiser facilement leur e-mail marketing et d'obtenir plus de ventes grâce à ses e-mails automatiques de suggestion de produits.
Informations sur SmartrMail
SmartrMail
Fondé en 2016
SmartrMail en vidéos et en images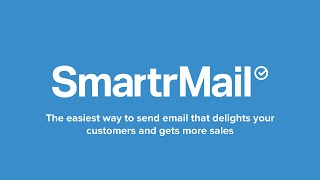 ▶︎
Informations sur SmartrMail
SmartrMail
Fondé en 2016
Comparez SmartrMail à des logiciels similaires
À partir de
29,00 $US/mois
10,00 $US/mois
20,00 $US/mois
9,00 $US/mois
Déploiement et prise en charge de SmartrMail
Ressources d'aide
Service client/e-mail
Base de connaissances
Support téléphonique
Chat
Formation
En ligne en direct
Webinaires
Documentation
Vidéos
SmartrMail - Fonctionnalités
API
Actions découlant d'un événement
Analyse des campagnes
Analyse en temps réel
Base de données de contacts
Bibliothèque d'images
Bloqueur de spam
CRM
Campagnes de drip marketing
Campagnes multiples
Champs personnalisables
Conformité CAN SPAM
Contenu dynamique
Distribution d'e-mails
E-mails optimisés pour format mobile
Enquêtes clients
Fonction de glisser-déposer
Formulaires personnalisables
Formulaires web
Gestion de la liste de diffusion
Gestion des abonnements
Gestion des abonnés
Gestion des campagnes
Gestion des campagnes e-mail
Gestion des contacts
Gestion des e-mails
Gestion des listes
Gestion des modèles
Intégration des médias sociaux
Intégrations de tiers
Marketing multicanal
Modèles d'e-mails
Modèles personnalisables
Pages de renvoi et formulaires web
Planification des campagnes
Rapports et analyses
Rapports et statistiques
Répondeurs automatiques
Saisie de leads
Segmentation de la clientèle
Segmentation des campagnes
Stratégie de marque personnalisable
Suivi de l'engagement
Suivi des activités
Suivi des clics
Suivi des e-mails
Tableau de bord d'activités
Tests A/B
e-mail marketing
Éditeur WYSIWYG
Rusty R.
Director in Australie
Utilisateur LinkedIn vérifié
Articles de sport, 2-10 employés
Used the Software for: 1 à 5 mois
Excellent Product, Even better Service.
Pros:
The product is excellent, and full of hidden gems as you get to know it more. The customer service is top shelf.
Cons:
There is a learning curve to be able to unlock the true power. Though, the excellent service makes this pretty easy to navigate.
Kristie R.
Owner in Australie
Vente au détail, 2-10 employés
Used the Software for: 6 à 12 mois
Alternatives Considered:
Fantastic product for our business
Comments: Our overall experience has been great. We have better insight as to who is viewing our emails, the links they click on from our email to access our website and the sales we generate from the emails we send out.
Pros:
Very easy to use. I am able to create newsletters within 10 minutes (compared to approx. 45 mins on the previous software we used). The reports provide good insight as to how successful each marketing campaign has been.
Cons:
The cost can be prohibitive for small businesses but it is still cheaper than some of the competitors.
Philippa M.
Marketing Manager in Australie
Vente au détail, 2-10 employés
Used the Software for: plus d'un an
SmartrMail Review
Comments: We are able to stay in contact with customers through email and have created some beautiful campaigns which SmartrMail has helped us send. The customer service is always helpful and if you have any hiccups or challenges, they will help you through to find a solution.
Pros:
Designing our own emails in InDesign, it is easy to then import GIFs and images into the emails for our weekly newsletter. For weekly emails, the system is intuitive and easy to use. With the assistance of the team from Smartrmail, we've been able to create a range of automated campaigns to target customers and upsell other products. The customer service team is great and reply to help requests very promptly.
Cons:
Setting up automated campaigns and creating audiences with certain rules can be rather complex and easy to make errors, so it is essential you work with the Smartrmail team on this.
Nikki T.
Busines Owner / Manager in Australie
Vente au détail, 2-10 employés
Used the Software for: 6 à 12 mois
Cheaper than Mailchimp with practical functionality.
Comments: Great customer service and help when needed.
Pros:
We use Smartrmail with out Shopify store and really enjoy it. Pulled our email list out of mailchimp over 6 months ago as it was just getting too expensive. Smartrmail has all the functionality I need without being overly complicated. Just realised it does 2 way sync with Shopify so if a subscriber purchased once, but more than 2 years ago, and then makes a new purchase in our Shopify store, they'll be labelled as " Repeat customer" since there will be 2 orders in this subscribers' profile in your Shopify store. This is great so that customers repeat business is recognised. Thank you Smartrmail.
Cons:
Nothing major just took a little bit of getting used to the autosave as I was used to saving everything I did manually in mailchimp. Not a software problem, just a person problem ;-P
Pat R.
Director in Australie
Articles de sport, 2-10 employés
Used the Software for: 1 à 5 mois
Alternatives Considered:
SmartrMail where have you been???
Comments: Overall Smartrmail is nothing short of sensational. It immediately started working within minutes of set up.
Pros:
For those working on a Neto platform this is for you.
Cons:
No set-up wizard to walk you through. Would be great if it had a step by step set up wizard to guide you through the first time.