Connecteam
Description de Connecteam
Planifiez des tâches et gérez le temps avec cette application tout-en-un de Connecteam à la fois performante et facile d'utilisation, conçue et développée spécifiquement pour les collaborateurs sur
Lire la suite
le terrain. Le service de planification comprend des fonctionnalités avancées telles que la distribution par glisser-déposer, les quarts de travail individuels ou d'équipes, le téléchargement de quarts via Excel, etc., afin de rendre votre expérience de planification rapide, facile et productive. Profitez également d'une véritable collaboration entre les quarts avec des mises à jour des statuts GPS, des notes et un chat intégré. À partir de seulement 29 $ par mois pour un maximum de 200 utilisateurs.
Afficher moins
Qui utilise Connecteam ?
L'éditeur offre ses services à tous les secteurs d'activité qui emploient des équipes de terrain.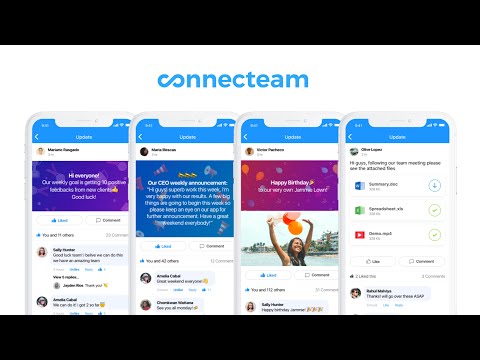 Vous hésitez à choisir Connecteam ? Comparez-le à une autre option populaire
Indisponible dans votre pays
Version gratuite
Version d'essai gratuite
Version gratuite
Version d'essai gratuite
Pourquoi ce message s'affiche-t-il ?
Alternatives à Connecteam
Kristina
Admin Specialist
Utilisateur LinkedIn vérifié
Construction, 2-10 employés
Temps d'utilisation du logiciel : 1 à 5 mois
Looks professional, easy to use, and great value for the cost.
Sous-titres en français disponibles pour la vidéo
Scott
Director of Operations (É.-U.)
Utilisateur LinkedIn vérifié
Services et technologies de l'information, 2-10 employés
Temps d'utilisation du logiciel : Essai gratuit
Alternatives envisagées :
Most Valuable APP for SMB Ever
Commentaires : Our company utilizes employees here in the US, and numerous remote employees in the Philippines (less than 20 employees). We had one solution for scheduling, another program for task and project management, another app for messaging, and a cloud-based program for time-tracking. Until we found ConnectTeam. Everything we needed (plus more), all in a single solution. Not only did we cut our previous costs by 80%, everything is now in a single solution.
Avantages :
- Only add the functions you want. Not encumbered by bloatware or features we will never us. - EXTREMELY intuitive. Once create an account, do the 5 minute walkthrough and you feel confident enough to manage yoir company. - Their FREE option is actually very useful and includes 80% of the features. - FLAT-FEE pricing! Once you decide to upgrade (we chose $29 plan) No 'per-user' cost like virtually every other solution. One flat-fee and can add up to 200 users with no hidden fees. - 24/7 live support; even for the free account! When we first got started, we had a couple hiccups, and at 1:30am, their live support spent over an hour helping us get everything working perfectly (thanks again Noam). - Supports overseas employees in other countries natively. E.g. we have employees in Philippines, and the installed the app and verified their phone numbers via text on their Philippines phone with no issue. Can text-message filipino worked through app, even on free mode. - Messaging/chat options are way better than other messaging apps. Like 'voice' chat, and the ability to integrate other formats. Supports rich text. Take FB messenger, Sling, and viber and combine all the good features, and this is what you have. - GPS tracking of all remote employees.
Inconvénients :
- At the time of writing this review, all admin features have to be done through website, and not through the app (though they say they are working on that). - Could use more hierarchy fratures, other than just basic. Would be nice to see customizable permissions for Administrators (may support but I didn't see). - App only supports Android and iPhone. No desktop app for Windows or Mac available.
Réponse de l'équipe de ConnecTeam
il y a 3 ans
Hi Scott! Thank you so much for taking the time to write this amazing review! Please note that there's A LOT you can do as an admin from the app, under the the ADMIN tab. Make sure to reach out to us for further assistance if needed :)
Santé, bien-être et fitness, 2-10 employés
Temps d'utilisation du logiciel : 1 à 5 mois
Best HR software that i've come across and by the looks of things they are just getting started.
Commentaires : Brilliant. Absolutely brilliant from the design to the usability to the support articles and videos to the customer service. This is a great platform and a great team and i'm looking forward to growing with it in our small organisation.
Avantages :
The simplicity and scope of the software. It packs so much in while keeping it relatively easy to use and administer. I'm really impressed.
Inconvénients :
I think the pricing model could be a little more flexible for 11 - 30 level organisations but offering a free version for firms under 11 employees helps a lot with that. The editors can be a bit cumbersome (the Text editor windows in many cases are small compared to available screen real estate). There is no auto-save so if you have connectivity issues, or have fat fingers when using your mouse... bye-bye work. These are by no means deal breakers though, just things to be aware of and I'm sure they will address these in the long term. The automation cannot be routed between different segments for different activities (e.g. employee signs this, then send to admin assistant to review, then send to the manager to sign. Again though these are by no means deal breakers and I'm certain these features will be added in the future.
Réponse de l'équipe de Connecteam
il y a 2 mois
Thanks for the review Jason! Our product keeps on improving thanks to our amazing customer feedback! You can certainly create an automated procedure with our forms using our status and notes feature ! Feel free to reach out to support@connecteam.com as we will be glad to assist!
Michael
Director (R.-U.)
Utilisateur LinkedIn vérifié
Eau/gaz/électricité, 51-200 employés
Temps d'utilisation du logiciel : 6 à 12 mois
Alternatives envisagées :
User-friendly software with many features, but needs improvements around scheduling & time clock
Commentaires : We have been using the software for about 8 month now. Some problems have been resolved. A huge improvement was around open shifts. That feature was basically unworkable until a few months ago. However, no improvement in core functionality of job scheduling and time clock since then.
Avantages :
We mainly use software for job scheduling and time clock. Pros: It is easy to create a job and a shift Easy to add an employee Job scheduling views are good Training module (courses) has been useful
Inconvénients :
The more employees and jobs you add, the slower it gets for admin users The jobs schedule opens slow on mobile phones The app users a lot of RAM memory on desktops If you have many shifts in the schedule, the app may start freezing The company often focuses on getting some minor features rather than improving their core elements, such as Job Schedule and Time Clock Not easy to go through Time Clock entries as the hours in Job Schedule are not shown. They claim that Time Clock and Job Schedule are synced, but sync only works for mobile users to clock in and out. There is no sync for admin users, who are checking the entries! Chat feature is undeveloped. It is easy to send information to staff, but it is not possible for field staff to have 1 clear communication channel. The job schedule shows names of the person, who created a job, so field staff have multiple conversation about various jobs, rather than have 1 point of contact. If the person who created the job is away, there is no way to see the message. So software creates a communication nightmare for admin and for field staff as well.
Réponse de l'équipe de Connecteam
il y a 5 mois
Thanks for the feedback, Michael. First, it sounds like you're experiencing some technical issues. Things should not load slow or freeze. The best we can suggest is to contact us so we can investigate your issues and have them resolved. As for the schedule and time clock sync, there might be a misunderstanding or unfulfilled expectations here, and we'd like to clarify: the sync doesn't mean that any scheduled shift will automatically create a time entry in the timesheets. The schedule lets users know what they need to do, when and from where, but they must clock in and out for those entries to show in their timesheets. As for the chat - what's missing for you that you feel it's undeveloped? As for employees seeing who created a shift - that's 100% to your control as an admin. Simply remove this option from the scheduling settings menu. Would like to connect with us so we can see what can be done to assist you? Please email me personally at chen@connecteam.com :)
Eau/gaz/électricité, 2-10 employés
Temps d'utilisation du logiciel : plus d'un an
Alternatives envisagées :
Connecteam is the winner.
Commentaires : It has been a massive time saver, if you don't make any entry mistakes! Our staff love using it, we get very little down time too.
To be honest, the only issues we do get is on IPhones that need to update their OS. If the employee doesn't do it very soon after notification it can cause Connecteam to stop working properly. Even after removing and downloading again. Learning curve for the phone owner i'd say!
Avantages :
Excellent one time entry scheduling. Scheduling up to 12 months in one go! With either: weekly, daily, 4 weekly. 3 weekly, monthly or quarterly schedules. GPS location clock in and out. Very little usage of data on employee devices! Easy export to Excel for payroll management. Break down of all jobs worked on, plus rounded up time spent on say, "travelling between jobs". Makes it so much easier to manage our payroll when we use detailed itemized payment categories (Basic pay, travel time, commercial rate, mileage, holiday etc...).
Inconvénients :
It would be good when inserting a PDF or picture in Updates, you can also enter some text to go with it.
Réponse de l'équipe de Connecteam
il y a 4 mois
Richard, thank you SO MUCH for this detailed review! We highly appreciate the time you've spent writing this review :) As for attaching a file to an Update - the way Updates work, allows you to add text and files as you see fit. There's no need to add a caption as you can simply write down whatever you like anywhere in the update. So you can actually create it as "text-image-text-PDF-text-video", and so on :) On the other hand, when attaching an image or a video in the Chat, you do have the option to add a caption as it doesn't have the Update structure :) As for iOS - All devices, including iPhones, shouldn't have any issues, especially when using a supported iOS and using the latest version of Connecteam, which is being updated mostly automatically on a weekly or bi-weekly basis. If you encounter any issues, please don't hesitate to contact us over the live chat from your admin dashboard or app :) You can also email us at support@connecteam.com Thanks again :)
Audrey
Agency Manager (É.-U.)
Hôpitaux et soins de santé, 2-10 employés
Temps d'utilisation du logiciel : plus de deux ans
Connecteam offers user friendly and efficient ways to manage a business.
Commentaires : Connecteam is an efficient app that has helped me build training databases and easy reference materials for team members. It is also an effective way to communicate with and assess team needs throughout the work week.
Avantages :
Connecteam is efficient and affordable. Team communication and training materials are easily accessed, and created without a large learning curve. Customer service is very responsive, and works tirelessly to fix software issues that arise.
Inconvénients :
The scheduling and calendar piece of the app used to be difficult to coordinate with google calendar, however, I have not re-tried this after new features have come out. I wish more administrative capabilities were available via mobile device access.
Réponse de l'équipe de Connecteam
il y a 3 mois
Thank you so much for your detailed review, Audrey! We know that the Google Calendar sync can be improved and it's already on our roadmap to make it better :) As for more mobile capabilities for admins - we're adding more and more with each app update on a bi-weekly basis. If you have any specific capabilities you'd like to see on your mobile app as an admin, please email our product team at product@connecteam.com so we can prioritize it :) Thank you so much!