Description de Document Control
Solution cloud de contrôle des documents destinée aux hôpitaux : MediaLab répond à vos exigences en matière de conformité et de sécurité, vous permet de gagner du temps et de l'énergie et gère l'ensemble de votre cycle de vie des documents, le tout de manière numérique. Les employés accèdent facilement aux documents pertinents, ce qui réduit le temps perdu à rechercher parmi les politiques et les procédures. Les déclarations d'interprétation sont collectées et stockées avec récupération rapide pendant les audits.
Qui utilise Document Control ?
Établissements de soins de santé, notamment : laboratoires, hôpitaux, cliniques, cabinets médicaux, etc.
Où peut-on déployer Document Control ?
Cloud, SaaS, web
À propos de l'éditeur
MediaLab
Situé à Lawrenceville, É.-U.
Fondé en 1995
Support téléphonique
Chat
Pays disponibles
Australie, Canada, États-Unis
À propos de l'éditeur
MediaLab
Situé à Lawrenceville, É.-U.
Fondé en 1995
Support téléphonique
Chat
Pays disponibles
Australie, Canada, États-Unis
Document Control en vidéos et en images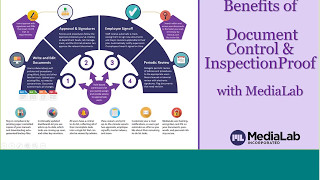 Comparez le prix du logiciel Document Control avec ses alternatives
Fonctionnalités - Document Control
Archivage et rétention
Classification des documents
Contrôles/Permissions d'accès
Conversion de fichier
Gestion de versions
Gestion des audits
Outils de collaboration
Partage des fichiers
Recherche en texte intégral
Reconnaissance optique de caractères
Saisie de documents
Stockage de documents
Suivi de la conformité
Sécurité des données
Alternatives à Document Control
Avis sur Document Control
Bertrand B.
Laboratory Manager (É.-U.)
Utilisateur LinkedIn vérifié
Hôpitaux et soins de santé, 1 001-5 000 employés
Temps d'utilisation du logiciel : plus de deux ans
MediaLab is a great product for document control, it can be cumbersome to move around the documents.
Commentaires : inspection proofing for all of our inspections as well as the ability to hold and maintain numerous policies and procedures.
Avantages :
I like that the software is able to maintain the hundreds of policies and procedures our hospital laboratory has to maintain. One of the best features is the CAP Inspection readiness, this has often kept us in line with what our inspectors are looking for.
Inconvénients :
I dislike the clunkiness of the software, it can be cumbersome to move procedures around manuals, its difficult to remove from one manual and place in another. Linking procedures is often difficult and some times time consuming as well.
Zane A.
Chief, Hematology Lab Section (É.-U.)
Hôpitaux et soins de santé, 1 001-5 000 employés
Temps d'utilisation du logiciel : plus de deux ans
Easy, Practical and Customizable Electronic Document Management System at a Great Value
Commentaires : We have been transitioning from an older system using word documents kept in a secure drive. MediaLab has offered the ability to collaborate on document revisions, securely track document changes, and feel more assured that only the most current version of each document is in use. We can also see at-a-glance what documents exist as approved, in-review or needing update and can see usage reports to know which are most valuable. Feedback from custom quiz success rates allows us to improve how documents (or quizzes) are written. The system also allows for remote access, which is essential to making it available wherever you are that has internet connectivity.
Avantages :
MediaLab is an easy-to-learn and robust, yet simple-to-use and maintain electronic document management system. It simplifies the document control process and allows users a variety of paths to manage their laboratory documents, including policies, processes and procedures, forms references and much more. The user interface is intuitive, and allows users to quickly access the information that they need through searchable documents. The software keeps track of previous document versions and actions, optionally allows the printing of controlled copies and makes document approval and review a snap. There is also an option to generate customizable quizzes that can be used to verify personnel have read the salient points of each new or revised document and this can double in its use as a part of competency assessment. Site management is also intuitive and comes with extensive accessible help for those with minimal background in website management. The downloadable back-ups are invaluable. The customer service has been outstanding! If you need an easy-to-use, practical and customizable electronic document management system at a great value, I highly recommend this product.
Inconvénients :
Nothing! If I had one wish for this product, it would be to expand its functionality with portable tablet devices. That could make it even easier to keep at the testing bench.
Heather W.
Laboratory Manager (É.-U.)
Temps d'utilisation du logiciel : 6 à 12 mois
Overall, positive. Becoming more proficient as I become more familiar.
Avantages :
Inspection proof: I like that our CAP checklist is imported and it is easy to link procedures to it. We will see how good it is during our upcoming CAP inspection. This will be our first inspection using Media Lab software.
Inconvénients :
There is definitely a learning curve with this product. There are some features "hidden" in places that don't seem logical to me. The interface is a little "old school" looking, but maybe that's why it's so cheap. I don't even know where to begin with Compass.
Kris A.
Quality Manager (É.-U.)
Hôpitaux et soins de santé, 51-200 employés
Temps d'utilisation du logiciel : plus d'un an
Very satisfied user!
Commentaires : I have used several Document Management systems. This is by far the easiest to use. I meets all our regulatory requirements. The support in both setting up the system and ongoing has been wonderful. Any requests have been quickly dealt with. Also, they are very open to suggested changes. We have been so pleased with the Document Management system and are now adding on additional programs, such as Compass and Inspection Proof
Avantages :
You really can't make a mistake in using the system. I particularly like that you can assign users to review the documents and track their usage. Also, it's very easy to send comments back and for to users, for example if a change is requested or a typo is noted. We have staff that are not the best at using computers and this program has been very easy for them to use. We feel that for the first time that our documents are usable, accurate and great tool to train our staff to.
Inconvénients :
No Cons at all. Just recommend taking the time to write and format your documents prior to checking them into the system. This will make the process much smoother.
Heather F.
Quality Assurance Manager (É.-U.)
Utilisateur LinkedIn vérifié
Biotechnologie, 11-50 employés
Temps d'utilisation du logiciel : plus de deux ans
We are a small to medium business, and this solution fits our needs perfectly.
Commentaires : MediaLab Document Control allows EyeKor the flexibility it needs for reviewing, approving, assigning, tracking, approving controlled documents. It fits seamlessly within our existing systems.
Avantages :
This is an affordable, versatile solution, that aids in keeping all training documentation in compliance. EyeKor uses it to approve training documentation, SOPs, and manage project specific training. It manages all sizes of groups that needs training with easy and the needed flexibility for our company.
Inconvénients :
Sometimes there are too many ways to do things, or options to do things are buried too deep. I do not like that I can not require training on minor versions of documents. Many documents I receive externally, I cannot determine how they number, and then numbering on the document does not match the MediaLab number.