eloomi
Description de eloomi
eloomi est une plateforme de gestion de l'apprentissage intuitive et facile à utiliser. Créez ou importez du contenu d'apprentissage dans votre format préféré et optimisez chaque étape dans l'expérien
Lire la suite
ce de formation des employés avec un outil de création moderne. Intégrez et formez de nouveaux employés, proposez des expériences d'apprentissage uniques, améliorez leurs compétences et leur engagement avec cette solution en ligne très intelligente.
Afficher moins
Qui utilise eloomi ?
Des entreprises de tous secteurs et de toutes tailles, partout dans le monde.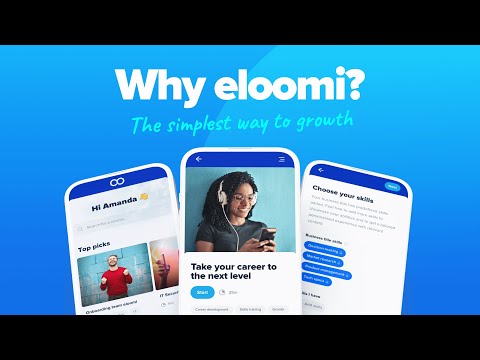 Vous hésitez à choisir eloomi ? Comparez-le à une autre option populaire
Version gratuite
Version d'essai gratuite
Intégrations introuvables
Version gratuite
Version d'essai gratuite
Pourquoi ce message s'affiche-t-il ?
Robert
Project and Planning Manager (Suisse)
Sports, 501-1 000 employés
Temps d'utilisation du logiciel : 1 à 5 mois
Alternatives envisagées :
Easy, engaging & exactly what we needed!
Commentaires : eloomi has helped us streamline and optimise the way that we pass on education within our organisation. Our organisation is global and extremely fast paced and so we need a tool that can expand, evolve and scale organically over time. Time will tell how this goes but our initial experience with eloomi has been nothing but outstanding.
Avantages :
Choosing, setting up and subsequently using eloomi has been a breeze. This is a platform that has been adopted smoothly and efficiently by our users. We decided to start at a small scale and expand over time. The eloomi team has been nothing short of outstanding in their customer service, support and assistant to set up and make sure the platform is a success for us. We have found our integrations to be very smooth with the system and find that the UX and UI experience is outstanding, a very important factor for our organisation. For anyone looking for an LMS, eloomi comes with our highest recommendation!
Inconvénients :
Since eloomi is still setting up, we found that some of it's additional products, such as talent management, didn't quite fit our needs yet, but as what we were looking for was an LMS, it met our needs perfectly. In terms of what we have now, there is nothing negative I can say about it.
Erin
Compliance Training Officer (É.-U.)
Services financiers, 1 001-5 000 employés
Temps d'utilisation du logiciel : 6 à 12 mois
eloomi for FinTechs
Commentaires : eloomi was able to allow us to track test answers and attempts to pass, which is recommended for any compliance training for financial institutions. Not all LMSs have this feature. We were transitioning away from our previous LMS to eloomi and it was fairly seamless, though we have been waiting on the API integration piece so I cannot speak to that.
Avantages :
The best part of eloomi is how easy it is to use and train others to use. The included training guides are helpful as is the eloomi help website, but I did not find myself having too many questions. The system is just so nice with the drag and drop features and how self explanatory everything is. For an all-in-one LMS + course builder, eloomi is an amazing tool!
Inconvénients :
My cons are to do with the content provider, Skillsoft, not really with eloomi. Skillsoft's modules came with diversity challenges as do most US-based banking/compliance training content and they did make a permanent change at our request, but it took a long time for them to take the request seriously and act upon it. Additionally, there is a playback error message that constantly persists if users do not complete the module in one sitting that is taking months to resolve. It is based within Skillsoft's SCORM communication with eloomi and eloomi has been patiently working with me as I find more examples. eloomi's support has been great through the process.
Rubén
Learning Experience Jr Manager (Mexique)
Utilisateur LinkedIn vérifié
Services financiers, 201-500 employés
Temps d'utilisation du logiciel : 1 à 5 mois
Alternatives envisagées :
Great & appealing learning experiences
Commentaires : eloomi has been a great solution for our learning needs. It's friendly, sexy, powerful, flexible & available to take it anywhere and anytime for your learning requirements. We are also going to implement the Performance Management/Appraisal modules, definitively a plus to integrate solutions in one platform.
Avantages :
eloomi's interface is definitively a catch but it doesn't stop there. LMS platform is robust, well constructed, logical and easy to use for final users. Plus, you can configure pretty much anything you want on the platform the way it best suits you. Online modules work great either with presentations, videos, SCORMs, tests, content designed directly on the platform or the sum of all of the previous. Webinar and on-site courses scheduling is useful and works great for planing and managing groups. Gamification features are pretty nice and the certificate generator is a great reward for completing learning experiences. Reporting is another key aspect that deserves a standing ovation. You can gather pretty much all of the information needed with a few clicks, in minutes or simply automate it to receive it periodically. You can do online modules tracking, analysis of the evaluations/tests or even comparisons from a survey. On the admin side, you've got a lot of useful tools. But don't worry, Customer Service is there for you to solve any issue very quickly. Implementation was definitely some work to do, but we were always supported by the best assistance we could ever dream of; which made the journey very enjoyable.
Inconvénients :
The platform comes with plenty of translations to multiple languages and we mostly use spanish & english versions. English is perfect, but the spanish translations sometimes require local adaptations and a little bit of polish in the use of some words. It's not really a complaint but it's the only not so good thing about eloomi that I could think of.
Bernhard
L& D Manager (Suède)
Utilisateur LinkedIn vérifié
Logiciels, 201-500 employés
Temps d'utilisation du logiciel : plus d'un an
Efficient and reliable platform
Avantages :
We use eloomi mainly for internal formal training. The migration from our previous platform and roll out went smoothly, with great support from everyone at eloomi. The platform is shipped with a lot useful out-of-the-box functions and features that allow administrators to quickly set up departments and establish a user hierarchy, grant dedicated user access and set up notifications. Our learners appreciate the clean UI that allows them to easily identify the learning that is available and keep track of deadlines of mandatory courses or programs. It is easy to enable others to administer parts of the platform or to provide content, which was a huge plus since we are a small team working with L&D.
Inconvénients :
We use dedicated e-learning authoring tools, but sometimes it's more efficient to create smaller courses directly in the LMS. I wish there would be better options to create courses within the platform. The content editor is a bit limited and the quizzes don't offer a greater variety of question- or quiz types. Another area of improvement would be providing automated workflows especailly for assigning learners to courses or programs.
annie
Senior Accounting Manager (É.-U.)
Services et technologies de l'information, 10 000+ employés
Temps d'utilisation du logiciel : plus d'un an
An effective software.
Commentaires : I was looking for a learning management system (LMS) that would help me manage my online courses. I decided to go with eloomi because they offer a system that is simple, easy to use, and affordable.The eloomi dashboard is easy to navigate and it's easy to create course content. The performance management dashboard is also easy to use and allows me to monitor the students' progress.The eloomi system is perfect for me.
Avantages :
I've been in the IT field for over 20 years and have worked for a lot of companies. But I've got to say, I've never seen a company that has one product that is so versatile and can be used in so many ways. eloomi is a learning management system, a performance management system, a marketing tool, and a web portal. It can be used in so many ways to help you learn, perform, market, and manage your business.
Inconvénients :
My overall rating will be positive because everything works flawlessly and it has an extremely easy-to-use interface. It takes an average of 10 minutes to adapt to the software.