Description de Soda PDF
Soda PDF Anywhere est la première solution PDF entièrement fonctionnelle disponible à la fois comme logiciel pour ordinateur de bureau et comme application web. Les utilisateurs ont la liberté d'utiliser tout appareil doté d'un navigateur web (ordinateurs de bureau, ordinateurs portables, smartphones, tablettes) pour accéder aux nombreuses fonctionnalités spécialement conçues pour augmenter la productivité : conversion de fichiers PDF, outils d'édition, de révision et de sécurité, fonction de signature électronique fiable, numérotation Bates, intégration du cloud et bien plus encore. Essayez gratuitement cet outil dès aujourd'hui.
Qui utilise Soda PDF ?
Les petites, moyennes et grandes entreprises ont adopté avec succès Soda PDF pour leurs besoins en gestion de documents et ont obtenu d'importants gains de productivité.
Où peut-on déployer Soda PDF ?
Basé sur le cloud
Sur site
---
À propos de l'éditeur
LULU Software
Situé à Saint-Laurent, Canada
Fondé en 2009
Assistance Soda PDF
Support téléphonique
Chat
À propos de l'éditeur
LULU Software
Situé à Saint-Laurent, Canada
Fondé en 2009
Assistance Soda PDF
Support téléphonique
Chat
Soda PDF en vidéos et en images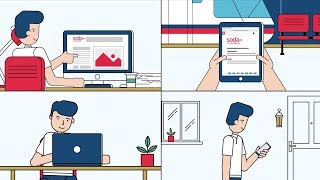 Comparez le prix du logiciel Soda PDF avec ses alternatives
Fonctionnalités - Soda PDF
Annotations
Archivage et rétention
Authentification
Classification des documents
Contrôles/Permissions d'accès
Conversion de fichier
Conversion en PDF
Cryptage
Filigranes
Fusionner et ajouter des fichiers
Gestion des formulaires
Mise en forme de texte
Notes et commentaires
Outils de collaboration
Partage des fichiers
Pivoter des pages
Recherche en texte intégral
Reconnaissance optique de caractères
Retouche numérique
Réarranger des pages
Saisie de documents
Signature électronique
Stockage de documents
Suppression de pages
Andres
Senior Operations Analyst (Paraguay)
Utilisateur LinkedIn vérifié
Développement et commerce international, 5 001-10 000 employés
Temps d'utilisation du logiciel : plus d'un an
Amazing set of PDF tools that includes OCR
Commentaires : After scanning all the physical documentation that I had in my office, I managed to transfer it to digital format through the OCR tool that has Soda PDF, which allowed me to have a better management of my documents, since previously I had to review a large amount of files in search of some document. Also, I can edit PDF files according to what I need and sign them digitally.
Avantages :
I like the fact that you have an OCR tool to recognize the text in the images, so you can then edit that text in PDF. You can convert PDF files to Word, Excel, RTF and other formats. Another advantage of using Soda is that I receive email updates about its new features, which include instructions for use and video tutorials. Also, I can create a custom toolbar, where I include the tools I use most.
Inconvénients :
At times, when trying to print files in batches, the software stops responding and I have to open the documents again.
Deborah
Virtual Assistant (É.-U.)
Utilisateur LinkedIn vérifié
Formation professionnelle et coaching, Auto-entrepreneur
Temps d'utilisation du logiciel : plus d'un an
Alternatives envisagées :
Quality features - Fair Pricing - Watch for VERSION selection while using the software
Commentaires : When creating documents for publication there are processors first, then the PDF export (which needs to be changed depending on the Printer's specification). Then, after the proof is seen and edited, there are changes to make. I am grateful we have this software to easily delete pages that need to be updated, and then merge in the page that is corrected. The time saving, and reducing the possibility of additional issues (no need to export the whole document again). My only suggestion is a clearer path to customer data, integration for updates to plans, and clearer communication when software updates or renewals are due.
Avantages :
It was difficult to find software that has merging and conversion features. When I first tried Soda PDF I had a limited edition free forever plan. Highly helpful to find out if it was going to work for what I needed. Once I learned how easy it was, I purchased the standard software plan. Merging, Converting, Deleting pages (that have been updated and new ones added). I've created two books and two decks of cards for publishing for clients using this tool ''after'' the documents were ready to export to PDF.
Inconvénients :
An improvement I would like to see is the update between plans. For example, I purchased the standard plan after using the free forever plan. When I updated I ended up with both versions (and need to keep both), but, sometimes I'm in the middle of working on something and I get an error saying "Your plan does not include this feature, Update now ..." and the automation tries to sell me a plan I already own (but have not remembered a couple of times thought my plan had expired). It would be helpful if the VERSION of the plan is integrated for each customer using the software. CON: There does not seem to be a customer dashboard where I could see what products I have purchased and when they are due to renew. The problem with this is now I'm back on the free forever version, my standard service expired, but I didn't realize it until I was in the midst of working on a document.
Réponse de l'équipe de LULU Software
l'année dernière
Hello Deborah, Thank you for sharing that you like how our program performs and find it cost-effective. We also appreciate your feedback regarding our upgrade system, we have forwarded it to the corresponding department. You can check your license details by clicking on your name in the right upper corner. Then choose Manage Products. If you need any assistance with your license, please contact our support at info@sodapdf.com and we will surely help you.
Mona
Office Manager (É.-U.)
Cabinet d'avocats, 11-50 employés
Temps d'utilisation du logiciel : 1 à 5 mois
Alternatives envisagées :
Generates and edits PDFs for free
il y a 3 semaines
Nouveau
Commentaires : In the case that it worked like it should, this would be of use to many people. I did not experience that however and I won't use Soda PDF in the future.
Avantages :
This is a less expensive way to generate and edit PDFs, if using the free version. Soda is similar to the expensive software and still identifies text within images and converts Word and Excel to PDFs. E-signing is included and saves time in a variety of situations.
Inconvénients :
It isn't reliable at all, I click and nothing happens, I wait and nothing happens, crash.. Customer support could've been more helpful and polite.
Réponse de l'équipe de LULU Software
il y a 3 semaines
Hi Mona, Thank you for letting us know that Soda PDF crashed on your PC. We will forward your feedback on the support to the appropriate team. We would be happy to help you improve your experience with us, please don't hesitate to contact our tech experts in the live chat: https://support.sodapdf.com/hc/en-us
Équipement et fournitures de bureau, 2-10 employés
Temps d'utilisation du logiciel : plus d'un an
Good but Unstable and Deceiving $$
Commentaires : Very disappointed at the present moment
Avantages :
Like the product functionality and ease of use
Inconvénients :
Program keeps reverting back to free and then you asks you to pay fir a subscription you already have. Have been caught twice now - had assistance the first time and the recently am 13 days outside a refund which apparently now is technically impossible??? Very disappointed with the instability and deceitful way it keeps asking to pay when you already have paid.
Réponse de l'équipe de LULU Software
il y a 2 mois
Hi Toni, Thank you for sharing that you would like to get a refund because Soda PDF logged out from your account. You need to add the program to the exceptions of your antivirus that can block the connection with the server and log you out. If you need any help with it, you can reach out to us in the live chat. Our team can also help you with the refund. To open the Chat, please follow the steps below: 1. Open the support page: https://support.sodapdf.com/hc/en-us/ 2. Click on the Support widget in the left bottom corner of the page 3. Type any word and press Enter 4. Then select the Get in Touch option at the bottom of the widget to start the conversation.
Marko
Director (Serbie)
Utilisateur LinkedIn vérifié
Ressources humaines, 2-10 employés
Temps d'utilisation du logiciel : 1 à 5 mois
Source : GetApp
Alternatives envisagées :
Be careful when buying through a limited offer
Avantages :
It offers nice pdf editing features required for a small company.
Inconvénients :
Didn't really like the overall buying experience. We've got a limited-time offer to upgrade from a free trial. The price was supposedly around $46 for a Pro version (1-year subscription), but then we were shocked to see we were charged almost the double amount - $85. It appears they included a bunch of spam products in this subscription, but it was not really clearly presented to us, end-users. Also, we didn't get the Mastercard 3Dsecure confirmation code, so that's a major security concern.
Réponse de l'équipe de LULU Software
il y a 3 mois
Hello Marko, Thank you for letting us know that the buying process is not clear enough, we will forward this feedback to the appropriate team. We will also info them about you not getting the confirmation code, they will double-check it. if you want to get a refund for the additional programs, please reach out to our support team in live chat. To open the chat, please follow the steps below: 1. Open the support page: https://support.sodapdf.com/hc/en-us/ 2. Click on the Support widget in the left bottom corner of the page 3. Type any word and press Enter 4. Then select the Live Chat option at the bottom of the widget