Description de My Music Staff
**Le logiciel idéal pour : INTÉGRATIONS DE LEÇONS VIDÉO** My Music Staff est le logiciel idéal de gestion de studio qui automatise la façon dont vous gérez votre studio de musique. Planifiez des leçons, créez des factures, enregistrez des paiements, etc. Si vous recherchez une solution tout-en-un qui vous fera gagner du temps et de l'argent, alors votre recherche s'arrête ici. Découvrez pourquoi de plus en plus de professeurs de musique choisissent My Music Staff. Profitez dès aujourd'hui de votre version d'essai GRATUITE pendant 30 jours ! Assistance par e-mail et téléphone illimitée gratuite.
Qui utilise My Music Staff ?
Les professeurs de musique indépendants et les studios comptant plusieurs enseignants qui ont besoin d'un logiciel abordable et facile à utiliser afin de gérer les aspects fondamentaux de leur activité d'enseignement.
Informations sur My Music Staff
Port 443
Fondé en 2004
Informations sur My Music Staff
Port 443
Fondé en 2004
My Music Staff en vidéos et en images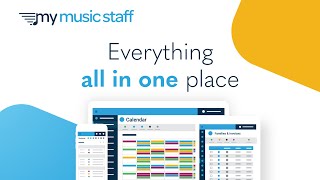 Comparez le prix du logiciel My Music Staff avec ses alternatives
À partir de
12,95 $US/mois
49,00 $US/mois
N/A
s/o
Déploiement et prise en charge de My Music Staff
Ressources d'aide
Service client/e-mail
FAQ/forums
Base de connaissances
Support téléphonique
Chat
Formation
En ligne en direct
Documentation
Vidéos
Fonctionnalités - My Music Staff
API
Calendrier des événements
Carnet d'exercices
Comptes clients
Emplacements multiples
Facturation
Facturation récurrente et des abonnements
Formulaires personnalisables
Gestion de la communication
Gestion de la paie
Gestion des calendriers
Gestion des clients
Gestion des cours
Gestion des e-mails
Gestion des employés
Gestion des enseignants et du personnel scolaire
Gestion des factures
Gestion des inscriptions
Gestion des présences
Gestion des répertoires
Gestion des stocks
Gestion des étudiants
Gestion des événements
Historique des transactions
Importation et exportation de données
Inscription en ligne
Inscriptions et intégrations
Intégration de sites web
Intégrations de tiers
Messagerie SMS
Modèles d'e-mails
Paiements en ligne
Paiements électroniques
Planification
Planification automatisée
Planification des cours
Planification des événements
Portail client
Portail libre-service
Portail parent et étudiant
Portail étudiant
Pour écoles de musique
Rappels
Rappels par e-mail
Rapports en temps réel
Rapports et statistiques
Rapports personnalisables
Réservation de chambres
Suivi de la progression
Suivi des présences
Synchronisation du calendrier
Tableau de bord d'activités
Traitement des cartes de crédit
Traitement des paiements ACH
Logiciels pour écoles de musique : afficher la liste complète
API
Apprentissage asynchrone
Apprentissage collaboratif
Apprentissage mixte
Apprentissage mobile
Apprentissage synchrone
Authentification unique
Autoapprentissage
Bibliothèque de contenu
Certification et licences
Conformité SCORM
Conférences vidéo
Création de cours
Création de cours intégrée
Enquêtes et feedback
Entreprises
Entreprises de formation en ligne
Gamification
Gestion de contenu
Gestion de l'apprentissage
Gestion de l'e-commerce
Gestion de la conformité
Gestion de la formation
Gestion des affectations
Gestion des cours
Gestion des talents
Gestion des utilisateurs
Gestion des évaluations
Intégrations de tiers
Mesure des performances
Parcours et suivi d'apprentissage
Portail des apprenants
Portail des employés
Portail libre-service
Prise en charge de plusieurs langues
Rapports de suivi
Rapports et statistiques
Rapports personnalisables
Relevé de notes
Stratégie de marque personnalisable
Suivi de la conformité
Suivi de la progression
Suivi des activités
Suivi des certifications
Suivi des compétences
Suivi des cours
Tableau de bord d'activités
Tests et évaluations
Université/Écoles
Évaluation des compétences
Outils LMS (Learning Management System) : afficher la liste complète
Matthew B.
Owner / Music Director (É.-U.)
Utilisateur LinkedIn vérifié
Musique, 2-10 employés
Temps d'utilisation du logiciel : plus de deux ans
Alternatives envisagées :
Couldn't run my music school without it
Avantages :
It is extremely simple and easy to use. I only use the Students, Family and Calendar portions of it, and it serves well beyond what I need it for. So easy to view schedule and filter and organize it based on location, teacher, student, etc. i LOVE , as do the parents, the 24-hour in advance automatic reminders auto-texted or e-mailed (your choice).
Inconvénients :
Besides a couple of very minor workflow impedances, it would be nice to integrate the calendar with an existing website, rather than only having the option to do so with the current website.
Caitlin S.
Studio Owner and Teacher (É.-U.)
Musique, 2-10 employés
Temps d'utilisation du logiciel : plus de deux ans
The Best Software on the Market
Commentaires : Excellent. I recommend them to all my friends who are also music teachers.
Avantages :
Honestly, there are too many to list. Here are a few: the automation features in invoicing and scheduling save me hours of work, I love that I can have multiple teachers on a single account, I love the student portal and practice log feature.
Inconvénients :
Any time I've felt that something could be improved upon I've written to the company and they've been very helpful every time.
Musique, Auto-entrepreneur
Temps d'utilisation du logiciel : plus d'un an
A Wonderful Company and A Game Changing Service
5
il y a 4 semaines
Nouveau
Commentaires : I'm also deeply impressed with the customer service. The team has helped me more than once to solve problems I made myself, and they've done so with courtesy and speed. I'm grateful to them!
Avantages :
My Music Staff was recommended to me by a fellow music teacher as a way to tame the chaos of running a music teaching business with separate billing, scheduling, and student management systems. Boy, was she ever right! Using MMS has upgraded my business dramatically and saved me so much time and energy. Students now access their Zoom links easily from within the student portal. Bills go out automatically and are paid without fuss (and parents prefer the automatic billing, too). I also love that I can build a library of online resources for my students and refer them to it rather than needing to send the same music and songs over and over again. Honestly, using MMS has been a total game-changer for me and I'd recommend it to any music teacher with 100% enthusiasm.
Inconvénients :
It does take some time to learn the system and to input all of your students' info - but it's worth it.
Laurice V.
Managing Director (Irlande)
Musique, 2-10 employés
Temps d'utilisation du logiciel : 6 à 12 mois
Review
Commentaires : Overall it has been good. Customer Service is quite quick once you get matched with a member. The Support centre and Pinterest links and How-To's are done very well. Not the mention the lovely additional bits like Social Media Calendar and worksheets for the kids is so lovely! And helpful!
I really like using it every day personally and so do my Staff. But my students, not so much. It's only easy to use when you are using it for a couple hours a day like me, otherwise its a total mind field
Avantages :
I like the amount of customisation. The calendar Sync. The website functionality and the Families & Invoicing section.
Inconvénients :
It is not user friendly for the public. It is far too complicated for my business. For example if someone wants to sign up for a course they have to go through Student Portals. Log In. Emails. Setting it up. Saving it to the Homepage. Then they cant pay immediately they have to wait for an invoice and then log in again and finally enter their bank details. I am im discussions of discontinuing with this software. While it has great benefits for Admin it really is too complicated for the public and inviting new customers in. Therefore it is not for us in the long term.
Musique, 2-10 employés
Temps d'utilisation du logiciel : 6 à 12 mois
My Music Staff review first year
Commentaires : I definitely have been having a great experience with My Music Staff. Especially their actual staff members. I spoke with [SENSITIVE CONTENT] recently and she did a phenomenal job at helping me fix my accounting issues and invoicing issues. She was very easy to talk to you she listened to my concerns and questions that I had and took time to teach me how to fix my accounting problems. I had several students accounts that had it inputs put in the wrong way for discounts etc. and she was able to quickly spot what the problems were as well as allow me the time to fix them and explain why not to do what I did before and how to properly and put the information I need to moving forward and why. I told her I think it would be nice if My Music Staff will give her a bonus to make videos on how to create invoices and teaching users how to utilize accounting and how all of the features work together to help balance out the accounting page and create invoices all of the ends and outs! She would be great at that as well!
Avantages :
It's really kind of hard to pinpoint what specifically I like because there's a lot of features that I do like such as being able to schedule, pull reports, upload videos for our students, upload link sent of the learning material for our students, payroll etc
Inconvénients :
I don't like that I'm not able to use PayPal and stripe at the same time to except payments. I do have parents who like to pay through PayPal as well but I have to utilize a different source to receive those payments because only stripe or PayPal can be used one at a time. I wish that it was also a lot easier to understand how to utilize the invoice an account features. I have gotten pretty confused and had to call in and ask questions several times in order to really get the hang of it. It can be a bit confusing without that additional coaching to understand how to bill clients. I've had moments where my numbers were off because I gave an additional discount or I build them incorrectly and didn't understand how I did it or why.
Réponse de l'équipe de Port 443
il y a 3 mois
Hi Irma, thanks for a great review! We actually do have a number of tutorial videos already, including ones that go over various parts of invoicing. We also have a Getting Started Guide on our website that goes over how all of the features work together :)