Description de ScreenCloud
L'affichage dynamique n'a pas besoin d'être compliqué ou coûteux. ScreenCloud vous permet d'utiliser n'importe quel téléviseur, iPad ou tablette pour faire passer votre message de manière attrayante.
Planifiez, gérez et téléchargez du contenu sur vos écrans d'un simple clic, à partir de votre navigateur. Affichez facilement vos dernières offres, partagez les actualités de votre entreprise, affichez les médias sociaux de votre marque et bien plus encore.
Qui utilise ScreenCloud ?
Toute entreprise ou organisation qui souhaite communiquer à l'aide d'écrans, qu'il s'agisse de PME, d'entreprises, de start-up, de commerces de détail, d'hôtellerie, de centres d'enseignement, etc.
Informations sur ScreenCloud
ScreenCloud
Fondé en 2015
Informations sur ScreenCloud
ScreenCloud
Fondé en 2015
ScreenCloud en vidéos et en images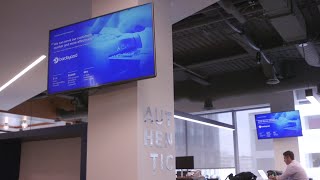 Comparez le prix du logiciel ScreenCloud avec ses alternatives
À partir de
24,00 $US/mois
35,00 $US/mois
8,50 $US/mois
49,00 $US/année
Déploiement et prise en charge de ScreenCloud
Ressources d'aide
Service client/e-mail
FAQ/forums
Base de connaissances
Support téléphonique
Chat
Déploiement
Cloud, SaaS, web
Mac (ordinateur)
Windows (ordinateur)
Android (mobile)
iPhone (mobile)
iPad (mobile)
Formation
En ligne en direct
Webinaires
Documentation
Vidéos
Fonctionnalités - ScreenCloud
API
Accès et contrôle à distance
Accès hors ligne
Accès mobile
Affichage dynamique
Alertes/Notifications
Bibliothèque d'images
Bibliothèque de contenu
Calendrier des événements
Conception et mise en page
Contenu interactif
Contrôles/Permissions d'accès
Données en temps réel
Emplacements multiples
Flux vidéo
Fonction de glisser-déposer
Gestion de contenu
Gestion de l'affichage à distance
Gestion de la publicité
Gestion des listes de lecture
Gestion des modèles
Gestion des utilisateurs
Gestion vidéo
Importation et exportation de données
Intégration des médias sociaux
Intégrations de tiers
Mise à jour automatique
Mises à jour en temps réel
Modèles personnalisables
Monitoring
Médiathèque
Notifications en temps réel
Piste d'audit
Planification
Planification automatisée
Planification de contenu
Planification des campagnes
Prise en charge de plusieurs écrans
Rapports et statistiques
Stratégie de marque personnalisable
Support multimédia
Support vidéo
Surveillance en temps réel
Sécurité des données
Tableau de bord d'activités
Tableaux de menus numériques
Widgets
XML et RSS
Éditeur WYSIWYG
Éditeur visuel
Logiciels d'affichage dynamique : afficher la liste complète
Fabian M.
Marketing and Communications Manager (É.-U.)
Utilisateur LinkedIn vérifié
Gestion de l'enseignement, 51-200 employés
Temps d'utilisation du logiciel : plus d'un an
Real-Time automated Digital Signage
Commentaires : It allows real-time and automated information about events and happenings at our school.
Avantages :
We use screen cloud to display live Twitter and Instagram feeds throughout our Campus. The interface is clean, easy to use and accessible via a web browser from everywhere. Lots of additional app integration are available and being added regularly. The Screencloud staff is very responsive and helpful. What I particularly like is the clean design of the displayed apps. It looks very professional.
Inconvénients :
Ideally, I would like even more customization on the look and fell of certain apps. But overall there is nothing I dislike so far.
Cameron M.
Intern (É.-U.)
Logistique et chaîne d'approvisionnement, 51-200 employés
Temps d'utilisation du logiciel : 1 à 5 mois
Alternatives envisagées :
ScreenCloud is very easy to use and the customer service is great!
Commentaires : I enjoy ScreenCloud a lot. It livens up the workplace and is easy to use. The customer service was great and they seem to really care about their customers.
Avantages :
When looking for a digital signage software, ScreenCloud was a little bit more expensive per screen than competitors, but in my opinion, a lot more easier to understand and use. Also, uploading your own videos and pictures is easy along with scheduling times for certain playlists. The customer service was also phenomenal compared to other software. I would email someone about a question, and then 30 minutes later I would have an answer! The team at ScreenCloud was very helpful and worked with us for a while in order to make sure we understood what we were buying and to help us understand all the different parts of the software.
Inconvénients :
The canvas feature has limited customizability and the app store doesn't have a ton of new apps. Using internal links is also not possible at the time but it seems like other services also do not have that feature. However, from talking to customer support, it seems like they are working on new apps and improvements all the time.
Réponse de l'équipe de ScreenCloud
il y a 3 mois
Hi Cameron, thank you so much for leaving us a review. It's great to see the value you're getting from using ScreenCloud and it's always a nice boost for the team to see their efforts recognized. We strive to create a great experience for our users and always welcome feedback on how we can make further improvements. If you'd like to submit additional feedback, please reach out to our support team at support@screencloud.com
Steve K.
I.T.Manager (Canada)
Construction, 51-200 employés
Temps d'utilisation du logiciel : plus d'un an
A great product, but not competitive pricing
Avantages :
We have used ScreenCloud for over a year. I always thought it was too expensive per screen. I had a need for a second screen to be added, and I came across OptiSigns. I reached out to ScreenCloud and asked about the second screen and if they could be competitive. I was told no. OptiSigns does the same thing as ScreenCloud, and even used our existing hardware (firetv stick), and is half the cost. At $10 per screen, it's a reasonable price for use to expand to more screens. So we switched.
Inconvénients :
The cost was too high, and there are similar and better priced products available.
Construction, 501-1 000 employés
Temps d'utilisation du logiciel : 1 à 5 mois
Great potential but a lot still to develop
Commentaires : This is just used as our entry way marketing material. This has been more of a head ache than it should have been.
Avantages :
Ease of use is a fact. I liked the layouts and basic idea of this product. That was about it.
Inconvénients :
Needs more native apps. Not a very "smart" program (i.e. have pictures in a custom zone to a special size - this requires me to go back to marketing team to re-edit the photos down to what the app can handle. This should be done as part of the program to allow for overall easier use). While the support team is quick to respond, they missed the mark greatly in actually addressing the issues and are rather snarky when you point out the pitfalls of the program. There are misspellings in the warnings that pop-up throughout their app. It is all around a work in progress.
Réponse de l'équipe de ScreenCloud
il y a 2 ans
Hi Mitch, this is Adam, the Head of the Support team at ScreenCloud. I'm really sorry you've been experiencing these issues. We take your feedback seriously, so thank you so much for taking the time to share this with us. We're always trying to improve our app and stay on top of an agile work environment and sometimes we don't meet the standards we want to achieve for our customers. Although we've built ScreenCloud to optimize your images to look at their best for your screens, in some cases you'll need to edit the dimensions of the image to capture the area you want to show the most. To make this easier, we've been developing a new app to help you do just that. We've also been revising our on-boarding experience to share the good practices as early as possible. I'd really appreciate it if we had a call to get to the bottom of this and also show you what we've been working on. I'll make sure to personally reach to you.
Runar I.
Systems engineer (Norvège)
Construction, 1 001-5 000 employés
Temps d'utilisation du logiciel : plus d'un an
Affordable, easily scalable and easy to use Digital Signage!
Commentaires : We're very pleased to be able to distribute digital signage to multiple locations, with little effort in terms of implementation, as well as eliminating the need for on-premise or LAN management.
Avantages :
Great support for most OS-types, low cost, versatile in terms of deployment, easy to use for users with basic IT knowledge. Cloud managed, only need local access to internet in able to manage a remote screen.
Inconvénients :
Required the use of a credit card, at the time of acquisition. Invoice would be better suited to our needs.
Réponse de l'équipe de ScreenCloud
il y a 3 mois
Hi Runar, thank you so much for leaving us a review. It's great to see the value you're getting from using ScreenCloud and it's always a nice boost for the team to see their efforts recognized. We strive to create a great experience for our users and always welcome feedback on how we can make further improvements. I'll pass on your feedback about the acquisition payment process to our product team. If you'd like to submit additional feedback, please reach out to our support team at support@screencloud.com