WellnessLiving
Description de WellnessLiving
WellnessLiving est une solution tout-en-un pour votre studio de fitness ! Cette solution propose un agenda, des fonctionnalités d'e-mail marketing, un reporting solide, des programmes de récompense,
Lire la suite
des journaux clients, des fonctions de gestion de la réputation, des commerçants et de la paie, etc. Aucuns frais supplémentaires pour intégrer votre emploi du temps à votre site, générer des avis, envoyer des notifications par e-mail ou SMS, mettre en place un programme de récompenses ou se servir du marketing automation, etc. WellnessLiving a été conçu par les clients, pour les clients !
Afficher moins
Qui utilise WellnessLiving ?
WellnessLiving a été conçu à partir des souhaits et des besoins des clients, en collaboration avec eux. Aucuns frais supplémentaires pour les logiciels complémentaires et une économie jusqu'à 40 % sur les frais de carte de crédit.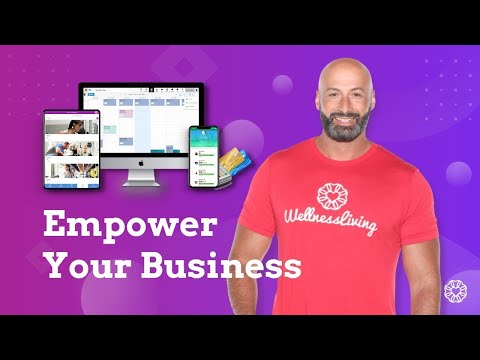 Vous hésitez à choisir WellnessLiving ? Comparez-le à une autre option populaire
Indisponible dans votre pays
Version gratuite
Version d'essai gratuite
Version gratuite
Version d'essai gratuite
Pourquoi ce message s'affiche-t-il ?
Alternatives à WellnessLiving
Lucie
Pilates Studio Owner
Utilisateur LinkedIn vérifié
Santé, bien-être et fitness, 2-10 employés
Temps d'utilisation du logiciel : plus d'un an
So Glad I Made the Switch
Sous-titres en français disponibles pour la vidéo
Justin
Managing Partner (É.-U.)
Utilisateur LinkedIn vérifié
Temps d'utilisation du logiciel : plus de deux ans
Fantastic software that is totally customizable to my business. Great service too.
Commentaires : Simple, customizable, and easy to use with great support. From my experience there is no service that even compares. Between the adaptable technology, amazing support, and ease of use I couldn't be happier. I hope every gym uses them, except my competitors.
Thank you, Wellness Living for making the success of my gym much easier, and for all your support.
Avantages :
I've been with Wellness Living for about 2 ½ years now. I've used multiple softwares at my gym in the past including EZ Facility, Zen Planner, and Mindbody. I've definitely had experience with other options. I must tell you, I have no intention of ever going back. Wellness Living has outperformed every other service I've ever used on every level. Every other service expected me to change my business to accommodate their software! That seemed crazy to me. Wellness Living adapted their software to my business's needs. That was huge for my business. On top of that, the app is fantastic, it works seamlessly and my clients love the ease of use for booking an appointment and purchasing additional services and products. Their support is second to none if I have a question or an issue it's never difficult to find someone and get it resolved quickly. The reporting is completely customizable which I love. The rewards program is easy to implement and has been fantastic for incentivizing the behaviors that grow our gym. The SEO boost I received from starting with Wellness Living has been great and made my job MUCH easier. Along the digital lines, I also have to say that their data migration was the easiest I've ever experienced. They handled everything. If you've ever experienced the typical nightmare of data migration you know how huge a benefit that is.
Réponse de l'équipe de WellnessLiving Systems
il y a 5 ans
Hi Justin! Thanks for your support and for taking the time to leave us a review. We at WellnessLiving know that software that you choose should work for your business, not against you, and we work hard to provide you with everything you could ever need. Our team is obsessed with making things work just the way you want, so we are so happy to hear that you¿ve had such an awesome experience with us over these past two-and-a-half years. Cheers to another!
Santé, bien-être et fitness, 11-50 employés
Temps d'utilisation du logiciel : plus de deux ans
Best club software!
Avantages :
I have used Mindbody, Shape.net, and other software that were not as user friendly and were over-priced. I have loved the support WellnessLiving offers as well as their monthly releases with new updates and features always trying to improve their product based on feedback.
Inconvénients :
I do not have any complaints and I would recommend Wellness Living to any business.
Réponse de l'équipe de WellnessLiving Systems
il y a 2 mois
Hey Lacey, Thanks for the review, we really appreciate it! WellnessLiving is a company built around a genuine customer focus because many of the other software providers like Mindbody aren't doing it. It affects the way you use the software, it affects your costs, it affects the quality of support, and all those things have a real impact on your business and the service you deliver to your clients. One example is that we are actively taking customer requests on enhancements and on the way they'd like to see certain features work, and we're actually making those changes to WellnessLiving to give you a consistently better product. It's amazing to the see the platform's evolution with each update release as you're able to provide more service options to your clients, utilize new integrations, and customize more to your liking with things like the store, the schedule, notifications, reports, you name it. Thanks for choosing WellnessLiving! Susan A. (Customer Advocate)
Utilisateur vérifié
Owner (É.-U.)
Utilisateur LinkedIn vérifié
Santé, bien-être et fitness, Auto-entrepreneur
Temps d'utilisation du logiciel : 1 à 5 mois
Source : GetApp
Alternatives envisagées :
Buyer's Remorse
Commentaires : Horrible. What's the point of having a customer service phone number and email address if you're not going to get back to people. I've been trying to finish setting up my payment processing account for the last 4 days and haven't been able to get ahold of anyone to help me finish it. I've emailed several people 5 times, called 3 times and left 2 voicemails, and haven't had any help. The one phone call I did get left a voicemail with vague instructions, and instructed me to call them back if I had questions. I called and haven't heard back.
Avantages :
I liked the idea of it. It offers very similar features to MindBody, and it's half the price.
Inconvénients :
I literally couldn't even make it to the onboarding process. It's not so much the software as it is the customer service.
Réponse de l'équipe de WellnessLiving Systems
il y a 7 mois
Hey Rachel, Thank you for taking the time to write us a review. At WellnessLiving we set out to deliver the very best in customer service and that means we spend a lot of time listening to our customers on what we're doing right and on what we can be doing to improve. It seems that you had some difficulties completing the merchant processing application and unfortunately without you providing the necessary information to the processor we cannot help much. Your dedicated Account Executive and Merchant Processing Specialist whom you have spoken with several times did all they could do, but we really need your help to complete the forms to get set up. We are here for you and will continue to do everything in our power to make this wrong right, we look forward to connecting today and once again walking you through what's required to take the next step. Talk soon! Adam T. (Customer Advocate)
Santé, bien-être et fitness, 2-10 employés
Temps d'utilisation du logiciel : plus de deux ans
Wellness Living Runs my business
Avantages :
The mobile app and widgets that integrate with my website are very useful in real time scheduling and re-scheduling clients.
Inconvénients :
The frequent updates are great but sometimes can get confusing and change things before you know how to use them in the update.
Réponse de l'équipe de WellnessLiving Systems
il y a 2 mois
Hi Erin, We appreciate the great review! WellnessLiving makes it so easy to handle the different parts of your business all from a single login, and it's all on the cloud so you can do it from your phone or from your computer, even if you're not at the studio. Plus, clients can log in to the app and make bookings on their own, which helps make it easier for you track attendance and keep your classes full! It's all about harnessing the power of software to help your business grow through easy-to-use tools like our automations and client management system, mostly hands-free! We're consistently updating our software with the latest enhancements and functionality updates our customers have been asking for and that user-end focus has helped bring over a lot of studios from Mindbody. We still have our mind toward supporting small businesses and we appreciate the opportunity to work with your studio! Thank you for choosing WellnessLiving. Jayden A. (Customer Advocate)
Sara
Wellness Studio Owner (R.-U.)
Santé, bien-être et fitness, 2-10 employés
Temps d'utilisation du logiciel : 1 à 5 mois
Alternatives envisagées :
New User Feedback -
il y a 3 semaines
Nouveau
Commentaires : Great automation, simple and easy booking system with access for all my team. Easy to use a great for client journey especially with the white label app which looks great! Lots of training, detailed onboarding and tech support whenever required. Had a fantastic session with my Business Advisor [SENSITIVE CONTENT] who gave load of tips I could put into action immediately to improve sales and client journey.
Avantages :
Team set up data migration from the previous company, fantastic feedback on ease of use of app, so much functionality and automation. Starts to become intuitive after a while. I'm really liked how it can do all of my bookings, reports and create a full client journey. Everything is in 'real time'.
Inconvénients :
So much still to learn, little errors when setting up can set me back but the customer support team have been great and advising and resolving everything! New clients who are not as tech savvy, try to sign up and get confused by clicking Facebook/Google to sign up as it the first thing they see. They forget their password/struggle and give up or phone me because they have miseed the 'Sign Up' call to action at the bottom - would prefer this to be the first prompt.
Réponse de l'équipe de WellnessLiving Systems
il y a 2 semaines
Thanks for the great review Sara! We're glad to hear you're having a good time with ease of use on the app and with the software. WellnessLiving not only provides the various tools you need for your day-to-day but importantly it combines them into a an intuitively packaged platform so it's simple to learn, and easy to switch from one feature to another. We've focused much of our tech development into the ease-of-use factor, and we continue to do regular updates to add little tweaks into the interface (in addition to adding new features) so that you can count on an experience that keeps improving over time. We even added a tool in a recent update (based on customers requesting the same option!) so you can omit the Facebook/Google sign up and have the main 'Sign Up' button appear first on the screen. Please don't hesitate to contact our Support team or ask our experts on the Community Forum, we'd be happy to help you enable that in Setup. Thanks for choosing WellnessLiving! Natasha B. (Customer Advocate)