Qui utilise TeamGantt ?
Vous gérez un projet impliquant plusieurs collaborateurs ? TeamGantt est fait pour vous.
Description de TeamGantt
TeamGantt est un logiciel de collaboration et de planification de projets facile à utiliser. Tout ce dont vous avez besoin pour planifier et effectuer votre travail en un seul endroit. TeamGantt combine des diagrammes de Gantt intuitifs et très bien conçus, la communication au niveau des tâches, le partage de fichiers, les ressources d'équipe et bien plus encore dans une seule interface tout simplement belle. L'essayer c'est l'adopter : inscrivez-vous dès aujourd'hui pour bénéficier d'une version d'essai gratuite de 14 jours !
Informations sur TeamGantt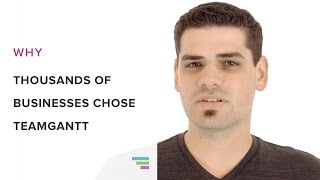 Play
Présentation des tarifs de TeamGantt
TeamGantt est disponible en version gratuite et propose un essai gratuit. La version payante de TeamGantt est disponible à partir de 7,90 $US/month.
---
Déploiement et prise en charge de TeamGantt
Ressources d'aide
Support en horaire de bureau
En ligne
Déploiement
Cloud, SaaS, web
Mobile (iOS natif)
Mobile (Android natif)
Formation
Formation en ligne en direct
Webinaires
Documentation
TeamGantt - Fonctionnalités
---
Note moyenne
Facilité d'utilisation
4,5
---
Évaluer le logiciel
Partagez vos expériences avec d'autres acheteurs de logiciels.
Écrivez votre avis !
Phillip S.
Software Director
Télécommunications, 11-50 employés
Temps d'utilisation du produit: 6 à 12 mois
Note globale

Facilité d'utilisation

Fonctionnalités

Support client

Rapport qualité-prix

Probabilité de recommander le produit
Source de l'avis

Source : GetApp
Publié le 25/05/2016
"A Highly Polished Project Management Tool"
Commentaires: Team Gantt scores very highly in all areas from me. As the head of a software team I schedule our quarterly delivery plans. Being centralised online I can convey where we are in the plan to anyone, anywhere. As a software engineers ourselves we really appreciate the skill that has gone in to making the app look and perform so well. Before we were using MS Project. That was expensive and so overcomplicated. I would recommend all MS Project users that use MS Project in a light to medium capacity to change horses.
Avantages: Very easy to use
Very friendly sophisticated look to it makes it a joy to use
Love the way you can put projects next to one another to quickly see resource and timeline clashes
It has great integrated one-to-one chat with TeamGantt support who have answered my few questions promptly and professionally
Inconvénients: I have a use case whereby I may have a long list of tasks to add to my Ganttt chart, drawn from a software development package into excel. It would be great if I could bulk insert tasks. I know I can do this by creating a new temporary project, bulk importing on project create and then dragging them from that project into my project. It is a reasonable workaround but if I could do it directly it would be a cherry atop a very fine cake.
Source de l'avis

Source : GetApp
Publié le 25/05/2016
Amy P.
Co-owner
Conseil en gestion, 2-10 employés
Temps d'utilisation du produit: 1 à 5 mois
Note globale

Facilité d'utilisation

Fonctionnalités

Support client

Rapport qualité-prix

Probabilité de recommander le produit
Source de l'avis

Publié le 08/09/2020
"Great Project Management System for Teams Tracking Many Projects"
Commentaires: As a small consulting business, we've been able to streamline all our project tasks, allocations of staff time, and overall project timelines using this system so that we can see it all in a glance. We're easily able to decide who has free time for emerging projects, plan ahead for busy weeks, adjust schedules, and keep all our communications organized within the software platform. With all our work being virtual, this is extremely helpful for our staff, as well as our clients, to stay on track and share progress. Although it's more than we'd hoped to pay, it's been beneficial because it has all the features we need and we are all excited to actually USE it.
Avantages: My team is relatively small, so we work on multiple projects at any given time. It has been difficult to find a project management system within our budget that allows for users to see timelines and task lists for multiple projects together on either a gantt chart or task list. This allows for both! And it also allows us to assign multiple people to any task, which is beneficial for a nimble company like ours. The software allows for all other things that comparable gantt-focused PM software offers (dependencies, document uploads, etc.) but those two features made us decide to switch to TeamGantt. In addition to the features, we really like the layout and easy user navigation. It took no time at all for us to learn. So far, we have been extremely happy with the software.
Inconvénients: The cost of the software is a bit high, but it is comparable with things like Monday or Smartsheet. We were using Avaza before, which had many of the features of TeamGantt, but was less user friendly and visually appealing. For three times the cost of Avaza, we get what we want with project management, but we don't get time-tracking (an additional cost) or accounting basics (invoicing, etc.) That is the only downside, that we'll have to use additional software for those things. Many other orgs might already be using Quickbooks or some other accounting software, so that might not be a big deal. The other challenge was importing our project management data from another system to TeamGantt. It didn't recognize all the same categories so we had to input some stuff manually. Finally, their mobile app is basically useless. There's no gantt chart and you can't update anything. It's basically a way to check your to-do list when you're not at your computer.
Source de l'avis

Publié le 08/09/2020
Matthew R.
Project Manager
Temps d'utilisation du produit: plus de deux ans
Note globale

Facilité d'utilisation

Fonctionnalités

Support client

Rapport qualité-prix

Probabilité de recommander le produit
Source de l'avis

Publié le 03/10/2017
"TeamGantt offers simple gantt charting but lacks product polish"
Commentaires: This tool makes sharing my gantt charts with clients a breeze.
Avantages: TeamGantt offers a clean view of the gantt chart and visually is nice to see who is working on what tasks in line with the bar. But really what lead me to purchasing this software, is its sharing capabilities. TeamGantt allows me to share my charts with other users without the need for a login. This combined with the ability to embed it in webpages has been critical for radiating timelines to clients.
A common feature in these types of products I generally don't like is the "sync to calendar" feature. However, you can tell TeamGantt spent some time on this feature, and it works surprisingly well.
Inconvénients: Where TeamGantt fall short is in their overall product polish. The user experience and underlaying design is flat out annoying. Something as simple as undoing a date change can take minutes to figure out and may not even be possible if the site didn't record it in its history. Resizing the charts is a pain and you can't even resize the tasks column. The way projects are listed in the left panel is also very difficult to read and navigate. These things can all be summarized in just the UX design. The feature set is robust and I don't think its lacking anything their customers really are asking for, at this point it just needs to be giving some TLC.
Source de l'avis

Publié le 03/10/2017
Nathan S.
Digital Marketing Manager
Logiciels, Auto-entrepreneur
Temps d'utilisation du produit: 6 à 12 mois
Note globale

Facilité d'utilisation

Fonctionnalités

Support client

Rapport qualité-prix

Probabilité de recommander le produit
Source de l'avis

Source : GetApp
Publié le 17/07/2019
"TeamGannt - My Recommended Project Management Tool"
Commentaires: If you are familiar with the Gannt system this will be easy for you to pick up and start with, setup can be quicker and there are advanced features if you want to get more complex with your projects. TeamGannt is comparable to MS project but is fairly cheaper to access than MS Project. I would say its not for everyone as it has a somewhat steep learning curve and may be better suited to those who have used Gannt charts extensively.
Avantages: TeamGannt helps you plan projects using the Gannt system. It is great at organization of tasks and sub tasks and is ideal for project managers who have studied or used the Gannt system. Great use of Gannt Chart techniques - A lot of techniques for building stellar Gannt charts have been integrated well into TeamGannt. For example if you wanted to extend a deadline for a specific task all you would need to do is drag the task across the timeline to move the duration. Task progress is also shown as percentages so you can see how much work has been done on a specific task. Cloud based, real time sync - All tasks and information is saved in the cloud, so you can access it wherever you have internet. This also means any changes are automatically shared across platforms and users. Share Function works even if you do not have an account - TeamGannt has a share feature that allows anyone with the link to see a project or charts without the need to log in. - The UI - The overall user interface is simplified with tutorials and overview videos available to help you set up your first project. You can also customize to your hearts content with multiple options and integrations that you can add and use.
Inconvénients: Moving from other project management apps may be challenging. For example if you export a project and want to import it into TeamGannt using Excel or CSV files directly into a live project, there is clear option to do this right now. The only way is a workaround hack which is really unnecessary in my opinion. If you want to get the most out of this software, you have to pay full price. The free tier may allow for several users but it is very limited in its breadth. So in a sense the price can be a letdown if you just wanted to test and see how the software functions. Maybe not a gripe if you have a lot of memory, but since TeamGannt is cloud based, you may find it challenging to use if you are building a complex project. Since it is browser based, it can be a bit laggy. Maybe having a dedicated app would be more useful but in our case, we found that all you needed to do was to refresh the browser.
Source de l'avis

Source : GetApp
Publié le 17/07/2019
Greg S.
Project Manager
Vente en gros, 1 001-5 000 employés
Temps d'utilisation du produit: plus d'un an
Note globale

Facilité d'utilisation

Fonctionnalités

Support client

Rapport qualité-prix

Probabilité de recommander le produit
Source de l'avis

Publié le 17/01/2020
"Flexible with integration ability"
Commentaires: We are using this to assign tasks and to publicly show progress on projects. Key users have accounts and they can't update their progress and regular users are able to use Trello to update things for free. Everyone is able to see status changes and updates for the export to URL option.
Avantages: I've been using TG for over a year on all of our projects. It's extremely flexible with how you can setup and track progress for all types of projects. I love the ability to share a public URL that has read only options for users to see real time progress. It also integrates well with Trello. Instead of buying more licenses for TG you can have users move cards in Trello that will update the status in real time within TG.
Inconvénients: The most painful thing for me as a user as well as an admin is the dependencies. One wrong click or drag can change every single task below it. They do have an undo feature, but it's going to show all 50 (for example) of the events as changes. In my opinion it should show the 1 change and all of the 50 causes under it. This was and is my only major complaint.
Source de l'avis

Publié le 17/01/2020