N-central
Description de N-central
La plateforme de gestion et de surveillance à distance SolarWinds N-central est conçue pour aider les prestataires d'infogérance à gérer des réseaux complexes avec facilité. Doté d'une automatisation
Lire la suite
étendue et d'options de configuration approfondies, de fonctionnalités de sécurité, telles que la gestion des antivirus et des correctifs, et d'une sauvegarde intégrée, N-central vise à aider les entreprises de prestations d'infogérance à gérer efficacement les réseaux complexes depuis une plateforme unique facile à utiliser.
Afficher moins
Qui utilise N-central ?
Fournisseurs de services informatiques et prestataires d'infogérance (MSP) en croissance.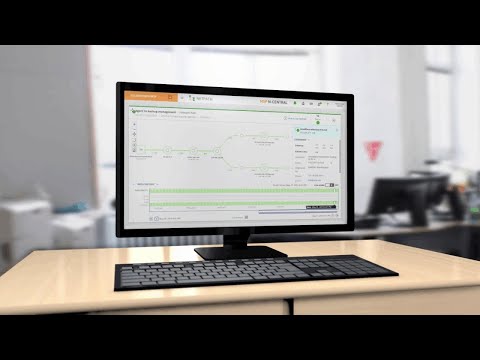 Vous hésitez à choisir N-central ? Comparez-le à une autre option populaire
Version gratuite
Version d'essai gratuite
Version gratuite
Version d'essai gratuite
Pourquoi ce message s'affiche-t-il ?
Michael
Vice President of Operations (É.-U.)
Utilisateur LinkedIn vérifié
Logiciels, 11-50 employés
Temps d'utilisation du logiciel : plus de deux ans
Alternatives envisagées :
A must have as a RMM solution for any MSP.
Commentaires : Easy to use and learn. A must have for our clients where time is of the essence when an incident occurs where downtime is business threatening.
Avantages :
The ability to automate as much as possible is key in our business. Using maintenance scheduling is one of the most important features and was key to choosing this product over others.
Inconvénients :
I wish there were more integrations with other industry software.
Elias
Centralized Services Administrator (É.-U.)
Services et technologies de l'information, 11-50 employés
Temps d'utilisation du logiciel : plus de deux ans
Alternatives envisagées :
Powerful RMM Tool, Reporting Can Be Improved
Commentaires : Overall, we have been very happy with the product. It does require some investment in configuration, but that investment allows for a very powerful product. I have been extremely impressed with N-Central management's willingness to help ensure our deployment is successful.
Avantages :
N-Central is very powerful and customizable. Configuration is very granular and allows experienced administrators to configure almost limitless monitoring. N-Central staff has gone above and beyond what was expected to make sure our deployment is successful.
Inconvénients :
Reporting could be improved. The reporting interface is very basic and requires a separate Microsoft Windows SQL server to use. From speaking with contacts at N-Central, this system is planned to be replaced in the very near future.
Jaden
IT Specialist (É.-U.)
Services et technologies de l'information, 51-200 employés
Temps d'utilisation du logiciel : 1 à 5 mois
Very helpful tool for MSPs
il y a 2 semaines
Nouveau
Commentaires : So far so good. This product has been great to use as we are migrating to it
Avantages :
I have only been using this tool for a few months. However I really like it. It seems to have more features and more reporting than other RMM tools we have used
Inconvénients :
The only feature so far that I am not in love with is being able to use remote background like we were able to previously.
Phillip
Director (Nouvelle-Zélande)
Informatique et sécurité réseau, 2-10 employés
Temps d'utilisation du logiciel : plus de deux ans
Covid-19 - reduction of services applied after 5 years during a pandemic.
Commentaires : Over all they are very good at taking your money and over the years have been hard to communicate with. It's all sales sales sales.
Avantages :
Over the years this software has been hit and miss, we would spend a lot of time trying to get errors fixed. It was getting better, they also keep changing the sales rep that deals with me. When they call they talk about a different business and advise the customers name and customer to me. It's happened twice!
Inconvénients :
The biggest thing I didn't like was when they removed remote control from my essential Licence's. To make it worse it was done over the covid-19 pandemic. they are asking me to buy Licence's and I have refused. We are social distancing and this has made it stressful for myself and my customers.
Réponse de l'équipe de SolarWinds MSP
il y a 3 ans
Hi Phillip, I'm very sorry that you are unhappy. Our decision to remove remote control from N-central Essentials licenses was made months before the COVID-19 outbreak. We believe Professional N-central licenses provide the proper remote monitoring and management capability that workstations and servers require. We understand that remote work and therefore remote control is very important for you right now. Therefore, we have offered SolarWinds Take Control Plus, a standalone remote support solution, free of charge for 90 days. In addition, for a limited time, Take Control Plus licenses also come with 25 additional end-user accounts (for a total of 35) for partners to extend to employees and clients. Simply complete this form before June 30, 2020 https://www.solarwindsmsp.com/products/take-control/trial You may also be interested in these resources to help you navigate this unprecedented time: www.solarwindsmsp.com/covid-19-resources Be well. - Shelley O'Brien, N-central PMM
Utilisateur vérifié
Systems Engineer (É.-U.)
Utilisateur LinkedIn vérifié
Services et technologies de l'information, 11-50 employés
Temps d'utilisation du logiciel : plus de deux ans
It works well most of the time, however...
Commentaires : SolarWinds is turning into a VERY large company. This is great as they get the cash flow to perform R&D and bring some interesting products and tools to the table, HOWEVER, this means they are reaching the point where one hand is not talking to another, products are becoming "designed by committee" and other issues that can be resolved with improved internal communication.
Avantages :
Working for an MSP this is a very feature-rich product for remote control, remote monitoring, deploying and monitoring Anti-Virus, and some backup features (However I DO NOT recommenced the ArcServe-based product.)
Inconvénients :
-Support has been very hit or miss and lately they have fallen into the "Miss" category -We had an issue where monitored services of a device were disappearing. After opening a ticket with SolarWinds support they informed me that the software cannot properly track how/why these services were disappearing from devices. This lead to at least 2 events where monitored hard drives were not longer being monitored, we were not made aware of it, the drives filled up, and services crashed -Product names keep being changed and we are not immediately made aware of it.