Forma LMS
Description de Forma LMS
Plateforme d'e-learning open source axée sur les besoins en formation des entreprises, comme l'intégrabilité, les tâches automatisées, la gestion des talents. Développée par un réseau d'entreprises,
Lire la suite
elle cible principalement les grandes organisations et les entreprises de consulting. Forma Lms comprend une gestion flexible des utilisateurs, des certificats intégrés, une marque blanche, un système de reporting, une gestion des cours en e-learning et en classe, une intégration de la visioconférence et une gestion des compétences.
Afficher moins
Qui utilise Forma LMS ?
Les moyennes et grandes entreprises et les sociétés de tous les secteurs du marché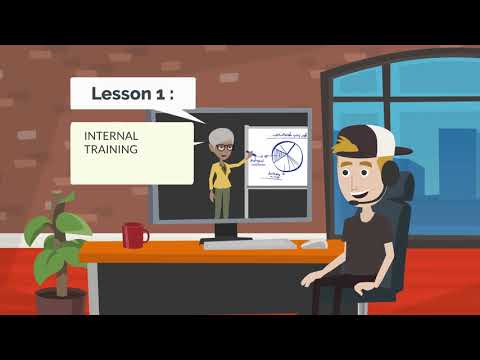 Vous hésitez à choisir Forma LMS ? Comparez-le à une autre option populaire
Version gratuite
Version d'essai gratuite
Version gratuite
Version d'essai gratuite
Pourquoi ce message s'affiche-t-il ?
Ankur
Credit Analyst (Inde)
Utilisateur LinkedIn vérifié
Services financiers, 1 001-5 000 employés
Temps d'utilisation du logiciel : plus d'un an
Alternatives envisagées :
Bringing revolution in e learning through Forma LMS. Its the need of the hour for businesses !
Commentaires : Forma LMS is the most comprehensive web based platform for making the e learning and authoring activities seamless without any major trouble. Also, its the savior for businesses as it meets the digital needs and requirements of businesses in most effective manner possible. Cheaper alternative to most of its competitors and stands out of the crowd due to its excellent features and utilities.
The authoring is collaborative and is fully available and functional on lower bandwidth also. The e content are stored in LMS appropriately and suits to the needs of the learners effectively.
Avantages :
Best open source web based e learning platform and software for strengthened learning for hybrid and remote workforce. The training and orientation of workforce is done effortlessly though Forma as it is one of the best collaborative tool for professionals and businesses presently. Talent management is easy and comprehensive through Forma LMS as it helps in selection of candidates through online assessment evaluation and selection. Online training in post pandemic era has become easiest than ever. Authoring e content is easy and is securely accessible to target learners.
Inconvénients :
No dislikes till date. Keep improving the addition of new features and utilities so that it never become obsolete from the market and stay relevant forever. The premium version should be provided in such a tariff mode so that utilities can be best met in most customizable mode. Rest of the features are superb.
Réponse de l'équipe de FormaLms
il y a 3 mois
Thanks for your review!
Srikanth
Assistant Manager-Projects & MIS (Inde)
Conseil en gestion, 501-1 000 employés
Temps d'utilisation du logiciel : plus d'un an
Alternatives envisagées :
The Best-in-class e learning platform solution for businesses and educational hubs ! Must try
Commentaires : My overall experience with Forma LMS is pretty good and satisfying so far. This e LMS platform is the one stop destination for all readers and learners who look for 24*7 seamless and uninterruped learning experience anytime, anywhere. One of the best learning platforms in the market which enables and strengthens one's learning experience and make it a fantastic one .
They are the only cost effective solution which helps all kinds of users on part of affordability and is accepted by one and all. Video conferencing and online streaming is extremely good with Forma LMS and is been recommended to all my peers.
Avantages :
The easy plugin installation and deployment across any devices is seamless and quick. Our Training, Assessment and Certification vertical is using the Forma LMS services for certification management and tracking the certification status now and then. Businesses enable their Learning management team to strengthen the knowledge transfer and management process through Forma LMS due to its advanced and high utility capabilities. It's an open source learning platform, mainly web based and comes with high utility features ranging from video conferencing, LMS management, customised module development online and curating blended (Both offline and online) courses so that it is relevant and accepted by all kinds of businesses and their users. Keep upgrading their utility features by improving the service offerings now and then.
Inconvénients :
We liked all the features and its utilities. No complaints till now. They should bring in more customised module features with high end application features for its applicability across different working sectoral environment.
Animation, 2-10 employés
Temps d'utilisation du logiciel : 1 à 5 mois
Free LMS with lots of features
la semaine dernière
Nouveau
Avantages :
LMS is quite a complex software and that's why most LMS software is offered as SAS, but Forma LMS came as free open source, no ads or annoying popups.Even though this is free software, Forma LMS gives us lots of features more than most of us need. And as an open source software, you can customize it as needed or buy an add-on to support this project.Forma LMS is best used for internal webinar/training.
Inconvénients :
Forma LMS has lots of features but unfortunately, the website itself lacks of detailed documentation, and there is no video tutorials.Also, I wish someday they created a modern and clean interface.
Conseil en gestion, 501-1 000 employés
Temps d'utilisation du logiciel : 6 à 12 mois
Alternatives envisagées :
Structure and Streamlined e-learning with Forma LMS. The best open source LMS for Businesses !
Commentaires : Well, its amazing and great till date. High level of professionalism and business ethics is shown by their people. Well applauded for their disciplined working and quick response on business front. All other partners are giving wonderful feedback about them so the peer recommendation is really strong and positive in case of Forma LMS. This is encouraging and welcoming.
The software is embedded with advanced e learning quick features which improve the learning experience and outcome and has greater impact on one's learning. The learning is life long with great output with Forma LMS.
Avantages :
E learning is facilitated effortlessly . No hassle and no cumbersome process Delivering training through this LMS is easy and no extra effort needed at all. Cost effective solution and not hard on pocket. It is cost effective across all financial aspects of all the services offered. Easy integration and seamless deployment with other external 3rd party dashboards and softwares. Easy to manage by learning audiences and target beneficiary Loved by all learners
Inconvénients :
No dislikes as such till date. The experience is awesome so far and it helped us to manage our LMS in online mode and deliver the training pan country in uninterrupted mode. We will welcome any reduction in costing further as it's an important aspect for start up organizations likes us and due to stormy competition on this front, everyday a new vendor chips in with their best offerings at reduced cost and we are ought to take them.
Utilisateur vérifié
Data Scientist (Inde)
Utilisateur LinkedIn vérifié
Services et technologies de l'information, 10 000+ employés
Temps d'utilisation du logiciel : 6 à 12 mois
A Great Platform for your LMS needs with High Customization Support!
Commentaires : Overall it has been a great experience for me , Forma LMS has helped me in creating courses for the new joiners in the team for their faster training and ramp up. Have also allowed keeping track of compliance trainings. Also helped me in creating tests to check their project readiness.
Avantages :
1. Easy to create and design training and learning courses. 2. Good support for plugins and integration option making it quite flexible for usage. 3. Allows you to easily keep track of your learnings 4. Users can easily setup test and assessments in the end of the trainings 5. Support for real time webinars and workshop trainings 6. Quick customer support in case of issues.
Inconvénients :
1. User interface can be more robust and dynamic to increase engagement of learners. 2. Lesser documentation available thus takes sometime to understand and design courses