Flip PDF
Description de Flip PDF
Flip PDF est un éditeur de livre à feuilles mobiles puissant pour les catalogues E, les magazines en ligne, les brochures numériques et les eBooks. Ce logiciel de publication numérique permet aux
Lire la suite
concepteurs, éditeurs, annonceurs, entrepreneurs et formateurs de créer facilement des pages renversantes et de les distribuer via des sites web, des e-mails, des iPad, des téléphones intelligents et des réseaux sociaux. Avec Flip PDF Professional, les utilisateurs peuvent facilement enrichir la publication avec la vidéo, l'animation et la galerie de photos YouTube/Vimeo.
Afficher moins
Qui utilise Flip PDF ?
Designers, marketeurs, imprimeurs, éditeurs de magazines, éditeurs traditionnels.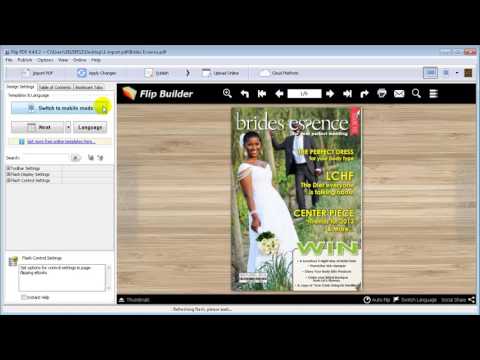 Vous hésitez à choisir Flip PDF ? Comparez-le à une autre option populaire
Indisponible dans votre pays
Version gratuite
Version d'essai gratuite
Intégrations introuvables
Version gratuite
Version d'essai gratuite
Pourquoi ce message s'affiche-t-il ?
Jacob
Hat Wearing Specialist (Brésil)
Édition, 2-10 employés
Temps d'utilisation du logiciel : 1 à 5 mois
Powerful Software that Produces Stunning End-Products With Lots of Room for Improvement
Commentaires : The pros far outweigh the cons, and the cons that I detail are minor gripes in contrast to how pleased I am with the finished products I can crank out with this software. It's because I love the software as much as I do that I even harp on them, in the hopes that the devs will see these critiques and keep working at refining and improving the UI. As of now, I'd say it's very good... and though expensive... is worth the money. It could be amazing though... so here's hoping that they keep at it.
Avantages :
-The monetization potential is through the roof. The ability to brand and customize your Flipbooks, while turning somewhat passe PDF's and Epubs into animated, interactive digital products that really feel like something you SHOULD be paying half to 2/3 the price of an actual book for makes this software worth its weight in gold. -The ability to make your ebooks into stunning presentations that can be fully integrated with other media make this software a really powerful tool for anyone more message-oriented as well. People wanting to educate the public and get info out there take note. This software offers the ability to make ebooks great again, and give people reasons to be excited about engaging with digital content. -The support team seems all-around responsive and eager to help with the occasional issues you'll encounter.
Inconvénients :
-The software is glitchy at times, and aspects of the UI seem very dated in some areas. -Can be frustrating to use at times. While the UI is overall pretty solid, things are unresponsive on occasion, and when that happens it can be difficult to figure out how to correct the problem. -Navigating the software is occasionally confusing, and how to properly utilize some features is not explained very well.
Rédaction et correction, 2-10 employés
Temps d'utilisation du logiciel : plus de deux ans
Towards Digital Perfection
Commentaires : Overall my experience with FlipBuilder is positive due to their professional software, which they are continually improving. I have been with Flip-builder for almost five years, and I am happy to report that their desire to help from the customer services department is polite and informative, especially when they include screenshots with their text.
Avantages :
FlipBuilder software P.D.F. professional software presents exceptional opportunities for directors and managers to offer their products to potential customers. The digital options inside this software enable the user to create DVD, audio, and digital image presentations. If the user has a brain and can push a few buttons, congratulations, this is the perfect solution to reach out and build any business from self-publishing to multi-million-pound production profit! Flip-Builder is the professional answer to any business communication requirements.
Inconvénients :
I can not think of any downside to this fantastic software.
Organisme social ou civique, 2-10 employés
Temps d'utilisation du logiciel : plus de deux ans
Good product, but could be far better.
Commentaires : We are publishing a newsletter online and wanted to recreate the turn-the-page experience for the reader. It is easy to view the pages, zoom, and makes a great swipe sound when the pages turn.
Avantages :
The process is simple from original PDF to output files. Once the files are created, I have to follow a few other steps to get the files to my website and test the final result.
Inconvénients :
There are many glitches in the way it works. Upon creating a new project, it immediately defaults to the last use folder/directory, and can easily over-write the files if one is not careful. I simply detest Flash in all it's buggy forms, but there does not seem to be a way to streamline the choices for HTML-5 only: I have to force that every time. Once the files are created and I am 'done' with the process, the only way back out of those screen is counter-intuitive: the user has to 'cancel' to get back to the former screen; there is no graceful close/save and return.
Kara
Media Director (É.-U.)
Hôtellerie, 11-50 employés
Temps d'utilisation du logiciel : 1 à 5 mois
Overall Decent Product for the Cost
Avantages :
The features I appreciate most are the ability to upload PDF's quickly, the ability to add links throughout the Flipbook quickly and easily.
Inconvénients :
Contacting support was a disappointment due to the lack of options to do so; the only way is to open a ticket through their website and wait for a response via email. This makes it difficult to resolve and/or learn anything in a timely manner. Furthermore, after a short time corresponding about a particular issue, the support team failed to respond. I was able to find the solution only by "clicking around", which was very time consuming and tedious. The users manual is the only way to search for answers and/or learning the program. It would be very helpful to have video tutorials available and organized by subject. Another disappointment is the lack of compatibility with WordPress. After many hours I was still not able to display a fully functioning Flipbook on my website. Support was unable to help resolve this issue, though they claim it is possible. Last but not least, it was very disappointing to find out that after purchasing the product you must spend $1 per Flipbook published even if you are simply revising an existing Flipbook. Our company uses Flipbook for a guide that is updated throughout the season, so we must spend $1 to publish after each update or choose to purchase unlimited updates monthly for $9.99
Kiki
CEO/Editor-in-Chief (É.-U.)
Utilisateur LinkedIn vérifié
Temps d'utilisation du logiciel : 1 à 5 mois
Much better than Joomag!
Commentaires : I was a longtime user of Joomag and had a horrible experience with them, forcing me to look elsewhere to publish my magazine. Flip Builder was a one-time purchase...I own the software and am no longer held hostage by Joomag's horrible customer service and monthly fees. I am finally FREE! I am thrilled by not having the huge financial commitment and BETTER features. It is virtually identical to Joomag in appearance, except the software is dependable. I also can forgo the negative, frustrating interactions with Joomag management when their lower level reps can't troubleshoot software problems. No more hold-ups while waiting for inexperienced customer service reps to screw up my account either. I am now master of my own domain and I am breathing easier now due to the switch-over.
Avantages :
Easy to use -- actually offers more features than Joomag. Very cost effective. Does not hold you hostage like Joomag does. I was a longtime user of Joomag and found them to be a racket and to have unreliable software and snooty tech support. They also don't keep their agreements for the program you subscribe to. With Flip Builder you own the software outright so you are not beholden to expensive monthly subscriptions and can drive the traffic to your website. As the owner of a magazine, I am thrilled to get out from under "Big Brother" Joomag.
Inconvénients :
Slow tech support and you are dealing overseas. There is more formatting to do and it does take a bit to get the hang of the software.