Description de MRPeasy
MRPeasy est un logiciel de gestion de la production sur le cloud abordable et convivial destiné aux petits fabricants (10 à 200 employés) :
– Planification de la production
– Inventaire
– Gestion de la chaîne logistique (approvisionnement)
– CRM
Qui utilise MRPeasy ?
Petits fabricants et distributeurs
Où peut-on déployer MRPeasy ?
Cloud, SaaS, web, Android (mobile), iPhone (mobile), iPad (mobile)
À propos de l'éditeur
MRPeasy
Situé à Tallinn, Estonie
Fondé en 2014
Chat
Pays disponibles
Australie, Canada, Estonie, Royaume-Uni, États-Unis
À propos de l'éditeur
MRPeasy
Situé à Tallinn, Estonie
Fondé en 2014
Chat
Pays disponibles
Australie, Canada, Estonie, Royaume-Uni, États-Unis
MRPeasy en vidéos et en images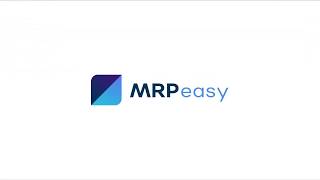 Comparez le prix du logiciel MRPeasy avec ses alternatives
Fonctionnalités - MRPeasy
Accès mobile
Achats et réceptions
Alertes/Notifications
CRM
Codes-barres et RFID
Comptabilité intégrée
Coût des tâches
Devis
ERP
Gestion d'entrepôt
Gestion de la chaîne logistique
Gestion de la qualité
Gestion des achats
Gestion des bons de commande
Gestion des capacités
Gestion des changements
Gestion des commandes
Gestion des documents
Gestion des expéditions
Gestion des fournisseurs
Gestion des renouvellements de commande
Gestion des ressources humaines
Gestion des retours
Gestion des stocks
Gestion des éléments
Gestion financière
Identification des produits
Intégration comptable
Kitting
Lecture de codes-barres et de tickets
Material Requirements Planning (MRP)
Nomenclatures
Optimisation des stocks
Opérations d'entreprise intégrées
Planification
Planification automatisée
Planification de fabrication
Planification de la production
Planification des capacités
Prévision
Rapports et analyses
Recherche/Filtre
Saisie de commande
Suivi de l'inventaire
Suivi des commandes
Suivi des coûts
Suivi des numéros de série
Traçabilité
Stefano B.
Plant Manager (Mexique)
Utilisateur LinkedIn vérifié
Matériaux de construction, 11-50 employés
Temps d'utilisation du logiciel : plus de deux ans
A most dependable platform for your organization.
Commentaires : For the past 7 years I've been an active user of MRPEasy through different organizations and it comes to no surprise that MRPEasy has always been up to the task. From metalworking to composite extrusion, this tool has been able to adapt to our very specific factory needs. Definitely a great aid in growing a small business to a medium size company!
Avantages :
It's ease of use and friendly interface makes it easy to train and quick to migrate to. We have had very little to no resistance from personnel when migrating them to use the system.
Inconvénients :
Limited customization on the dashboards and reports are also a bit simple.
Réponse de l'équipe de MRPeasy
il y a 3 mois
Thank you for the review!
Daniela R.
Business Administrator (É.-U.)
Compagnies aériennes/Aéronautique, 2-10 employés
Temps d'utilisation du logiciel : 1 à 5 mois
Alternatives envisagées :
Fantastic!
Commentaires : My experience with MRPeasy is fantastic! The transition has been seamless, my team really likes the new upgrade.
Avantages :
Our Company had been using the same software for 17 years. This software is night and day compared to what we had. I have all the information I could need if I have any questions. I did not have that with our previous software. It's very user friendly and self explanatory, I can definitely figure out what I need with all the help they provide.
Inconvénients :
The only thing I feel could be improved upon, is the quoting process. I don't like having to create an item to quote a product I might not receive. If it's possible to quote a job with out creating an item that would be amazing. Once I have the PO, then the system should prompt me to create the items.
Réponse de l'équipe de MRPeasy
il y a 2 ans
Thank you for the review. For quoting without stock item use Invoice mode, not Customer order mode.
Sue G.
Production Manager (É.-U.)
Biens de consommation, 11-50 employés
Temps d'utilisation du logiciel : 1 à 5 mois
MRPEasy software - almost great
Commentaires : I needed an affordable cloud based MRP that was easy to set up and use with a manufacturing focus. It was easy to set up, but onerous to update. The initial training and set up support was very helpful, but once I bought in and really needed assistance, my helpful support person was replaced with the anonymous support team that took 24 hours to answer any questions and the answer was almost always either a. no the software doesn't do that, b. thats a good idea, we may decide to do that later, or c. you can pay us to make that change to our software. For the price, it's ok, a lot of potential, but not great.
Avantages :
the ease of use, wide range of potential ability, accessibility, focus on manufacturing. there is the potential to customize the software for an extra fee.
Inconvénients :
technical support is rather lacking. There's a lot of potential in the software capability but every aspect of use is limited. There's a lot of features that are "almost there", but to fix them costs extra. Entering inventory manually is a basic thing and should be simple, but because it creates automatic write offs, adjusting inventory manually can create annoying issues. When I reported this and asked support about it, I was told to stop manually entering inventory and to trust the system - not an easy thing to hear.
Réponse de l'équipe de MRPEasy
il y a 6 ans
Thank you. Your "Advice for Buyers" is great. We're happy to answer your questions. You won't always have the same staff member to work with because when you purchase the software and have questions regarding functionality and terms, a sales rep helps you. One you purchase the software, and have questions about the technology and customizations, our technical support team is there to help. We make new releases of the software 2-3 times a quarter. We always encourage our customers to send us feature requests, and we analyze and consider each of them. We can customize the software, however, in some cases those customizations do require some cost. We have a large support team available to answer questions. Since they work in shifts, and each work for all of our customers, you'll notice they don't personalize their responses. However, each customer's tech support request is answered within 24 hours to ensure that our team can collaborate on a solution that works best for the user.
Aaron O.
President (É.-U.)
Divertissement, 2-10 employés
Temps d'utilisation du logiciel : plus d'un an
Source : SoftwareAdvice
Don't discount MRPeasy - it's feature rich, but easier on the user
Commentaires : I have had a great experience with MRPeasy. The software is the most straightforward solution for MRP I've ever found. The team there is very responsive and the newsletter always has interesting information, tips, and case studies. A+ experience.
Avantages :
I thought I needed feature-rich software to run my manufacturing process. I tried three other softwares. Two were Excel based. One was Odoo. What I actually needed was for someone to come along and make an efficient, easy-to-use solution. The MRPeasy team did just that.
Inconvénients :
There wasn't much I didn't like about this software. The only thing I can say is that a few of the workflows felt redundant for very small companies (ones with only a few employees handling all of the tasks). At my company, we can pick the order, box it, label it all it one step. The folks at MRPeasy could probably customize that for me though, so difficult to say it's something I didn't like about the software.
Réponse de l'équipe de MRPeasy
il y a 2 ans
Thank you for the feedback.
Mode et vêtements, 2-10 employés
Temps d'utilisation du logiciel : 6 à 12 mois
Source : SoftwareAdvice
Alternatives envisagées :
Best value in the small manufacturing space by far.
Commentaires : With MRPeasy our capacity doubled. It streamlined our production, and procurement so well that I'm now able to spend a lot more time on growth and sales.
Avantages :
Extremely comprehensive and works seamlessly with Xero and Shopify. It is user friendly and easy to understand for any systems oriented thinker. The video support library made the initial setup much easier, and the support team was there to fill in anything I couldn't figure out on my own.
Inconvénients :
There are a few functions specific to the apparel space that have not been added yet, but I have been told they are in the development pipeline.