InPhase
Description de InPhase
InPhase ensures teams have everything they need to make better, more assured decisions, faster. Our software will turn your employees into Goals Crusaders, Activity Activists, Data Obsessed &
Lire la suite
Collaboration Champions. Identify next best actions. Track the impact and effectiveness of activity on data and outcomes to plan and re-plan operational delivery and align everyone to unified goals. More than BI, more than Performance Management, InPhase unites a business for collective improvements.
Afficher moins
Qui utilise InPhase ?
InPhase specialises in Government, healthcare and organisations that work to serve the public. All regulated industries are highly supported.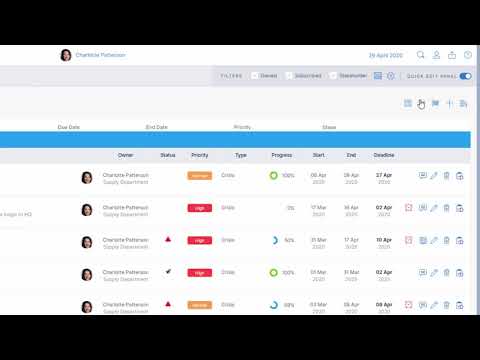 Vous hésitez à choisir InPhase ? Comparez-le à une autre option populaire
Indisponible dans votre pays
Version gratuite
Version d'essai gratuite
Intégrations introuvables
Version gratuite
Version d'essai gratuite
Pourquoi ce message s'affiche-t-il ?
Avis sur InPhase
Avis classés par taille de l'entreprise (nombre d'employés)
<50
51-200
201-1 000
>1 001
Trouver les avis classés par note
Alex
Performance ' Improvement Manager (R.-U.)
Utilisateur LinkedIn vérifié
Administration publique, 201-500 employés
Temps d'utilisation du logiciel : plus de deux ans
Modern user friendly Performance Management System
Avantages :
- Essentially manages performance, not just monitoring, with clear lines of responsibility and ownership. - Focuses departments on what needs to get done, eliminating unnecessary work through the use of objectives, policies and performance metrics. - Shifts focus from performance as a yearly event to an on-going process. - Contributes looking at the goals and KPIs that will make a real difference. - Provides management an easy to absorb view of the elements that impact performance. - Improves links between internal initiatives and promotes cross-functional working. - Flexibility to customise the system look/feel to suit our needs and corporate branding protocols. - Eas of organization integrations with other data capturing system, which suits either complex or simple combinations. Our core purpose using InPhase is to ensure our services are carrying out their duties which they are employed to do in an effective and satisfactory manner, which is contributing to the overall business objectives. Using InPhase for performance reporting and action planning which with employees across the council, saving us time and money. We have also been able to embed all our performance measures, Service Plans, Audit and Risk actions to capture service delivery requests the `once and use numerous times; reducing duplication and officer time. InPhase support team always has time for the customer. InPhase has proved to be a superb value for money performance management solution.
Réponse de l'équipe de InPhase
il y a 5 ans
Amazing thank you for the review Alex!
Utilisateur vérifié
Strategy and Performance Manager (R.-U.)
Utilisateur LinkedIn vérifié
Administration publique, 1 001-5 000 employés
Temps d'utilisation du logiciel : plus d'un an
User-friendly, customisable and visual performance management software
Commentaires : InPhase BMS has significantly improved our ability to collect, display, analyse and use the data within our organisation. The performance management culture within the organisation is enhanced, as its user-friendly but dynamic nature makes talking about and understanding performance far more engaging and relevant.
Avantages :
- Excellent training and set-up support - Software is entirely customisable so that it can reflect the branding of the organisation yet provide different reports for different internal customers - Easy to build new reports and maintain the system, eliminating duplication and focusing team resource - Has facilitated much more meaningful, dynamic and focused conversations about performance at every level in the organisation
Inconvénients :
- The possibilities are almost endless, so requests for more reports, more visuals are endless! - It was a big task to get the system from a standing start due to the complex nature of the organisation. It was not difficult and the system can accommodate our needs - but it is time consuming and requires a plan before getting started.
Réponse de l'équipe de InPhase
il y a 4 ans
Thank you for a fabulous review! We're thrilled you love the product as much as we do!
Emma
Clinical Programme manager SAFE (R.-U.)
Hôpitaux et soins de santé, 1 001-5 000 employés
Temps d'utilisation du logiciel : 1 à 5 mois
Review of InPhase tool
Commentaires : We are using the Inphase tool as a governance framework to provide assurance on a number of different areas:
- CQC self assessments and peer and leadership reviews
- Compliance against NICE guidance
- Procedural document tracking
- Inspections - team leader checklist, hand hygiene and meds management
- Health and care audit tracker and assurance level
The tool has offered us more than we had initially hoped and the scope keeps growing. The benefits of the tool is that it is open and transparent for al staff to view compliance. This allows for easy identification of areas that require improvement that may otherwise be missed.
Avantages :
The ability to build in a number of different modules that can support with assurance around governance for our organisation
Inconvénients :
Parts of the system are a little confusing e.g. actions, view dates that seem to change depending on the area of the software you are using
Réponse de l'équipe de InPhase
il y a 3 ans
Hi Emma, Thanks for your amazing review! From what we can see, we believe your page date issue could be down to your page settings that can either take a last saved date or view date. Feel free to reach out to the team and we'll be more than happy to show you how to fix this!
Craig
Senior BI Analyst (R.-U.)
Utilisateur LinkedIn vérifié
Temps d'utilisation du logiciel : plus de deux ans
Quite simply brilliant
Commentaires : Simply put, our information and performance culture improved dramatically.
Avantages :
One location, one product, one truth. The software allows you collect, capture, cleanse and standardise a wide range of information and data from different sources. The software then provides you the tools to present your findings/performance in a clear and concise format that suits you. These results can also be interrogated by the user. The ability to produce live reports: once a report has been built, you can rely on the report to update itself until you choose to stop it. The product is forever being enhanced features and abilities you didn't even know you needed it, but now can't live without. The Inphase team and family: The team could not be more helpful. The other users of the product seem to always be willing to pass on their knowledge, experience and solutions.
Inconvénients :
As with all new software, this product can be quite daunting when you first learn/use it. The possibilities appear to be endless, especially to those not having to administer the product. The more you produce, the more you will be asked to produce.
Réponse de l'équipe de InPhase
il y a 5 ans
Incredible review Craig! Thank you!
Tobin
Head of Knowledge and Insight (R.-U.)
Utilisateur LinkedIn vérifié
Administration publique, 1 001-5 000 employés
Temps d'utilisation du logiciel : plus d'un an
Very well supported software that does everything we need from a performance reporting package
Commentaires : Performance monitoring presented in a variety of ways.
Avantages :
Cost of the system is reasonable compared to other systems we have used. The options to create your own style of dashboard and other reports is great. The external portal that we are about to launch is an excellent way for us to get key performance measures into the public domain. Upgrades have been adding some features that have raised interesting possibilities within our organisation.
Inconvénients :
Cost of additional individual licences is higher than most other systems we have used. However, I understand a site licence can be purchased if you want to widen the use. We have found that at least one 'expert user' is required in order to use the system effectively.
Réponse de l'équipe de InPhase
il y a 5 ans
Thank you for your review Tobin!